Gobble Gobble to all you last minute planners out there. You're in good company. I can procrastinate with the best of 'em. Like, for example, I'm doing most of the cooking for the big meal tomorrow, and I haven't even started prepping. I have a long day ahead. But personally, I feel I operate at my best when I'm rushing to make a deadline. Somehow, that's when all the magic happens.
If you're currently scrambling to figure out what to make this Thursday, I've got you covered with plenty of great recipes to choose from. Some are mine, some are from my favorite little corners of the web, and all of them are downright delicious. I've also created a little video tutorial on how to carve a turkey. So even if you don't plan on making anything, you can still do something to contribute to the meal (bonus: carving the turkey means you get to eat all.of.the.skin.).
Whatever you plan to make this Thanksgiving, just be sure to add a few extra pinches of love – that's always the key ingredient for success, and unlike other seasonings, you can never use too much.
What are you serving this Turkey Day? I'd love to hear your menu! Leave a comment and let me know – it just might inspire my next creation.
Here are my top picks:

Breakfast:
Sweet Potato Bacon Hash with Crispy Fried Eggs
Butternut Squash, Bacon, Kale + Goat Cheese Fritata
Waffles with Maple Brown Butter
Greek Yogurt Dipped Granola Bars by Take a Bite out of Boca
Cheat's Brown Butter + Salted Maple Pecan Sticky Buns by Half Baked Harvest
Pumpkin Granola by Vegging at the Shore
Baked Apple Cider Doughnuts with Brown Butter Glaze by Camille Styles
Vegan Pumpkin Pie Smoothie by Vegan Heaven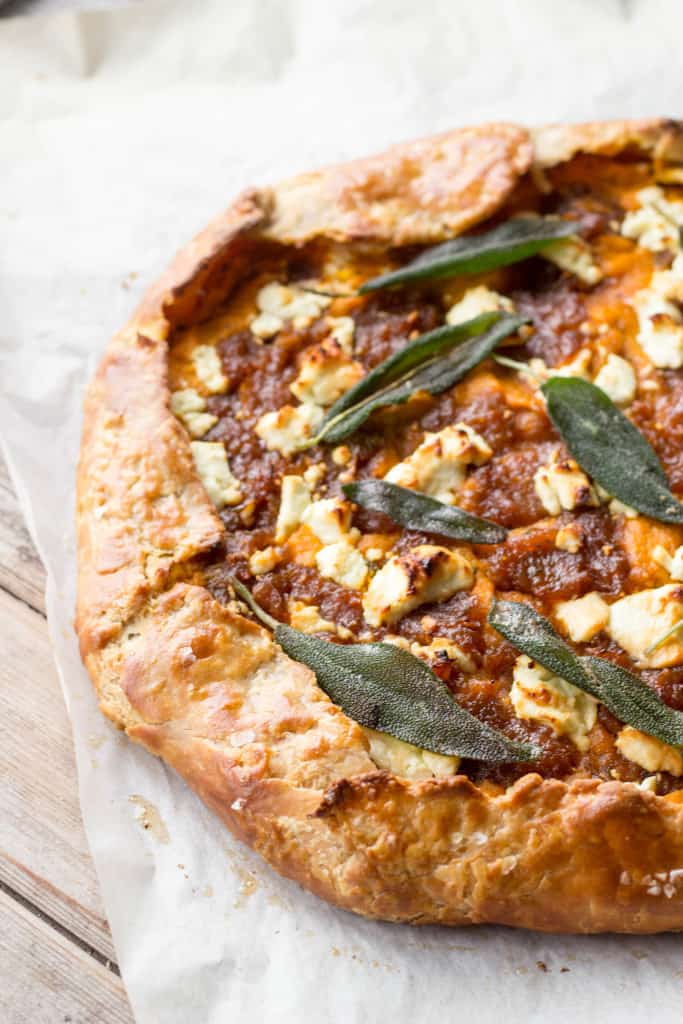 Appetizers:
Caraway Havarti + Pear Crostata
Rosemary Maple Roasted Pecans
Brown Butter Pumpkin Galette with Caramelized Onions, Goat Cheese + Sage
Roasted Cranberry + Orange Crostini from Tastes Lovely!
Crostini with Roasted Grapes, Goat Cheese, and Pecans by Feasting not Fasting
Kabocha + Havarti Pockets by I Will Not Eat Oysters
Caramelized Onion, Apple, and Butternut Squash Tartlets by Dora Daily
Olive Oil Baharat Sweet Potato Chips by My Name is Yeh

Soups/Salads:
Spicy Pumpkin Soup with Corn + Crab Relish
Kale Salad with Raw Beets, Apples, Carrots, Cherries + Blue Cheese
Shaved Brussels Sprout Salad with Butternut Squash, Pomegranate, Pecans + "Fried" Goat Cheese
Green Bean + Beet Salad with Shaved Fennel, Hazelnuts + Blue Cheese
Roasted Grape + Radicchio Salad with Pickled Fennel, Gorgonzola + Walnuts
Fall Harvest Salad by What's Gabby Cooking
Shaved Fennel, Kale + Asian Pear Salad by Kale + Caramel
Farro Salad with Butternut Squash, Bacon + Cranberries by Rachel Cooks
Shaved Broccoli, Brussels Sprouts + Kale Salad with Truffle Parmesan Dressing by Blogging Over Thyme

Sides:
Irish Cheddar + Stout Biscuits
Fennel + Onion Gratin
Rosemary Creamed Corn
Celery Root + Parsnip Gratin
Parmesan Spinach
Florida Sunshine Cranberry Sauce by Suwannee Rose
Easy Roasted Acorn Squash with Pistachio Pesto + Pomegranate by My Man's Belly
Garlic Parmesan Brown Butter Mashed Potatoes by Cafe Delights
Green Bean Casserole by the Blond Cook
Butternut Squash Casserole with Pecan Oat Streusel by Flavor the Moments

Entree/Leftovers:
Whole Roasted Chicken or Turkey with Herbs
Chicken or Turkey Pot Pie
Yellowtail Snapper with Rosemary and Pecans by Suwannee Rose
Brown Sugar Date Roast Turkey by Vintage Kitty
Turkey, Brie + Cranberry Mustard Panini by Just a Little Bit of Bacon
Thanksgiving Stuffed Puffed Pastry by What Jew Wanna Eat

Dessert:
How to Make Pie Crust from Scratch
Grandma's Apple Pie
Brown Butter Apple Crisp
Rosemary Brown Butter Pecan Ice Cream
Flourless Peanutbutter Pumpkin Spice Cookies by Take a Bite out of Boca
Pumpkin Cheesecake Profiteroles by the Flavor Bender
Pumpkin Hazelnut Cheesecake by A Bit Wholesomely
Grain Free Salted Maple Pecan Pie Bars by Foraged Dish
Have a WONDERFUL holiday!
xo Coley