A true Northern Italian classic, risotto is a creamy rice dish that's perfect for any night of the week. This wild mushroom risotto recipe is no exception! This simple and utterly delicious dinner can be made and ready to savor in under an hour. Yes, making risotto requires patience and attention, but the results are always worth it.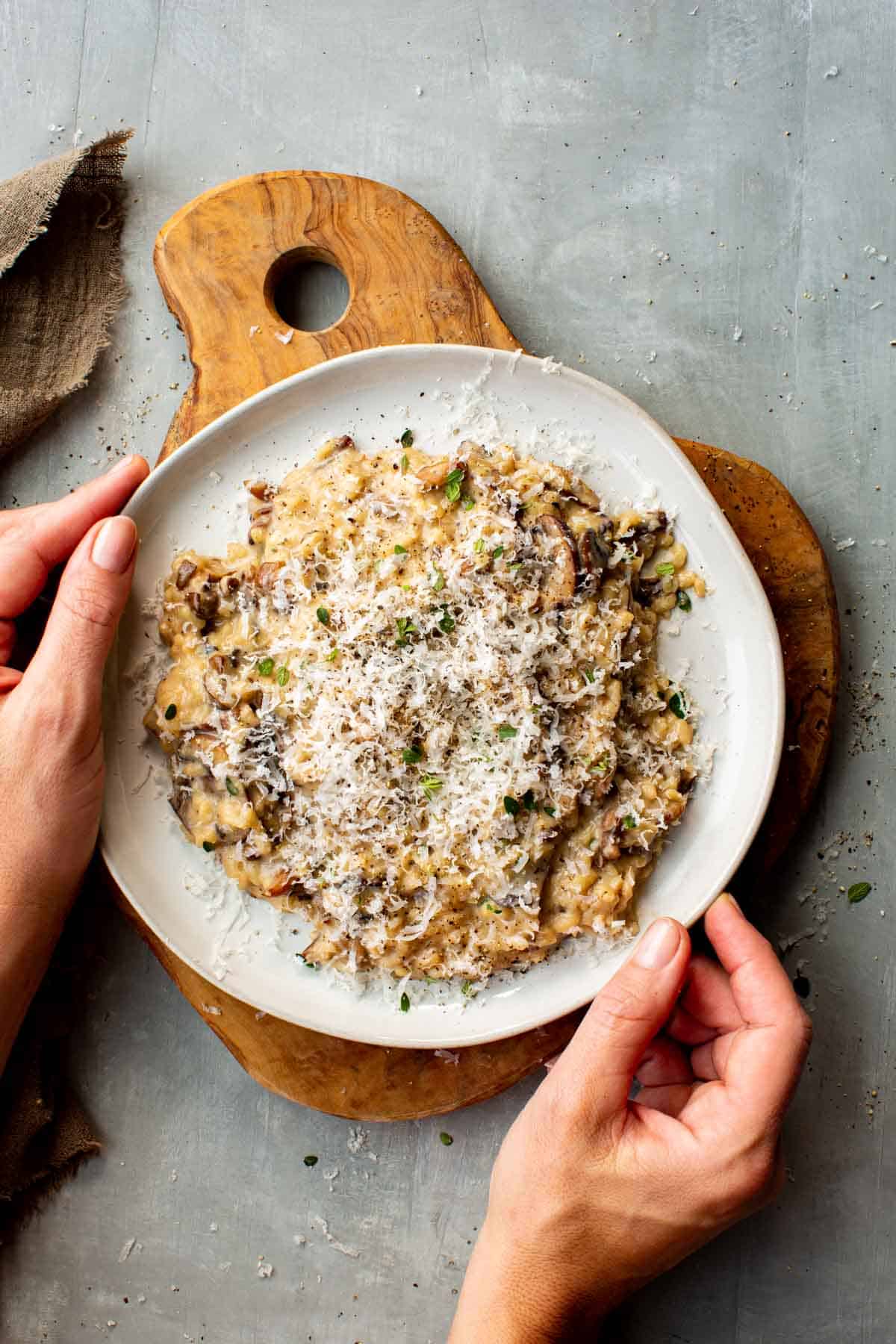 As the fall months arrive, there's nothing like a delicious bowl of wild mushroom risotto (or risotto ai funghi in Italian) to warm your soul and fill your belly. This classic Italian dish is an all-time favorite comfort food that's easy to make at home with just a few ingredients.
Since my family is Sicilian, I actually didn't grow up enjoying risotto, as it is most popular in northern Italy. However, I learned how to make homemade risotto when I was in culinary school, and I picked up so many tips and tricks to make it just right.
Now, risotto is one of my favorite recipes to make during the holidays (or pretty much any time during the year when I am craving comfort food).
It's the perfect meal on its own, or you can serve smaller portions as a flavorful side dish.
At Thanksgiving, I like to make an Italian roasted turkey and pair it with this mushroom risotto and warm spinach salad as a side dish for a delicious meal. This dish also works well with roasted chicken too!
However you enjoy it, this must-try recipe for wild mushroom risotto combines the earthy flavors of assorted mushrooms, arborio rice, dry white wine, chicken stock, mascarpone cheese, and parmesan cheese.
Using those ingredients makes this risotto recipe a million times better than the dried-out, flavorless one you make out of a box!
The result is a creamy and flavorful risotto that your family and friends will love.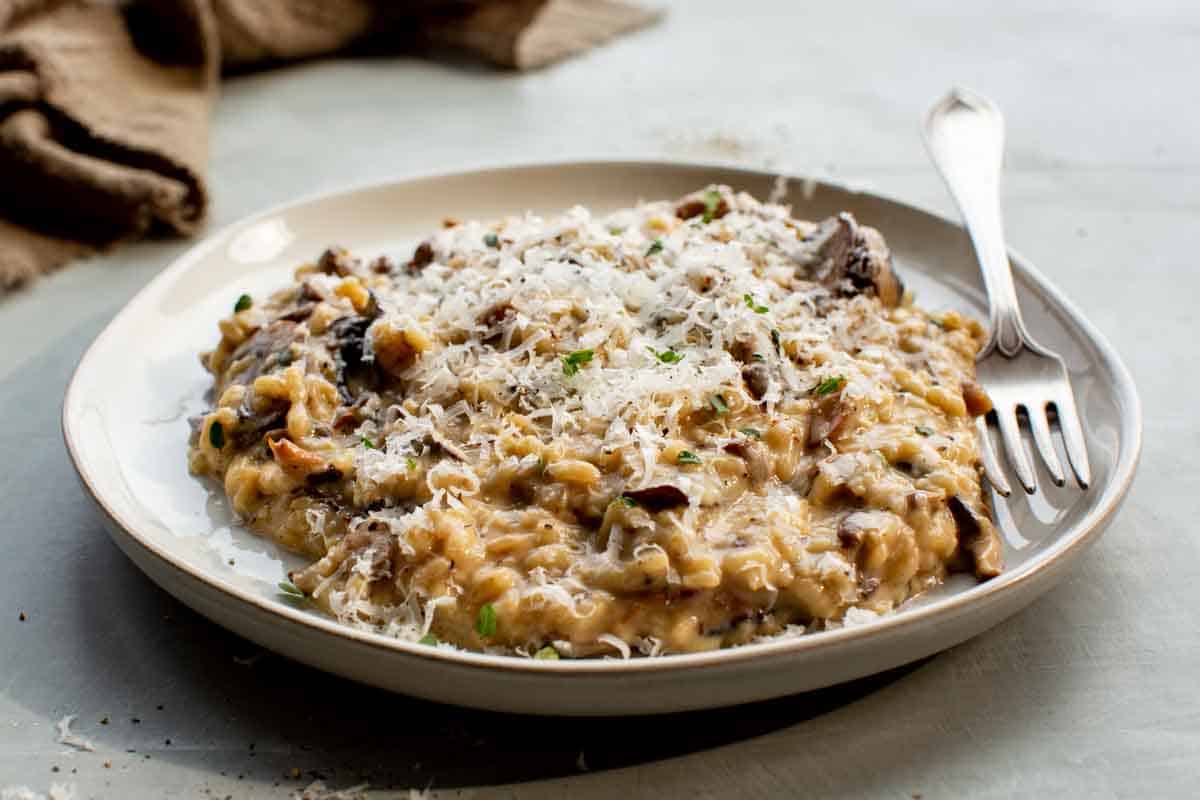 Why this recipe works
Perfectly creamy and cheesy – The arborio rice gives the risotto a creamy texture, and parmesan cheese adds that salty traditional Italian flavor.
An assortment of seared golden brown mushrooms brings a depth of flavor to the risotto.
Dry sherry adds an extra layer of flavor that you can't get from any other ingredient.
A dollop of mascarpone cheese brings in a superior creaminess and a hint of tartness.
Top the mushroom risotto with a bit of truffle oil at the end to enhance the flavor and make it truly memorable.
Add this recipe to your holiday menu for an unforgettable dinner!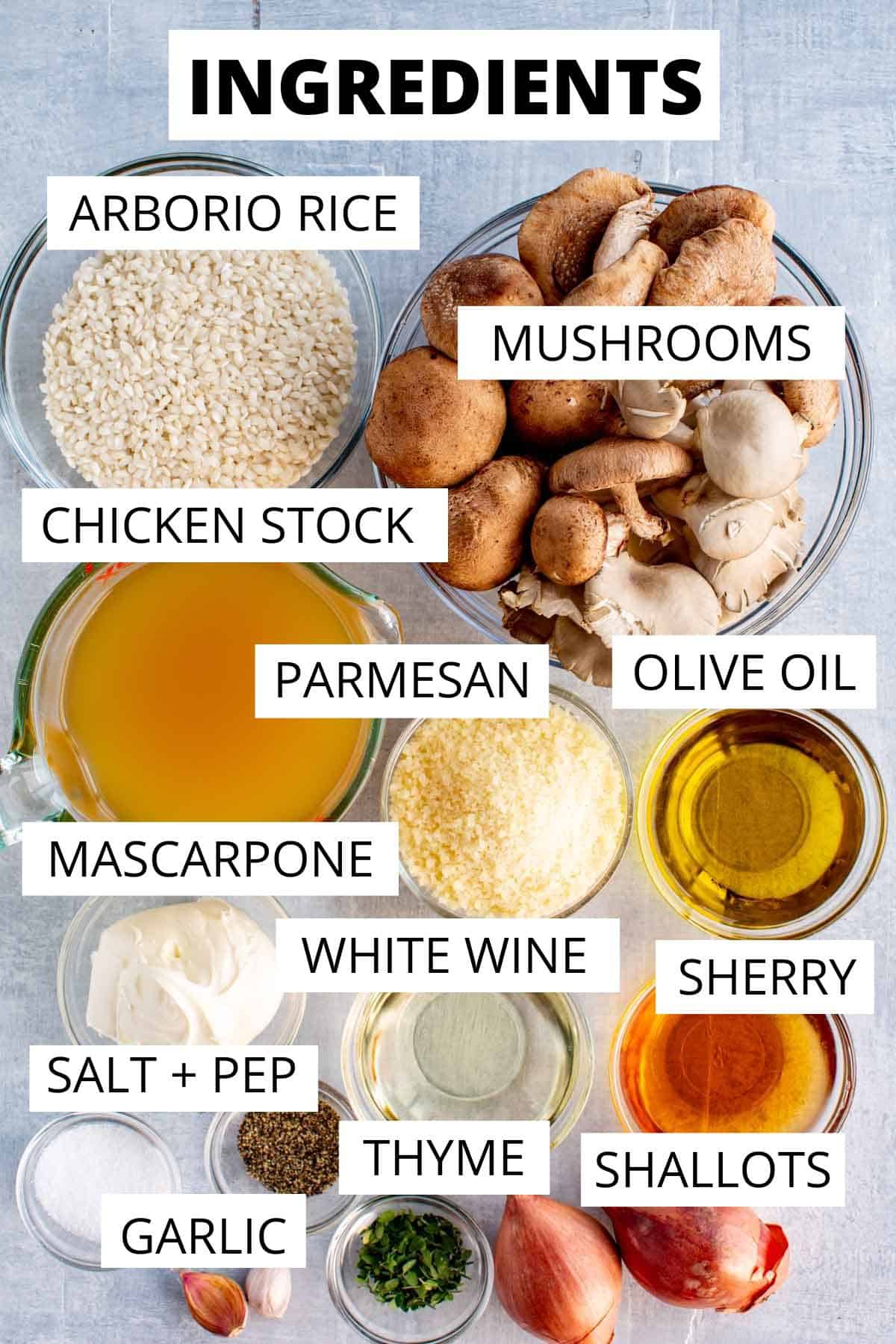 Ingredient Notes
Mushrooms - Using a variety of mushrooms will add the most flavor. I used fresh shiitake, oyster, and crimini mushrooms in my risotto recipe but have fun and play around with any unique varieties or wild mushrooms you can find, like morels and chanterelles!
Rice - When making risotto, it's important to use starchy, short-grain rice like Arborio or Carnaroli, a medium-grain rice. Arborio tends to be easily found at most grocery stores, while Caranoli is said to make a creamier dish. You can use either one and still end up with a delicious risotto.
Dry White Wine and Sherry - The alcohol in the wine will cook off as you simmer it with the other ingredients, and it adds a nice complexity of deep flavor to risotto. Pinot grigio or sauvignon blanc will both work nicely. If you don't have sherry on hand, you can substitute more white wine in its place.
Stock - Using chicken stock will give your risotto a nice flavor boost and keep it creamy and moist. If you want to keep it vegetarian, just use vegetable broth or stock instead.
Thyme - This herb adds a distinct element to the mushroom risotto and pairs nicely with the earthy flavors of the mushrooms. I prefer to use fresh, but you can easily substitute dried thyme. Just make sure to reduce the amount you use to ¼ teaspoon and toast it with the arborio rice.
Marscapone - This creamy Italian cheese adds an incredible richness and depth of flavor to the mushroom risotto. If you can't find it in your grocery store, you can substitute unsalted butter or a touch of heavy cream to still give it that creaminess.
Truffle Oil - Adding truffle oil over the top of the risotto is optional, but I highly recommend it! It gives it an extra earthy flavor and aroma. You can use white or black truffle oil - just make sure it's a good-quality oil. Add a tiny drizzle to the top of each plate so it retains its flavor and aroma, which is quickly lost when heated.
*Full ingredient list with quantities is in the recipe card at the bottom of this post.
Helpful Equipment
Step-by-step instructions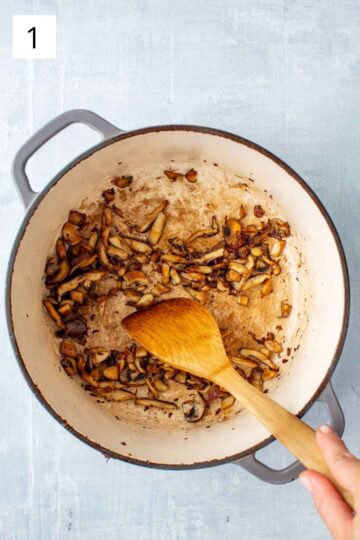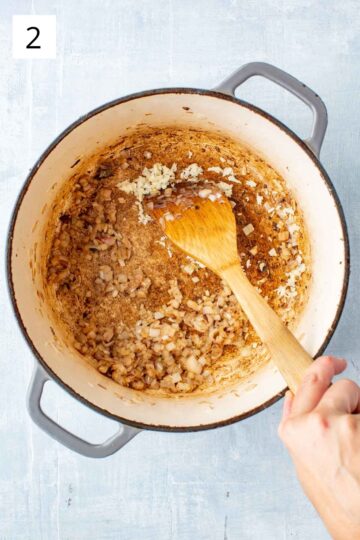 1. Heat up three tablespoons of olive oil in a large pot over medium-high heat. Add the mushrooms to the pot and stir to coat, then let sit undisturbed to brown for 3-4 minutes. Give a quick stir, then repeat this until the wild mushrooms are deeply golden brown. This process will take about 15 minutes altogether.
2. Once the mushrooms are done cooking, remove them from the pot and adjust the heat to low. Add the minced shallots and garlic and sauté for 3-4 minutes.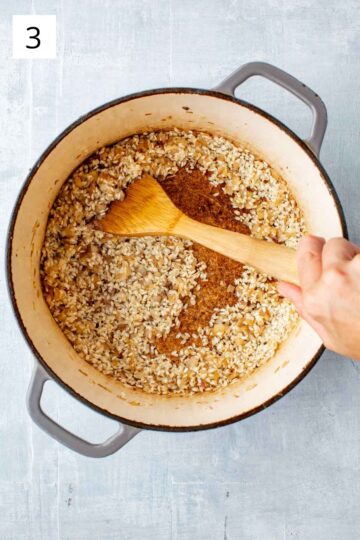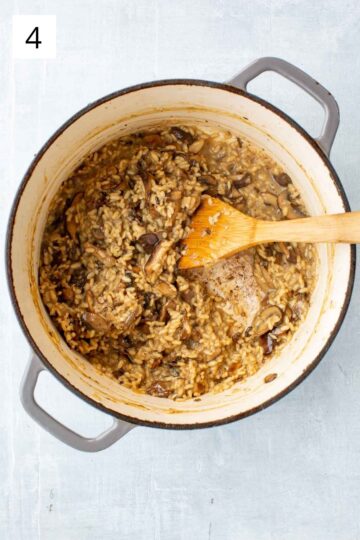 3. Add the dry arborio rice, stir, and toast for 1-2 minutes. Then, add the roasted mushrooms back to the pot. Now, it's time to pour in the white wine and dry sherry and stir the mushroom rice medley until the alcohol is cooked down and absorbed.
4. Meanwhile, warm up your stock and add ½ cup at a time while stirring. Wait for the rice to absorb the liquid, then add more, ½ cup at a time, until 3 cups are used. Season with salt and pepper.
Give the rice a taste. You want it to be cooked al dente, but the risotto's texture overall should be loose and not overly thick. Adjust the risotto texture, if needed, with ¼ cup stock.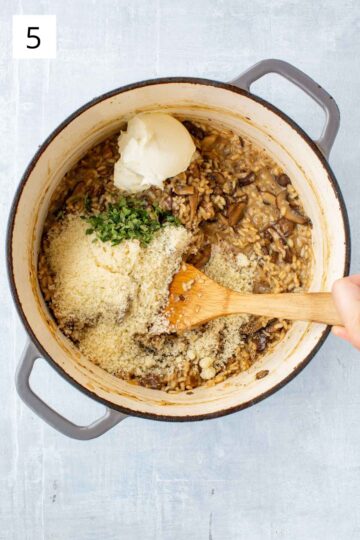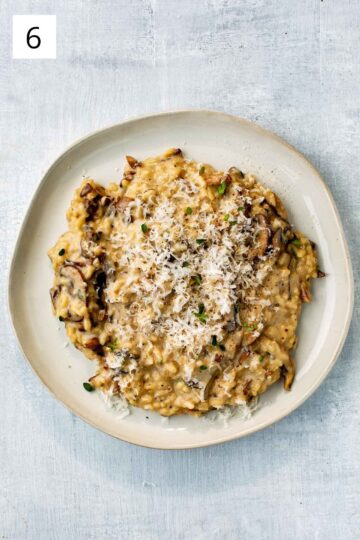 5. Remove the mushroom risotto from the heat and add the mascarpone cheese, thyme, and parmesan cheese. Stir vigorously!
6. Now it's time to serve. Scoop the risotto into your favorite bowls with a drizzle of truffle oil (optional but highly recommended) and a sprinkle of extra parmesan cheese. Serve immediately and enjoy!
Tips for success
Choosing the right type of rice can make or break your risotto dish. I like to use Arborio or Carnaroli rice for its starchy texture and creamy consistency when cooked.
Don't skip toasting the rice! This step is crucial as toasting creates a seal around each grain, preventing mushiness and allowing for slower moisture absorption. That being said, don't toast it for more than a minute to preserve flavor.
If you don't have any dry sherry, you can easily substitute more white wine in its place.
Make sure your stock is warmed up before adding it to the pot. You could microwave it for a minute or warm it up on the stove while cooking the risotto.
Stir the risotto frequently, but not continuously. Once or twice every 30 seconds to a minute is more than enough.
You'll know it's done when the rice is cooked al dente, not mushy. The final consistency should be slightly loose, not thick and pasty.
Make sure to add the creamy mascarpone and parmesan at the end of cooking when the risotto is off the heat. Adding cold dairy products to a piping hot pot can cause fat separation and ruin the texture.
The longer the risotto sits, the more the texture will thicken. So, it's best to serve it right away to really enjoy your mushroom risotto.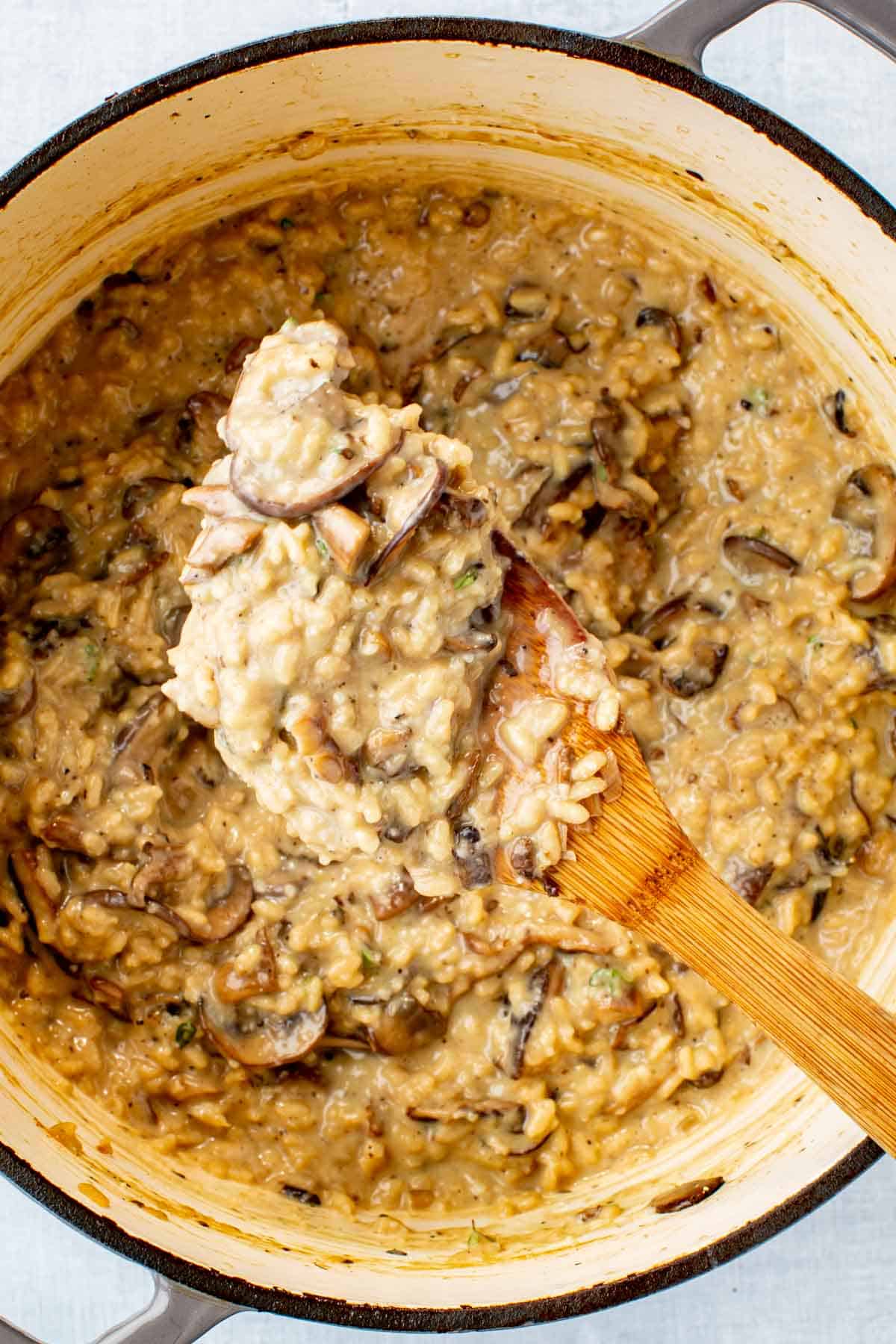 Serving suggestions
This creamy mushroom risotto can be enjoyed as a first course (primi) main course (secondi) or as a side dish (contorni).
If you're serving it as a side, try pairing the earthy flavors and creamy texture of this risotto with red meat, like oven roasted beef tenderloin, rack of lamb or red wine braised short ribs.
This risotto would also be great topped with seafood, like pan-seared scallops or grilled shrimp. It would also be lovely served after a light antipasto of tuna carpaccio.
Since the mushroom risotto is quite rich, if you're serving it as a main course, try adding some greens on the side, like broccoli rabe, spinach or escarole.
Freshly roasted Brussels sprouts and garlic broccoli rabe are also a great way to add extra flavor and color to your plate.
For a simple vegetarian meal, serve this mushroom risotto with a light salad like arugula or a green bean salad.
FAQs
Do I need to rinse arborio rice before using it?
No, you should not! Arborio rice has a very high starch content, which is what gives the risotto its creamy texture. Rinsing will remove much of that starch and result in a drier, less creamy risotto.
What is risotto supposed to taste like?
Risotto should be creamy, buttery, and rich with a slight al dente bite to it. Typically, the texture is on the looser side, not as thick. When scooped, it should dribble off the spoon a bit, not hold its shape.

The mushroom risotto, in particular, should be delicate, complex, and slightly nutty, thanks to the toasted arborio rice.
My risotto is crunchy. How do I fix it?
If your risotto is crunchy, it means you didn't cook it long enough. Make sure to toast the rice for at least a minute before adding the liquid, and be sure to stir often, especially towards the end of cooking when the texture starts to thicken.

To fix your current batch of risotto, add in some more stock or water in small increments and continue cooking until creamy and al dente.
Why is my risotto so mushy?
If your risotto is too mushy, it means you've overcooked it. Make sure to keep stirring the risotto often, but not constantly - once or twice every 30 seconds to a minute is plenty. This will help prevent the rice from sticking and clumping together.

Also, be sure to watch the consistency closely as it's cooking, and stop adding liquid once it reaches the desired texture. Lastly, make sure to remove your risotto from the heat when it's still slightly loose - it will thicken up more as it sits.
How do I store and reheat leftover mushroom risotto?
Leftover mushroom risotto will keep for up to 3 days in the refrigerator. Store it in a shallow container, covered tightly with plastic wrap.

To reheat: Place the risotto in a pot on the stove over low heat and add a bit of water or stock to loosen it up as you stir. Heat until warm and creamy, adding more liquid if necessary.

You can also reheat it in the microwave, stirring every 30 seconds until warmed through, but I personally prefer the stove.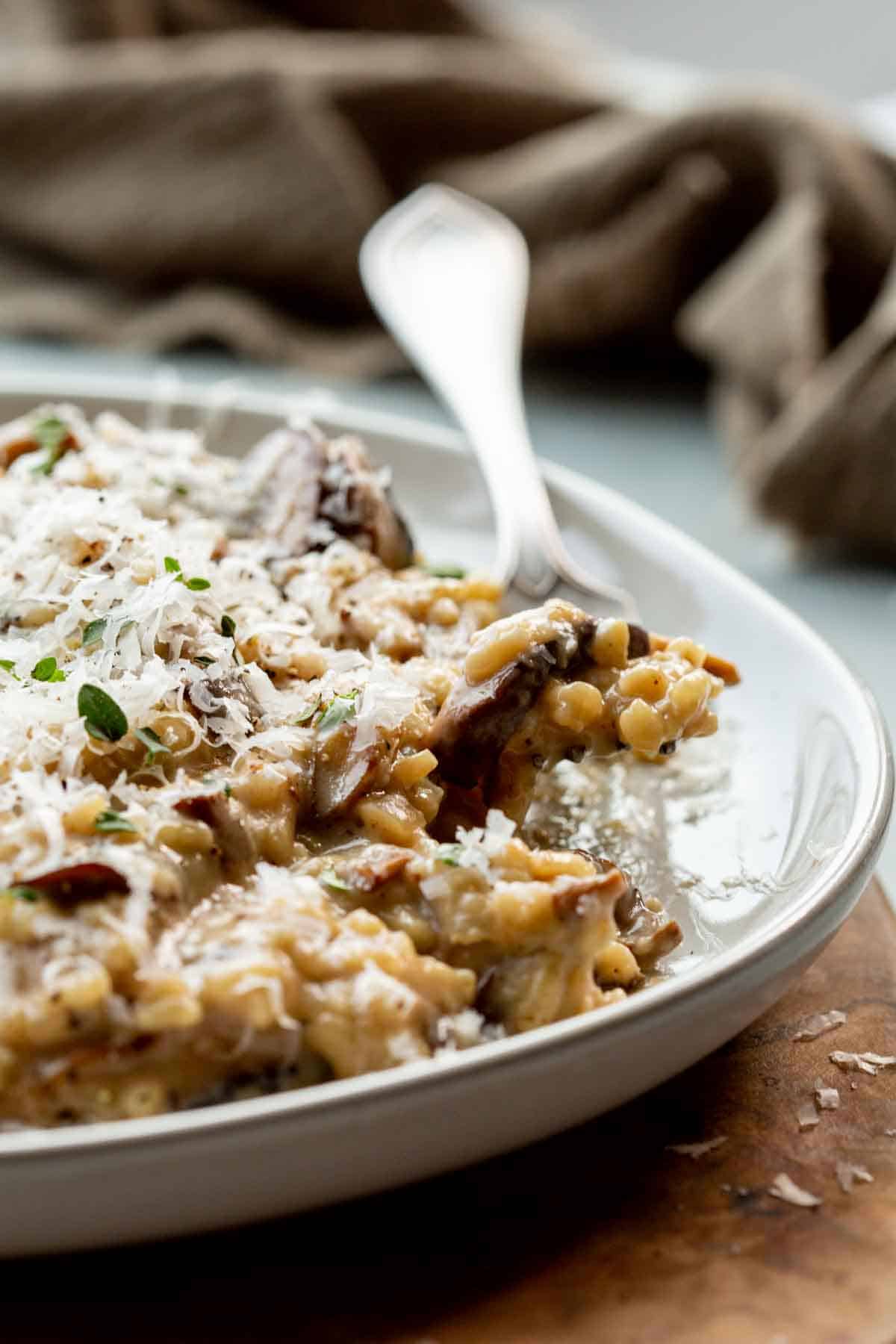 Related Recipes
Did you LOVE this recipe? Please leave a star ⭐️ rating and comment to let other readers know! I absolutely love hearing from you and do my best to answer all questions and comments. I love seeing your creations so please tag me on Instagram @ColeyCooks!
Print
Wild Mushroom Risotto
A true Northern Italian classic, risotto is a creamy rice dish that's perfect for any night of the week. This wild mushroom risotto recipe is no exception! Making risotto requires patience and attention, but the results are always worth it. This simple and utterly delicious dinner can be made in under an hour!
Author: Nicole Gaffney (ColeyCooks.com)
Prep Time:

15 minutes

Cook Time:

40 minutes

Total Time:

55 minutes

Yield:

4

servings

1

x
Category:

Risotto

Method:

stovetop

Cuisine:

Italian
5 tablespoons

olive oil, divided

10

-

12

oz

assorted mushrooms (about 3 cups), sliced

2

medium shallots, minced

2

cloves garlic, minced

1

cup

arborio rice

¼

cup

dry white wine

¼

cup

dry sherry (or sub more white wine)

3

cups

low sodium chicken or vegetable stock, hot, plus more as needed
Salt and freshly cracked pepper to taste

4

oz

mascarpone cheese

1 teaspoon

fresh thyme leaves

1

cup

freshly grated, good quality parmesan cheese, plus more for serving
Truffle oil for finishing, optional but recommended!
Instructions
Add 3 tablespoons olive oil to a large heavy bottomed pot or Dutch oven over medium high heat. Add the mushrooms and give them a good stir to coat with olive oil, then let them sit undisturbed for 3-4 minutes to brown. Give them another quick stir, then leave undisturbed again for another 3-4 minutes, and repeat until deeply golden brown, about 15 minutes total. 
Remove the mushrooms to a plate, then adjust the heat to medium-low. Add the remaining two tablespoons of olive oil to the pot along with the shallots and sautéed until softened, but not browned, about 3 minutes. Add the garlic and sauté for another 1-2 minutes.
Add the arborio rice, stir, and cook for about 1-2 minutes to toast the rice, then add the mushrooms back to the pan.
Add the white wine and sherry, then stir until fully absorbed. 
Add ½ cup of hot stock and stir. When the rice absorbs all of the liquid, continue adding more stock ½ cup at a time, while stirring, until you've added a total of 3 cups. 
Season with salt and pepper, then taste and adjust the seasoning as needed. While tasting, take note of how done the rice is. When the rice is cooked through but still al dente, it's done. The risotto should have a loose consistency, not super thick. Add more stock ¼ cup at a time until you reach the desired texture. 
Remove the risotto from the heat and vigorously stir in the mascarpone cheese, thyme and parmesan cheese.
Spoon the risotto into bowls and top with a light drizzle of truffle oil if desired and more grated parmesan. Serve immediately!
Notes
Use an assortment of different mushroom varieties for best results, the more the better! I used a mixture of shiitakes, crimini and oyster mushrooms. 
It's important not to disturb the mushrooms too much in the pan so they can brown and develop their flavor. 
The total amount of liquid needed will depend on many factors, so you may need more. Heat up 1 quart (4 cups) of stock, just incase you need it. 
Toasting the rice is an essential step - don't skip it! It prevents the rice from getting mushy by creating a seal around each grain, allowing it to absorb moisture more slowly. But be careful it doesn't burn or it could give the risotto a bitter taste.
Make sure your stock is hot when adding it to the pot. You can heat it on the stove or put it in the microwave for a minute or two.
It's important to stir the risotto often, but you don't need to stir it constantly the entire time. Once or twice every few minutes is fine. 
The rice should be al dente when the risotto is finished cooking, not completely soft. The consistency should be slightly loose, not thick and pasty. 
You can swap out the mascarpone cheese for 4 tablespoons of butter if desired.
The truffle oil is optional but makes it extra special! Be sure to use one that's good quality and add it to the bowls right before serving so it retains its aroma. A little goes a long way! Only ½ teaspoon or so is needed for each dish. 
Nutrition
Serving Size:
Calories:

522

Sugar:

3.2 g

Sodium:

1090 mg

Fat:

40.9 g

Carbohydrates:

22.6 g

Protein:

16.7 g

Cholesterol:

50.4 mg
Keywords: rice, wild mushrooms, funghi, truffles