This easy recipe for perfectly pan seared scallops is the last one you'll ever need! Once you learn this simple technique you'll make the best scallops of your life! Browned and caramelized on the outside, perfectly cooked and tender inside.
Ahhh, September. The start of what we here at the shore call "local's summer," but it's also back to school. Not just for the kiddos, but for you, too. Every so often I like to pop in with a basic how-to tutorial, like this one on pie crust and this one about caramelizing onions. Today's, as you can see, is about how to perfectly pan sear scallops. 
I think this is a great skill to have in your back pocket for whenever you want to impress the pants off of someone special, which, for the record, can totally be yourself. It's not necessarily a difficult technique, but it's one that takes a little know-how and practice. There are a few key tips to remember, so let me break them down for you.
Start with great scallops. You want sea scallops, not bay or Nantucket scallops, of a good size. Diver scallops, if you're lucky enough to find them, have been plucked right out of the ocean by, yep, you guessed it, divers, and are always of exceptional size and quality. Always buy from a reputable source, and ask your fishmonger if they are dry packed or wet packed. Wet packed scallops have been infused with a chemical solution to make them retain water, which will ooze out when cooking and prevent them from browning. It will also give them an odd flavor. Dry packed scallops have not been treated with anything and are exactly what you want.
Prep. Rinse the scallops under cold water to remove any sand that may be present. Some, if not all, of the scallops, will have a little muscle on the side that needs to be removed, as it's very tough and chewy. Be sure to pat them very, very dry. This will ensure tehy achieve that beautiful caramelized exterior. Season them up on both sides with salt and pepper RIGHT before cooking. Do it any sooner, and the salt will draw out their moisture, making them wet again, and thus preventing that caramelization.
Get the perfect sear. Start with a good, heavy-bottomed pan that's fairly large. Cast iron is best, since it retains heat so well. Get it nice and hot. Not smoking hot, but hot. Add a decent amount of fat - it's essential to getting the scallops nice and seared all around. I prefer using butter and oil, as I love the flavor of butter, and the oil helps keep it from burning. Gently add the scallops, one at a time, and be sure not to overcrowd the pan. If you have to work in batches, so be it.
Chill out, but pay attention! This is going to happen quickly, so don't walk away from the stove, but resist the urge to poke and prod. You want the scallops to develop a deeply golden brown, caramelized exterior, and the only way to do that is to just let them be. Check them after a few minutes, and flip them only once when they're nicely browned.
Don't overcook. This is a biggie. Cook a scallop too long and it will be rubber. I prefer them when they're just medium, or even medium rare inside, not all the way cooked through. They can be totally cooked through without being rubbery if that's what you prefer, you just have to be extra careful that they don't go over. If you like your scallops a little less done, like me, it's best to work with the biggest scallops you can find. That way, you can get a nice sear on both sides without overcooking. If they're a little on the smaller side (like the ones I used today), it will be a bit tougher to get them perfectly seared on both sides while still medium in the center. Do the best you can, but I think it's better to have them less seared on one side than to have them overcooked in the middle. Use your best judgment.
Keep them simple! You took the time and care to select the best scallops and sear them to the perfect golden brown exterior. Now let their sweet flavor shine! I like to add some aromatics to the pan, like fresh herbs and garlic and serve them with a little bit of the browned, flavored butter and a squeeze of lemon. That's it!
No recipe needed, here. Follow those steps to a T and you're on your way to restaurant quality seared scallops every single time. Guaranteed.
Wishing everyone a safe and happy Labor Day Weekend! Extra emphasis on the safe, as there are many storms abrewin'.
Cheers!
One Year Ago: Grilled Potato Salad with Blue Cheese + Tomatoes
Two Years Ago: Watermelon Gazpacho
Three Years Ago: Arugula Salad with Grilled Figs, Prosciutto, Hazelnuts + Homemade Ricotta
Print
Perfectly Pan Seared Scallops (Video!)
This is an easy video tutorial for how to perfectly pan sear scallops! Once you learn this simple technique you'll make the best scallops you've ever tasted. Browned and caramelized on the outside, perfectly cooked and tender inside.
Author: Nicole Gaffney (ColeyCooks.com)
Prep Time:

5 minutes

Cook Time:

5 minutes

Total Time:

10 minutes

Yield:

2

-

4

servings

1

x
Category:

seafood

Method:

pan seared

Cuisine:

pescatarian

Diet:

Gluten Free
1

lb dry sea scallops or diver scallops
salt and pepper, to taste

1 tablespoon

vegetable oil

2 tablespoons

butter
thyme, garlic or other aromatics (optional)
lemon, for serving
Instructions
Remove the tough side muscle from each scallop, them pat them very dry.
Heat oil and butter in a medium-large skillet over high heat.
Season scallops on both sides with salt and pepper right before cooking - no sooner.
Carefully place the scallops in the pan, then lower the heat to medium. 
Cook, undisturbed, for about 2 minutes depending on size, or until nicely browned on the bottom. 
Flip and cook for about 1 minute more on the other side. 
Add aromatics to the pan if desired and use a spoon to baste with the hot fat.
Remove from the pan, squeeze with lemon and serve immediately. 
Nutrition
Serving Size:
Calories:

171

Sugar:

0 g

Sodium:

1240.4 mg

Fat:

18.4 g

Carbohydrates:

0.6 g

Protein:

2 g

Cholesterol:

34.1 mg
Keywords: pan seared scallops, how to cook scallops, pescatarian main dish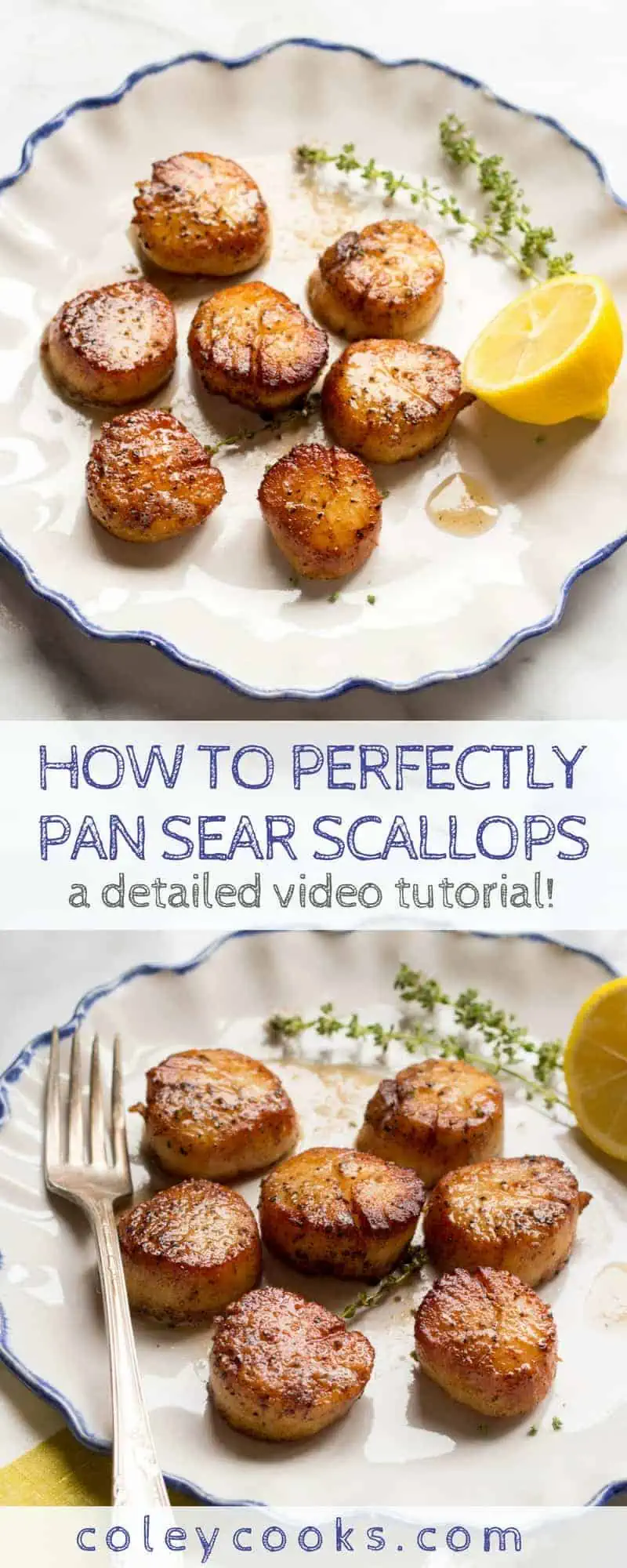 SaveSave