This easy, foolproof method for making a whole roasted chicken produces the most tender, juicy results every single time! Salty herb butter gets rubbed beneath the skin before roasting, which seasons the meat and imparts a delicious flavor while keeping the skin ultra crispy. Once you try this whole roasted chicken with herbs it will become a staple in your kitchen!
This post contains some affiliate links, which means I receive a small commission if you choose to make a purchase. I'm very grateful for your support!
As the weather cools down each year, this recipe for a simple, herb roasted chicken finds its way back into my regular dinner rotation. It's always my go-to on the first crisp Autumn day of the year.
This whole roasted chicken is super flavorful thanks to a well seasoned herb butter that gets rubbed underneath the skin before cooking. A digital thermometer tells us when the meat reaches just the right temperature, resulting in a bird that's always juicy and never dried out. We love eating it on the first night fresh from the oven with a few simple sides and then transform the leftovers into soups, salads, tacos or casseroles all week long.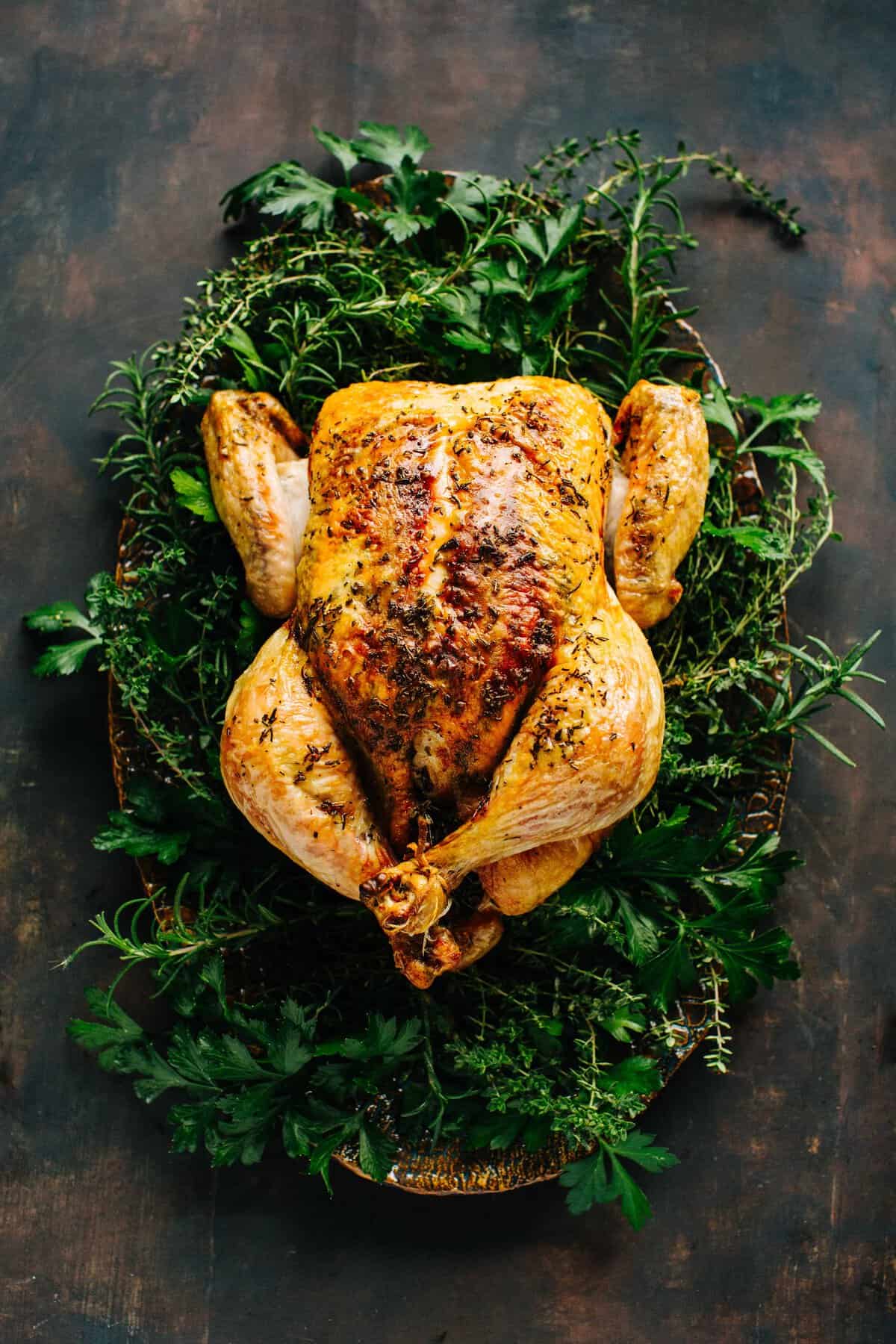 How to make the meat flavorful?
Because we're roasting a whole chicken and not individual cuts, it's important to season the inside as well as the outside. This recipe imparts flavor in several different ways, starting with the inner cavity. After removing the giblets, season the inside of the chicken very liberally with salt and pepper. Then, stuff it with aromatic vegetables and herbs, which release their flavor and infuse the chicken as it cooks. This recipe calls for carrots, celery, onion, lemon, garlic and herbs, but truth be told, I often use whatever odds or ends I have lurking in my refrigerator.
Next, stuff generously salted herb butter underneath the chicken skin so that it melts down into the meat. Mix chopped herbs such as thyme, rosemary and/or sage into softened butter with plenty of salt and pepper, then use a spoon to nestle it underneath the skin and use your fingers to press and even it out. I find it easier to stick your fingers under the skin first to loosen it before going in with the butter.
Finally, the outer skin gets seasoned with olive oil, salt, pepper and herbs. Don't go too crazy with the salt here or the skin will taste way too salty.
How to achieve crispy skin?
There are two main keys to achieving ultra crispy skin on a whole roasted chicken. First, it's important that the chicken is dry. Once you remove it from it's packaging, transfer it to a roasting pan (you do NOT need to rinse it), then use several paper towels to pat it very dry all over inside and out. After this, I like to let it sit out for 20-30 minutes to remove the chill, then pat it dry one more time with paper towels before stuffing and seasoning.
The second trick is to start the chicken at a normal temperature – 350 degrees F – for the majority of the cooking time. This allows the chicken skin to render its fat slowly, then towards the end of cooking, bump the temperature up to 400 degrees F to allow the skin to get ultra crisp.
The chicken will need to rest before carving, but unfortunately the skin gets soggy as it sits. I let the chicken rest for about 5-10 minutes to lock in the moisture, then remove the skin to serve on the side. Truth be told, the skin rarely ever makes it to our table. We snack on it right over the cutting board.
How long does it take to cook?
The cooking time depends on several different factors such as how large your chicken is, how cold it was prior to going into the oven and how well your oven is calibrated. That's why I don't recommend ever going by time. If you want a chicken that's not overcooked or undercooked, it's imperative to use a meat thermometer. This way, you remove all the guess work and the chicken will be perfectly cooked every single time.
That said, I generally budget bout 1 ½ hours of cooking time when I roast a chicken. 165 degrees F is when a chicken is fully cooked, but I always take my chicken out of the oven at 160 degrees F because it continues cooking as it sits. The thermometer always reaches 165 and often climbs higher.
Oh, and those chickens with the little plastic thingies that pop up when the chicken is "done?" They pretty much guarantee your chicken will be overcooked and dry since they are designed to pop at a temperature well above 165. Don't rely on them, ever.
What equipment is needed?
For best results, I recommend the following equipment for roasting a whole chicken:
A Roasting Pan – It does not need to have a rack, but I prefer it. I find it makes the skin crispier. If you don't have a roasting pan, you can roast a chicken in any pan that's large enough and oven safe – cast iron is a great choice.
Kitchen Twine – No kitchen twine? You can use unflavored dental floss in a pinch! Just make sure it's NOT flavored – no one wants minty fresh chicken.
A Digital Meat Thermometer – Non negotiable, unless you want to play Russian raw chicken roulette. I prefer the type of thermometer that stays in the chicken while it roasts and beeps when it reaches the correct temperature. That said, any digital thermometer will work!
What to do with Leftover roasted chicken?
One of the reasons why I LOVE making this recipe is because it's several meals in one. The leftover roasted chicken can be used in a myriad of different recipes, from enchiladas and tacos to soups, salads and more. Here are a few of my favorite recipes for using up leftover roasted chicken:
When all of the meat has been cleaned from the bird, I always take whatever's leftover and make a pot of stock. Just put the remaining bones in a stock pot and cover with water, simmer for several hours, then strain. You can add more aromatics if you like, but I tend to keep it simple. Don't overthink it.
Does this method work for turkey?
Yes! This roasting method produces a delicious turkey just like it does a chicken. The only difference is it will require a much longer cooking time, and because of this, I recommend skipping the 400 degree F temperature increase at the end. The skin will be beautifully browned, but if for some reason it's not, go right ahead.
Print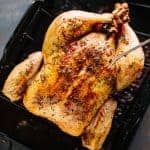 Herb Roasted Chicken
Author:

Nicole Gaffney (ColeyCooks.com)

Prep Time:

15 minutes

Cook Time:

1 hour 30 minutes

Total Time:

1 hour 45 minutes

Yield:

4

servings

1

x

Category:

chicken dinner

Method:

roasted

Cuisine:

American

Diet:

Gluten Free
---
Description
This easy, foolproof method for roasting a chicken or turkey produces the most delicious, juicy results every time. The perfect roasted chicken recipe!
---
assorted fresh herbs such as thyme, rosemary and/or sage*

1 teaspoon

kosher salt, plus more for sprinkling
freshly cracked black pepper to taste

3 tablespoons

butter, softened to room temperature

1

fresh whole chicken, any size
aromatic vegetables and herbs for stuffing, such as carrot, celery, shallot, onion, garlic, lemon, parsley, sage, rosemary and thyme**

1

–

2

tablespoons olive oil (eyeball it)
kitchen twine
instant read thermometer
---
Instructions
Remove the tough stems from the herbs, then chop them up so you have a little over 1 tablespoon. Add ¾'s to a bowl, reserving the rest of the herbs for later. Eyeball it – it doesn't need to be exact. Add 1 teaspoon of salt, freshly cracked pepper to taste, and the butter. Mix until the herbs are evenly distributed.
Preheat the oven to 350 degrees. Place the chicken breast side up on the rack of a roasting pan. Remove the giblets from inside the cavity, and place them in the pan below if desired (once roasted they will help flavor a fantastic gravy or pan sauce). Use several paper towels to pat the chicken dry on all sides – being as thorough as possible. This will help the skin get golden brown and crispy.
Rub the inside of the cavity with a generous amount of salt and pepper, then stuff the aromatic vegetables and herbs inside until you can't fit anymore.
Use your fingers to go underneath the skin and separate it from the breast meat, being careful not to let it tear (be mindful of your rings, ladies).
Using a spoon, take half of the herb butter and stuff it underneath the skin on one side of the breast as far as it will go, then use your fingers to press and spread it out. Repeat with the other side.
Pull the flaps of skin up to cover the cavity, then criss cross the legs and tie it all together with a piece of kitchen twine. No fancy technique – just a simple knot will do.
Drizzle the chicken all over with olive oil, then use your hands to rub it into every nook and cranny. Sprinkle with a light dusting of salt, pepper and the remaining chopped herbs.
Place the chicken in the oven on the middle rack, then stick the thermometer in the thickest part of the breast, being sure to aim it for the center of the meat.
When the chicken reaches 140 degrees F, crank the heat up to 400 and continue cooking until it reaches 160. Remove it from the oven immediately, as it will continue cooking as it sits. The chicken should reach at least 165 degrees F while it sits.
Let the chicken rest for at least 15 minutes. Use a sharp knife to remove the legs and wings, then use the breast bone as a guide to remove the entire breasts, one at a time. Slice the breasts into pieces, and separate the legs into drumsticks and thighs. Serve immediately.
Notes
*Dried herbs may be substituted for fresh, but since they are much stronger in flavor you need to use less.
**You don't have to use all of the vegetables listed here. I usually just use whatever odds and ends I have in my refrigerator to stuff the cavity – a piece of an onion, half a lemon, a few garlic cloves, etc.
Keywords: whole roast chicken, oven roasted chicken, how to cook a whole chicken