My Grandma's Apple Pie is an authentic recipe for Apple Pie that we make together every year for Thanksgiving! The best apple pie recipe ever!
"When you die, if you get a choice between going to regular heaven or pie heaven, choose pie heaven. It might be a trick, but if it's not, mmmmmmm, boy." –  Jack Handey, Saturday Night Live.
I am a pie person. Let it be known.
I come from a family of pie people, and hopefully one day I'll get to go to pie heaven. 
This is my Grandma! You can call her Ro.
She's not the kind of Grandma that makes fancy birthday cakes or  perfect chocolate chip cookies.  Nope.
This Grandma makes pies. And let me tell you, she is one bad pie maker. 
No, No! I don't mean bad in a negative way. I mean it in the Michael Jackson way…  Grandma kills it at the pie game.
SEMANTICS.
Anyway, what I'm trying to tell you is that my Grandma makes the most amazing pies ever.  They're probably better than your grandma's pies. Just sayin'. Her apple pie is legendary.
In recent years my aunts, cousins and I  have started a new tradition in order to learn all the tricks of Grandma's trade.
We all get together in the fall and make oodles and oodles of pies. Grandma oversees the whole operation and teaches us her techniques as we go.
My Grandma only makes three pies, and each of them is perfect.
Blueberry pie in the summer, apple pie in the fall and the occasional custard pie – creamy, scented with nutmeg – which has always been one of my favorites.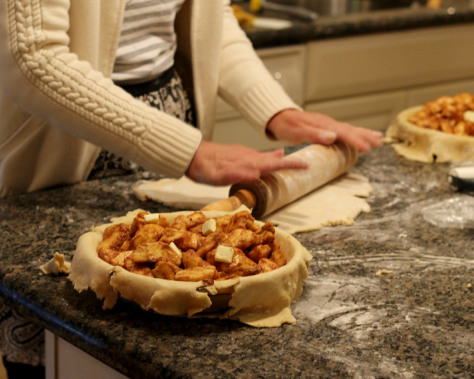 But for our pie making pow-wows we always stick to apple only.
No salted caramel. No crazy spices. No cheddar cheese. No fancy lattice top.
Just good old fashion apple pie. Nothing but cinnamon, sugar, butter, the flakiest crust ever, and lots and lots of love.
"Pies are one of the few things I make where I actually feel myself putting in the love."
My Aunt Ang said this as we were making our pies last weekend and I totally feel her on that.
An essential ingredient for any good pie is a healthy does of L-O-V-E. Don't even try to make one without it.
We freeze all of the pies we make so that we can have pie on the fly all throughout the holiday season (and beyond).
Believe it or not, pies bake up better when they go straight from the freezer to the oven, as the cold butter reacts with the heat in order to create a super flaky crust.
Everyone knows it's the crust that makes a pie great, and my Grandma's crust is the truth.
That being said, over the years I've altered the recipe a bit to suit my own tastes. Grandma's crust is traditionally made with all vegetable shortening and no salt.
I've adjusted mine to include salt (because I don't make anything without it) and of course, butter.  Naturally, everything is always better with butter. But I keep a little shortening in the mix to keep the dough tender and to add extra flakiness.
So often it seems that secret family recipes get lost over time because the younger generations never learn how to make them.  I LOVE that my family developed this tradition, and I'm so proud to have finally mastered Grandma's pie recipe.
Does your Grandma have a special recipe that you've always wanted to learn? Maybe this Thanksgiving is the time to finally ask her if she'll teach you.
I'm sure she'll be thrilled to pass down the knowledge, and she'll probably be pretty flattered that you asked, too.
I can't wait to celebrate my favorite holiday on Thursday and to eat all of the pies.  Here's to a day spent enjoying family, friends and feasting! Happy Thanksgiving to all of you turkeys out there who actually read this far down.
I hope you have the kind of Thanksgiving where you leave the table feeling too full for school. That's the point.
Gobble Gobble.
Print
Grandma's Apple Pie
Author:

Coley Gaffney (ColeyCooks.com)

Prep Time:

30 minutes

Cook Time:

60-90 minutes

Total Time:

2 hours

Yield:

1

pie, 8 servings

1

x

Category:

dessert

Method:

baking

Cuisine:

American
---
Description
My Grandma's Apple Pie is an authentic recipe for Apple Pie that we make together every year for Thanksgiving! The best apple pie recipe ever!
---
For the Crust:
3 cups

all purpose flour, plus more for dusting
 tablespoon granulated sugar

1 teaspoon

salt

¾ cup

butter (

1 ½

sticks), cut into cubes and chilled

6 tablespoons

vegetable shortening, chilled

6

–

8

tablespoons ice water, or more as needed
For the Filling: 
6

large Rome apples or other baking apples

½ cup

granulated sugar

¼ cup

all purpose flour

2 teaspoons

cinnamon

½ teaspoon

salt

2 tablespoons

butter

1

egg beaten for egg wash
---
Instructions
Make the crust: Combine flour, sugar and salt in a medium bowl. Use a pastry cutter to cut in the butter and shortening until the pieces are the size of peas. Add in 6 tablespoons of water and mix gently with a rubber spatula or wooden spoon until the dough just starts to come together. Add more water one tablespoon at a time as needed until the dough just comes together. The dough should not be sticky, and you should be able to see the pieces of butter and shortening flecked throughout. Don't overmix!
Once the dough comes together, split it into two balls, then gently shape them into discs, wrap and refrigerate for at last 30 minutes (or up to two days).
While the dough is chilling, make the filling. Peel, core and slice the apples about ½ inch thick and place in a large mixing bowl. Add the flour, sugar, salt, and cinnamon. Toss the apples until evenly coated, then let sit for at least 30 minutes .
It's important that the dough stay cold while you roll it out, so keep it in the refrigerator until just ready. Prepare the counter and rolling pin by dusting each liberally with flour. Remove one disc of dough from the refrigerator and roll to about 12 inches around, rotating the disc as you go to keep it from sticking to the counter. Use a pizza cutter or knife to trim the edges so that the shape is as round as possible.
Transfer the dough to a pie plate, making sure it's distributed evenly around the sides.
Mix the apples, pour them into the shell, then dot the top with the remaining two tablespoons of butter. Use your fingers or a pastry brush to lightly wet the perimeter of exposed dough around the edges with egg wash.
Roll out the second disc of dough and place it over top of the apples. Use your fingers to go around and press the top crust to seal with the bottom crust, then neatly tuck it all under. Use your thumb and index finger on each hand to push and pull the crust to form a fluted edge.
Transfer the pie to a freezer for at least one hour, or wrapped tightly, for up to 6 months.
When ready to bake, preheat the oven to 375 degrees. Use a sharp knife to slit three holes in the top of the pie (be creative, you artists!). Then use a pastry brush to paint the entire thing with the egg wash, being careful not to close up the vents you just created.
Transfer the pie to the oven and allow it to bake for about an hour to an hour and half, rotating half way through to ensure even cooking. The crust should be golden brown and the filling oozing around the vents. If the crust begins to get too brown, tent the top with a piece of foil and lower the oven if needed.
Allow the pie to rest for at least one hour before cutting into it, otherwise the filling will ooze all over. Serve with a dollop of whipped cream or vanilla ice cream. Swoon.
---
Notes
So many people are intimidated by making pie crust, and I've certainly made my fair share of bad ones. It's something you develop a feel for, and the more you do it the easier it gets. Practice makes perfect!
Don't get all hung up on being perfect in the beginning and accept that you will make some mistakes. This doesn't just apply to making pie crust, but to cooking in general!
The key here is to not fuss with it so much. The more fussing, the tougher and less flaky the end result will be.
If your first attempt doesn't come out great, don't be discouraged. Dust yourself off and try again! After all, it took Grandma years to be this "bad" at making pies.
Keywords: pie, apple, apple pie, dessert, Thanksgiving, American, grandma, classic, homemade crust