This easy recipe for Butternut Squash Fritters with Spiced Yogurt makes a unique and addictive appetizer or side dish for Thanksgiving. 
You guys, Thanksgiving is just TWO WEEKS AWAY! Are you ready? Have you even started thinking about it yet? Do you even care? (Rhetorical question.)
Well, I care. Thanksgiving is obviously the biggest and best food holiday in the country, and maybe even the world. We're right at the tail end of harvest season, which means while tomatoes and zucchini have passed their prime, winter squash and hearty greens are still ripe for the picking. This is a recipe that takes full advantage of what's in season, and can be adapted as an appetizer, a side dish, or even a light meal to enjoy before or after the big day.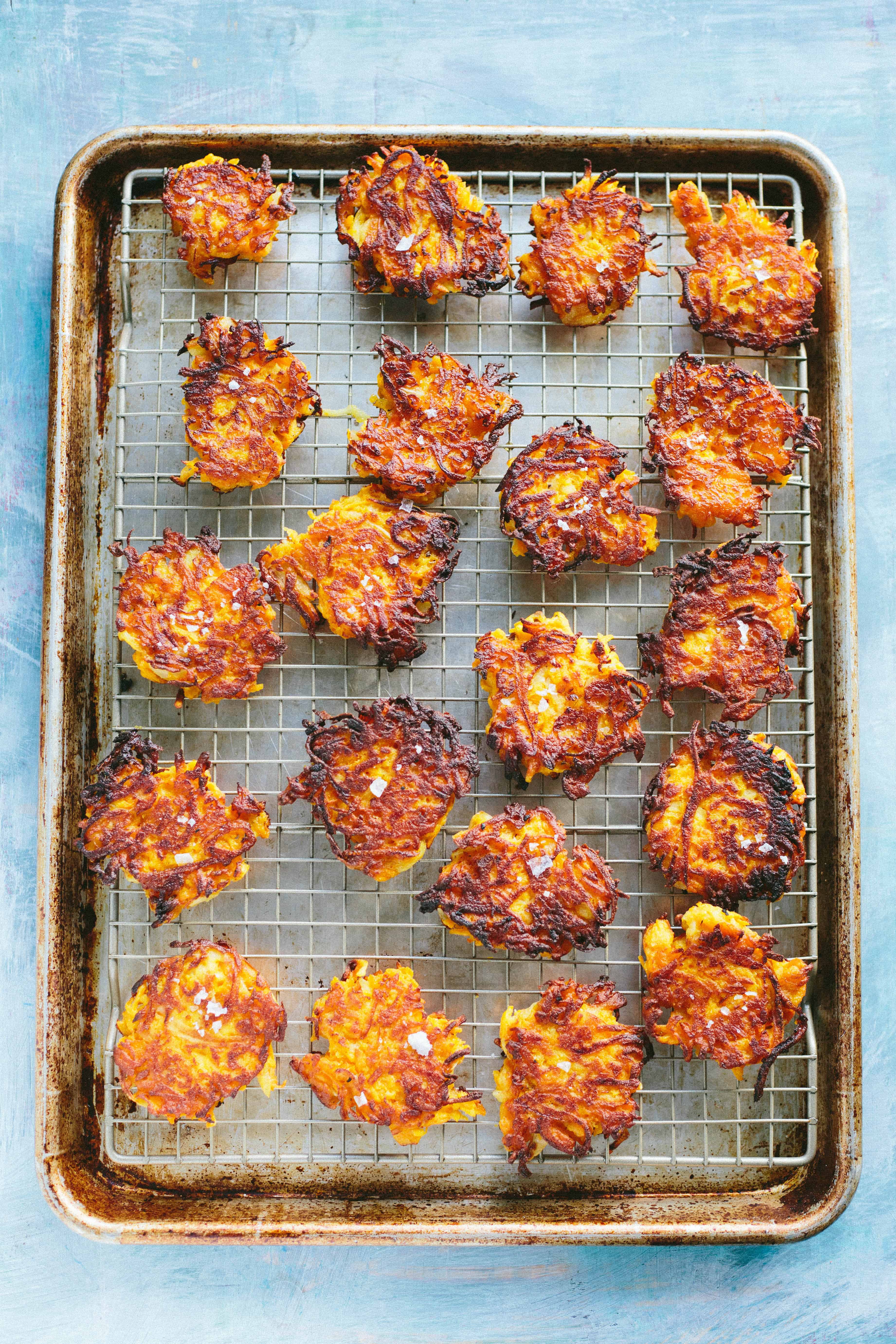 This recipe is an adaptation of one by cookbook superstar Alison Roman, who blew the food world away last year with her cookbook, Dining In, and her Insta-famous chocolate chip shortbread cookies. I've made this recipe more times than I can remember over the past year, and in doing so have made so many adjustments that it's basically my own at this point. Still, I always like to give credit where credit is due.
These little fritters, or latkes, pancakes - whatever you want to call them - are one of my favorite things to make, be it this recipe, or this one or this one or this one. Yes, they are fried - and I suppose you could bake them if you really wanted to - but since they're made up of mainly vegetables, of course I consider them health food. They keep wonderfully in the fridge and actually reheat better the next day. I love throwing a few in the toaster oven for a quick bite, or eating a stack of them with a big green salad for lunch. This time of year, because of their wonderful make-ahead-ability, I think they're especially well suited for snacking on before the turkey.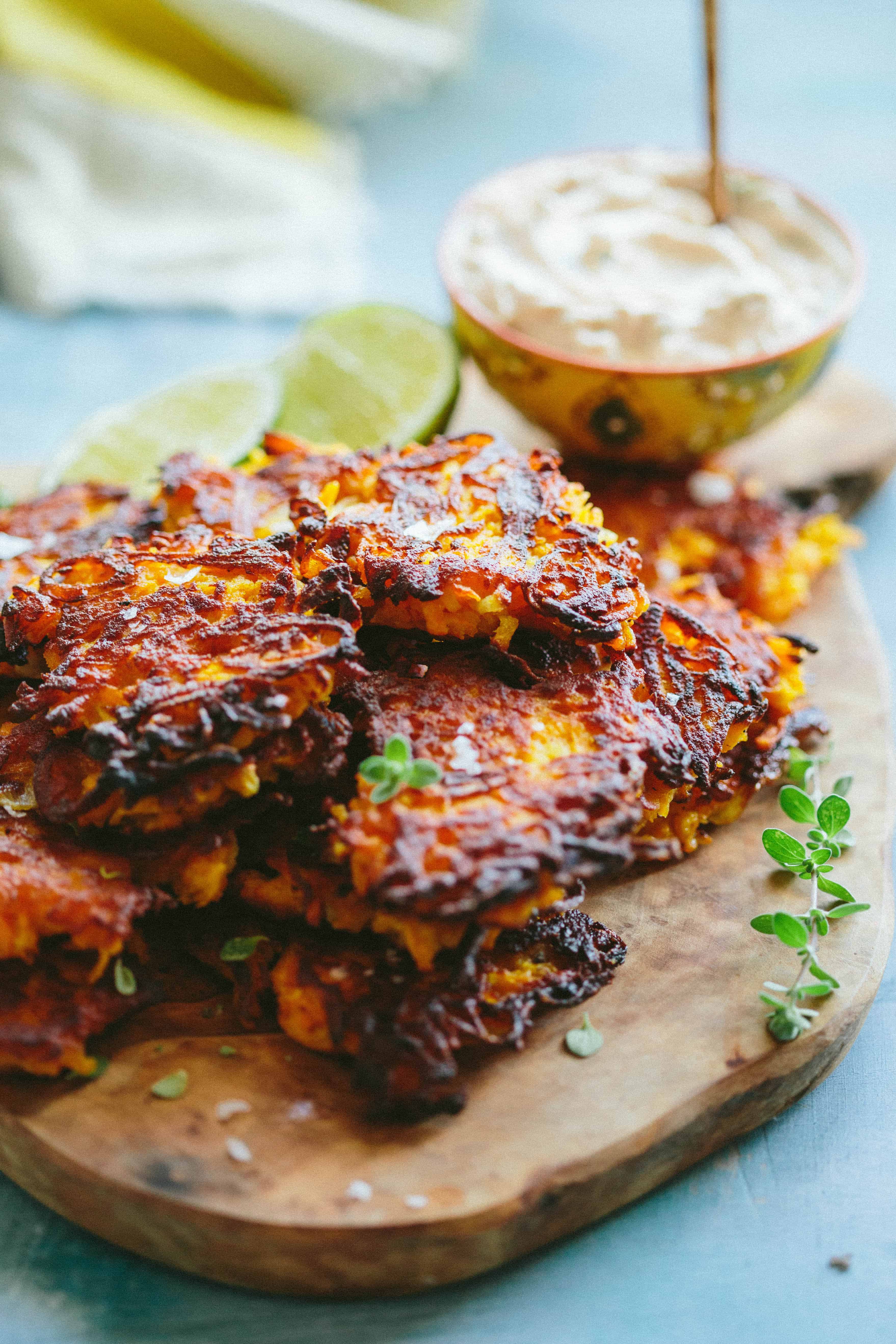 Unlike most of the fritters I've made in the past, these babies are gluten free since they're made with chick pea flour instead of wheat. It seems like every day I have another friend or family member declare they're no longer eating gluten, so I'm constantly trying to adapt my recipes to be more friendly. And you know what? Despite my pasta/bread/pastry obsession, it's becoming quite clear in my middle-age that when I over-indulge in wheat, I really don't feel my best.
I liken this recipe, at least in concept, to farinata, socca or panelle, only this is much more interesting thanks to the addition of winter squash and onions. The thinly sliced onions and squash get par-cooked in the oven to release some of their liquid and soften up a bit. They're combined with chick pea flour, egg, baking powder and a little bit of corn starch to ensure they're extra crispy.
The first few fritters I made from this batch were a bit... off. I had to do some troubleshooting and discovered that they actually fry up better with minimal oil, contrary to instinct. And while they're perfectly fine on their own, they really come to life with a swipe of this spiced yogurt. It has cumin, coriander, smoked paprika, garlic and lime juice to really make it pop. My friend Jonny said it tasted like taco seasoning, and while I was kind of offended at first because I thought it was anything but, after I took another bite I was like, "dude, you are so right." That said, whatever you want to call it, it tastes really damn good.
I hope this recipe finds its way into your kitchen at some point in the next few weeks. It's such an awesome way to celebrate seasonal produce and to enjoy something that's mostly healthy, but just indulgent enough to make it worth eating.
Enjoy.
One Year Ago: Turkey Pot Pies with Bacon, Caramelized Onions + Butternut Squash
Two Years Ago: Apple Butter Quesadillas / Roasted Cauliflower with Breadcrumbs, Capers, Almonds and Raisins
Three Years Ago: Pasta with Sausage, Mascarpone and Walnuts / Chocolate Hazelnut Panna Cotta
Print
Butternut Squash Fritters with Spiced Yogurt
This easy recipe for Butternut Squash Fritters with Spiced Yogurt makes a unique and addictive appetizer or side dish for Thanksgiving. Adapted from Alison Roman. 
Author: Nicole Gaffney (ColeyCooks.com)
Prep Time:

30 minutes

Cook Time:

30 minutes

Total Time:

1 hour

Yield:

~25 / serves 8-10 as an appetizer

Category:

appetizer

Method:

pan fried

Cuisine:

American
For the Fritters:
1

~2-lb butternut squash, peeled, seeded and grated on a box grater*

1

medium-large yellow or sweet onion, halved, peeled and sliced as thin as possible*

4 tablespoons

olive oil, divided

¾ cup

chick pea flour

2 tablespoons

corn starch

1 teaspoon

baking powder

1 teaspoon

salt
freshly ground black pepper to taste

1

egg
flaky sea salt, such as Maldon, for sprinkling
For the Spiced Yogurt:
¾ cup

plain whole milk Greek yogurt

1

small garlic clove, very finely minced

½ teaspoon

cumin

½ teaspoon

coriander

½ teaspoon

smoked paprika

½ teaspoon

salt

2 teaspoons

lime juice
Instructions
Preheat the oven to 350 degrees F and line a sheet pan with parchment paper.
Toss butternut squash and onions with 1 tablespoon olive oil, then spread out on to the sheet pan in an even layer. Bake for 15 minutes, or until just starting to soften. Let cool.
In a large bowl, combine the chick pea flour, corn starch, baking powder, salt and pepper, then mix to combine. Add the butternut squash and onions, the egg and ¼ cup water. Mix until it forms a tight batter and everything is thoroughly combined.
Heat the remaining 3 tablespoons of olive oil in a large skillet over medium-high heat. Use a ¼ cup measuring cup to scoop out the batter (don't fill it all the way) and place it in the pan. Use the back of the cup to flatten it just a bit, then repeat 3-4 more times, but don't overcrowd the pan. When they're starting to brown on the outsides, give them a flip and cook until browned on the other side. Repeat until you've used up all the batter.
Transfer fritters to a baking rack set over a sheet pan to drain. Sprinkle with flaky sea salt, then pop the pan in the oven (still set to 350 degrees F) while you make the spiced yogurt.
In a small bowl, add the yogurt, garlic, cumin, coriander, smoked paprika, salt and lime juice. Whisk until thoroughly combined, then transfer to a serving bowl.
Remove the fritters from the oven, transfer to a platter, then serve immediately with spiced yogurt on the side.
Notes
* I use the grater attachment on my food processor to make quick work of the squash and a mandoline to make super thin, even slices of onion.
The fritters can be fried, then stored in an airtight container in the refrigerator for up to 3 days in advance, as can the yogurt. Reheat the fritters in a 350 degree oven for about 15 minutes, or until hot and crispy.
Nutrition
Serving Size:
Calories:

63

Sugar:

1.6 g

Sodium:

211.7 mg

Fat:

3.1 g

Carbohydrates:

7.6 g

Protein:

2.1 g

Cholesterol:

8.6 mg
Keywords: easy, fall, appetizer, recipe, side, thanksgiving, butternut squash, chick peas, pancakes, latkes, yogurt