This is the BEST recipe for Chicken Pot Pie EVER. Tender chicken, classic veggies, rich gravy, and a flaky, buttery crust. Ultimate comfort food!
I've had a long lasting love affair with chicken pot pie ever since I was a little girl. My mom used to stock our freezer with
 Marie Callender's pot pies
, and I ate them every chance I got. What I loved most about those pies was that they had the perfect crust to filling ratio. And what I mean by that is they had
a lot of crust
: a top AND a bottom. Many chicken pot pie recipes fail to include a bottom crust, which I find imperative. I don't think it's a secret that a
good crust
is the best part of any pie, but especially a savory pie. I've been making chicken pot pie from scratch for years, but it's taken me up until now to really perfect the recipe. I finally managed to get the flavors, the consistency, and the proportion of crust, chicken, vegetables and
gravy
all just right.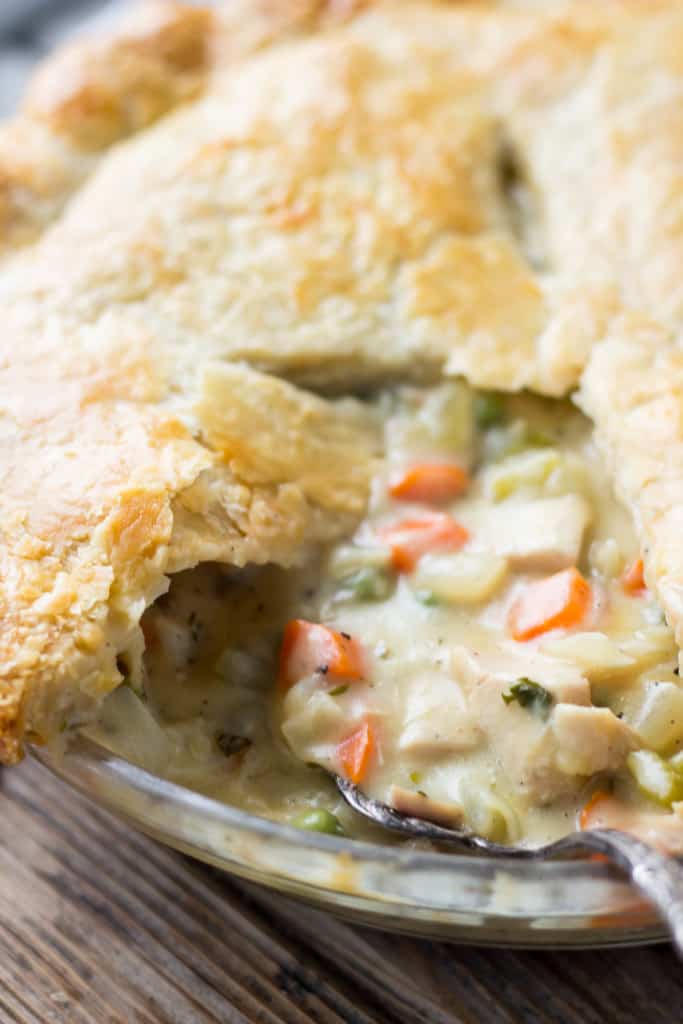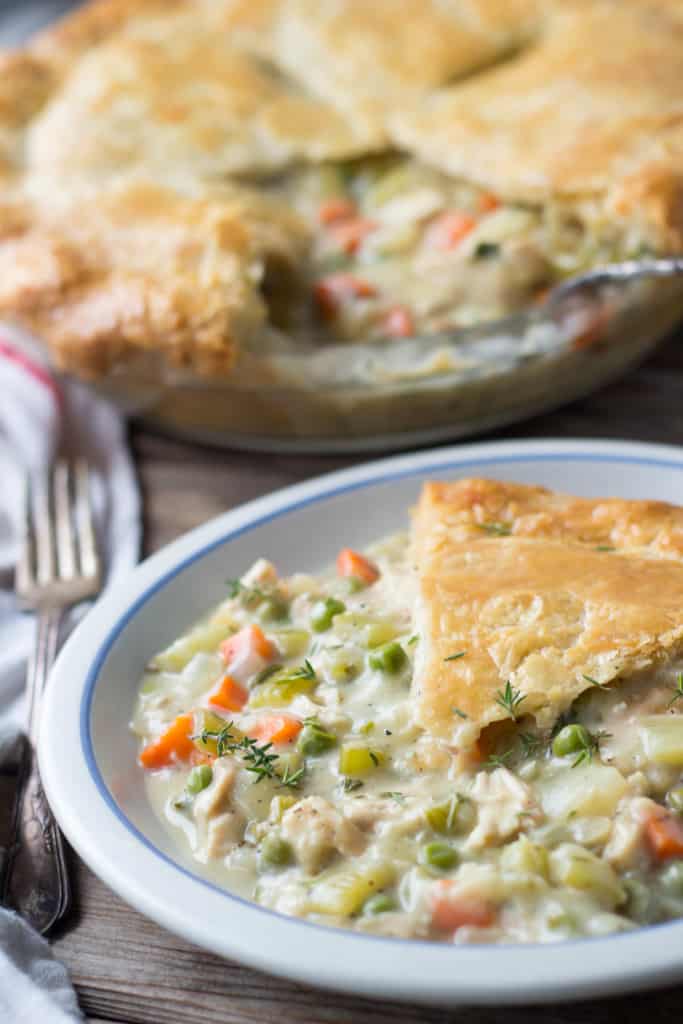 One of the more challenging aspects of achieving pot pie perfection was the sauce. I struggled to find a consistency that wasn't too thick or thin, and to attain a flavor that had depth, but didn't overpower. I tried white wine. I tried cream cheese. I tried a slew of different herbs and seasonings, but nothing was doing it for me. This time around I experimented with a splash of apple cider, an idea I discovered while researching chicken and dumplings recipes some time ago. Strange in theory, but it totally works. It adds the slightest note of sweetness, and just a tinge of tang. You don't know it's there, it just gives it that "mmm... what is that?" depth of flavor. You have to trust me on this one.
As for the vegetables, I see everything from corn and potatoes to green beans and pearl onions in chicken pot pies, but I stick to the bare essentials: Mirepoix (carrots, celery, onion), plus a few frozen peas. That's it. Oh, and garlic! Something I never thought to be welcome in a chicken pot pie, but actually gives a really nice boost of flavor. For the other seasonings, I find most chicken-friendly herbs like rosemary and sage to be too much. I just use some fresh thyme (the dried stuff works too - just use a little less), and a little parsley at the end to make it taste fresh. But not too fresh. This is still comfort food, y'all.
Making this whole shebang from scratch does take a bit of effort, but the results are worth every second spent mixing, dicing, rolling and baking. There are a few ways to make things a little easier on yourself though. For starters, you can use the
leftovers from a roasted chicken
or a store-bought rotisserie chicken rather than cooking it fresh. In fact, I often roast whole chickens for dinner with the sole purpose of turning the leftovers into a pot pie. You can also substitute turkey with fabulous results, which is nice considering we'll all have plenty of that lying around in a few weeks.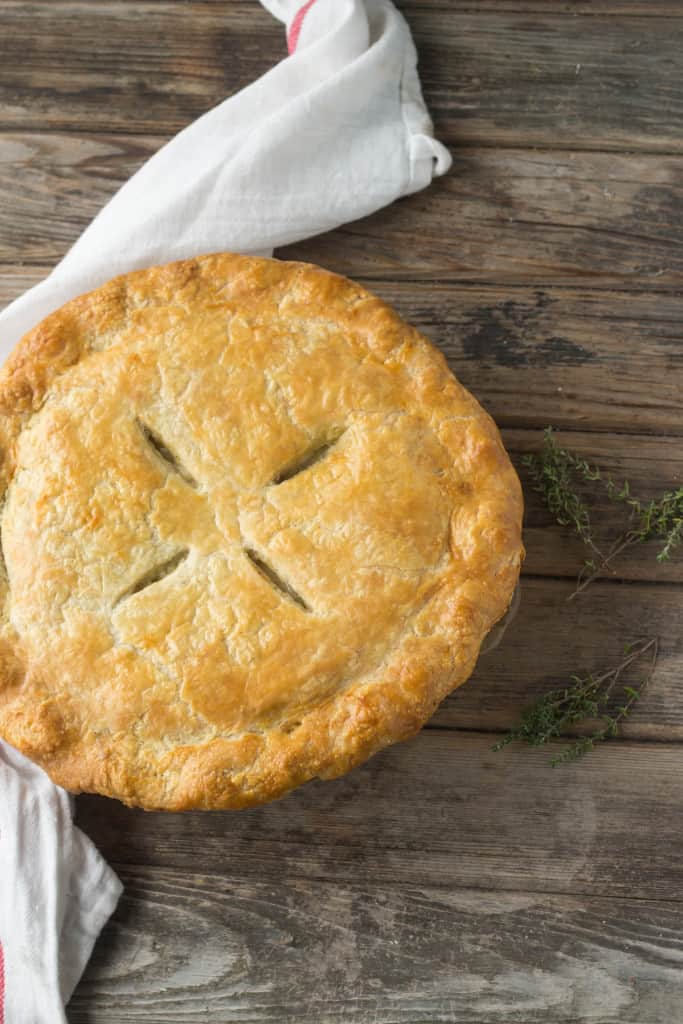 Now, I
always
insist on using
homemade dough for pies
, and the more you do it, the easier it becomes (scout's honor!). If you're really stuck, I suppose you could substitute a good quality (read: all-butter, preservative-free) store-bought pie crust, but it's my personal philosophy that if you're going to take the time to do this at all, you should really just go all out and make a
pie crust like my grandma
. The beautiful thing about pie dough is that it freezes incredibly well, so I suggest making it ahead of time and then popping it in the freezer until you're ready to bake. (Pro-tip: make several batches of pie dough at once so you always have some at the ready!)
 This pot pie feeds a solid 8 people easily, or if its just two of you in the house like us, you get the benefit of eating the leftovers all week long. This recipe is certainly a labor of love, but so are all the best things in life. If you spread out the steps over the course of a few days, it really won't feel like much work at all.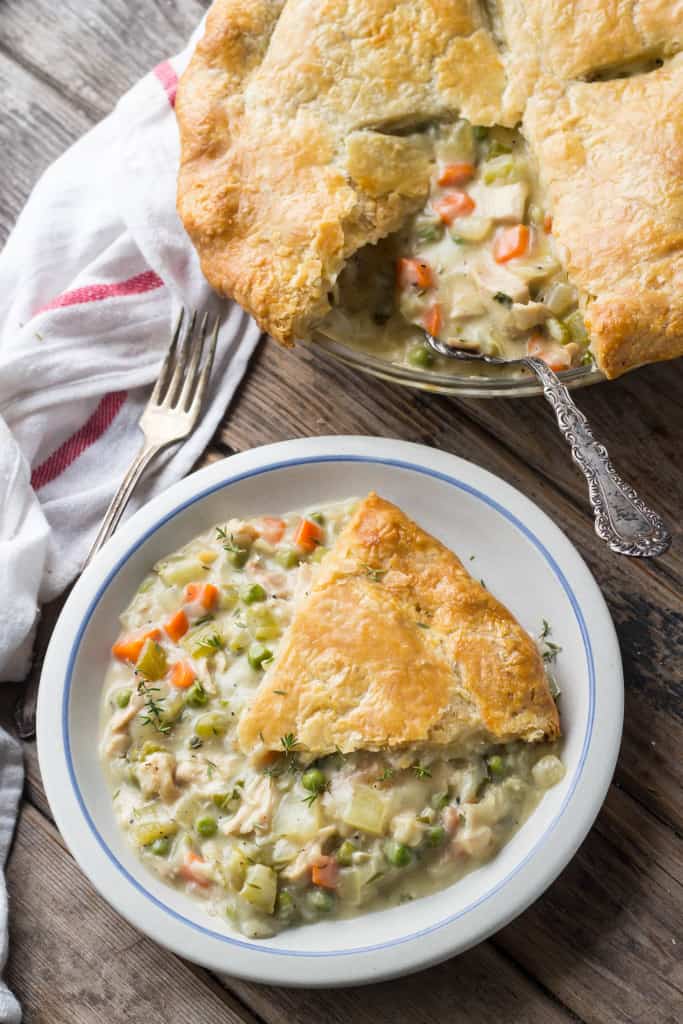 Print
Chicken Pot Pie
This is THE BEST recipe for chicken pot pie EVER. Tender chicken, classic veggies, rich gravy, and a flaky, buttery crust. Ultimate comfort food!
Author: Nicole Gaffney (ColeyCooks.com)
Prep Time:

45 minutes

Cook Time:

90 minutes

Total Time:

2 hours 15 minutes

Yield:

8

servings

1

x
Category:

comfort food

Method:

baked

Cuisine:

American
For the Crust
3 cups

all purpose flour

1 teaspoon

salt

¾ cup

(

12 tablespoons

or 1 ½ sticks) cold butter, cut into small cubes

6 tablespoons

vegetable shortening*

6 tablespoons

to ½ cup ice water (or more)

1

egg, beaten
For the Filling
4 tablespoons

unsalted butter

1

large yellow onion, diced (about

2 cups

or more)

2 cups

diced carrots

2 cups

diced celery

2 teaspoons

kosher salt, plus more to taste**
freshly cracked black pepper to taste

1

clove garlic, minced

½ cup

all purpose flour

2 cups

homemade or low sodium chicken stock**

¼ cup

apple cider

½ cup

heavy cream

1 teaspoon

fresh thyme (or

½ teaspoon

dried thyme)

2 cups

diced or shredded cooked chicken

¾ cup

frozen peas

1 tablespoon

minced fresh parsley
Instructions
Make the Crust
Combine the flour and salt in a medium bowl. Add the butter and shortening, then use a pastry cutter or fork to break down the fat until it becomes the size of peas. Pour in 6 tablespoons of water and mix gently with a rubber spatula or wooden spoon until the dough just starts to form a shaggy mass. Add more water one tablespoon at a time if needed. Use your hands to press the dough until it just comes together. Resist the urge to knead and squish - overmixing will make it tough. The dough should not be sticky, and you should be able to see tiny pieces of butter and shortening flecked throughout.
Once the dough has formed, split it into two balls, then gently shape them each into discs. It's important to shape them now so they roll out round later. Wrap in plastic and refrigerate for a minimum of 30 minutes (or up to two days). For longer storage, wrap tightly and freeze for up to 6 months.
Make the Filling
Melt the butter in a large heavy bottomed pot, then add in the onion, carrots and celery. Season with salt and pepper, then cook, stirring occasionally until the onions turn translucent, about 5 minutes. Add in the garlic, and cook for 2 minutes more. Sprinkle the flour over top, then stir until everything is evenly coated and all the flour is moistened. Pour in the chicken stock and apple cider while stirring, and cook for about 10 minutes until the mixture has thickened. Stir in the heavy cream and thyme, then remove from the heat. Taste and adjust the seasoning as needed. Stir in the chicken, peas and parsley, then allow to cool completely until proceeding with the recipe. Pouring a hot filling into the crust will make the dough difficult to work with and will not bake up as well.
Assemble and Bake
Preheat the oven to 350 degrees.
When the dough has rested and chilled, remove one disc at a time, unwrap and place on a generously floured work surface. Dust a rolling pin with flour, and begin to roll out the dough, making sure to constantly rotate it. This will help ensure the dough doesn't stick to the counter, and also will help keep it round. Use a measuring tape or the pie plate to determine when the dough has reached the right circumference. If the dough does not roll out perfectly round, use a knife or a pizza cutter to trim the edges to even it out.
Gently roll the dough onto the rolling pin and use it to transfer to a pie plate, then press it in to fit. Pour the cooled filling into the crust, then go around and lightly dab the top edges of the exposed dough with water.
Remove the second disc of dough from the fridge, then roll it out the same way and use the rolling pin to transfer it over top of the filling. Use your fingers to pinch together the edges of the top and bottom crust to seal in the filling, then use a pair of kitchen shears to snip off any excess, leaving about 1 inch of overhang. Tuck and roll the overhang under, then use your fingers or a fork to crimp the edges. Gently cut a few slits to vent the top, then use a pastry brush to coat the entire thing with the beaten egg. Place the pie on a foil lined baking sheet to catch any drippings, and bake in the oven for approximately 1 hour. It will be ready when the crust is golden brown and the filling is bubbling inside. Remove from the oven and allow to cool for 30 minutes before cutting.
Notes
*I prefer to use a non hydrogenated vegetable shortening such as Spectrum Organic
**I use homemade unsalted chicken stock, so I used a little over 1 tablespoon of salt for this recipe. Salt content of commercial chicken broths and stocks will vary with the brand, so start with a little bit of salt, taste, and adjust.
Nutrition
Serving Size:
Calories:

662

Sugar:

4.1 g

Sodium:

719.1 mg

Fat:

42.4 g

Carbohydrates:

50.7 g

Protein:

20.1 g

Cholesterol:

130.5 mg
Keywords: chicken pot pie, chicken, pie, savory, vegetables, classic, American, comfort food, pastry, fall, thanksgiving, leftovers