Enjoy a traditional Italian affogato made with hot, rich espresso poured over top of creamy, ice-cold gelato. It's a flavorful dessert or afternoon treat that has incredible contrasting temperatures just the right amount of sweetness.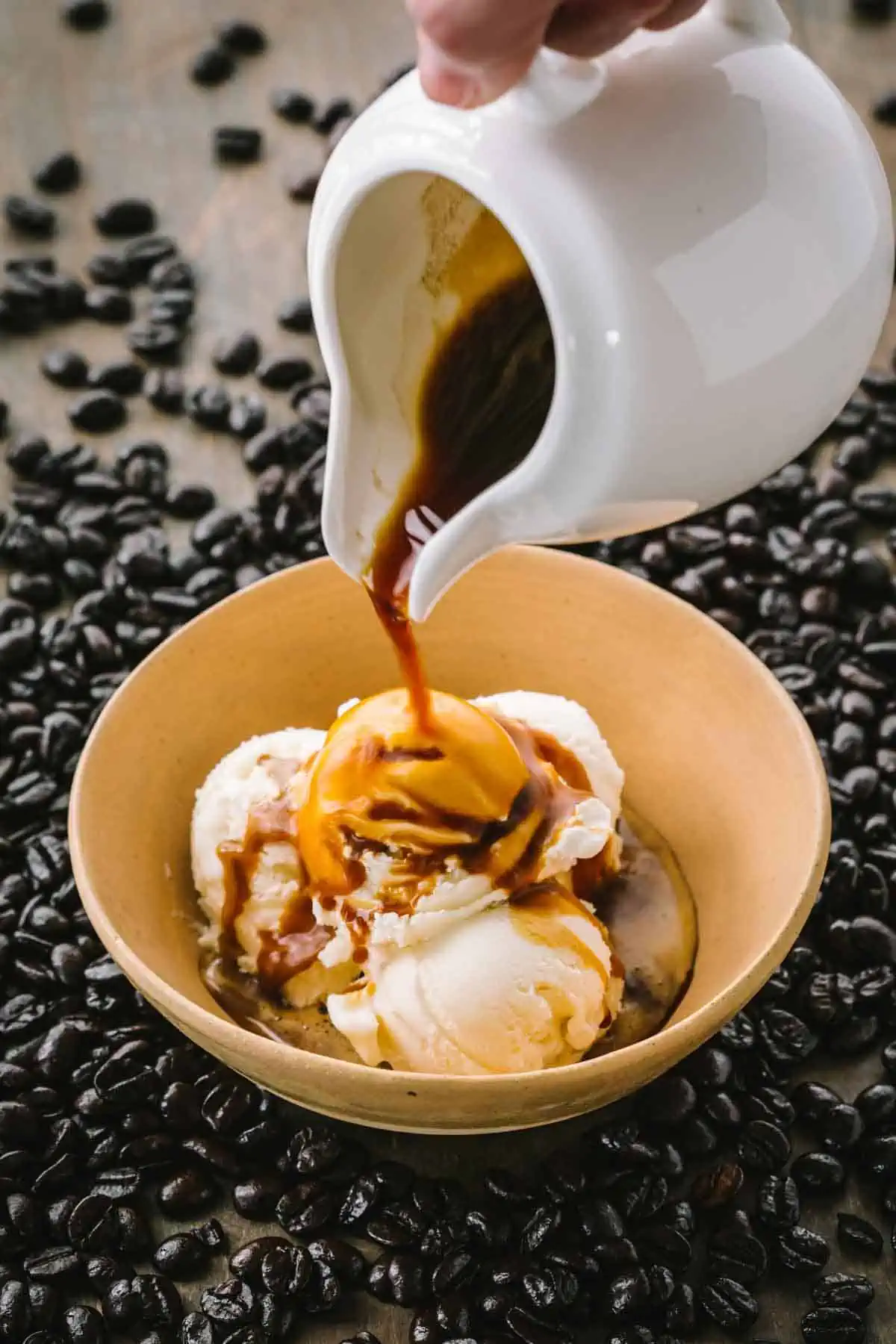 Whenever I'm visiting Italy, I always try to pop into a cafe or gelateria at least once a day to have an affogato.
In addition to dishes like cacio e pepe and farinata di ceci, affogato is one of those iconic, authentic Italian dishes that is so incredibly simple, yet so out of this world delicious.
They take a few humble ingredients and turn them into something much greater than the sum of their parts.
What is affogato?
Affogato (affo-ga-toh) is a classic Italian dessert that translates to "drowned" or "sunken." It consists of a scoop of creamy cold gelato drowned in a shot of hot espresso.
The contrast between the warm coffee and cold gelato creates a beautiful blend of flavors and textures.
It's the perfect combination of rich and refreshing, making it the ideal treat on a hot summer day, but can certainly be enjoyed year round.
Coffee and Ice Cream: American vs. Italian
Before we dive into how to make a proper affogato, let's first dive into the difference between American and Italian coffee, as well as gelato vs ice cream.
American coffee is typically brewed using drip methods where hot water is poured over ground coffee beans. This results in a lighter-bodied cup of coffee with a more subtle flavor profile.
On the other hand, Italian coffee, or espresso, is known for its intense flavor and thick texture. This is achieved by using an espresso machine to brew concentrated shots of coffee.
When it comes to gelato, the main difference between American and Italian versions is the amount of air whipped into it.
Italian gelato has less air, making it denser and creamier. Ice cream (America's version of gelato) has a higher air content, resulting in a lighter, fluffier texture. Gelato also has less fat content, as it is made with more milk than cream.
Why this recipe works
All you need are two simple ingredients!
Perfect example of Italian simplicity.
Balance of hot and cold temperatures and sweet and bitter flavors.
Simple, classic way to end a meal or have it as a mid-day snack.
Customize it to your liking by using different flavors of gelato or adding toppings!
Ingredient notes
Gelato - Traditional affogato is made with vanilla gelato, but feel free to experiment! Chocolate gelato makes an especially delicious mocha affogato, but you can make one with your favorite flavor or mix it up with multiple flavors. You can also use ice cream instead of gelato, just make sure it's great quality.
Espresso - Using a dark Italian roast, espresso is the most common choice for a traditional affogato. Espresso, compared to traditional brewed coffee, has a stronger and more concentrated flavor which pairs well with the sweet, mellow gelato. You can use any type of strong-brewed coffee if you don't have an espresso machine. Make sure it's hot and strong enough to cut through the sweetness of the gelato.
*Full ingredient list with quantities is in the recipe card at the bottom of this post.
Short Vs Long Espresso
A short espresso shot (ristretto) is pulled using less liquid to create a smaller, yet stronger, slightly sweeter and more full-bodied espresso. Short espresso is preferred for making affogato to give a strong contrast to the creamy, mild gelato.
A long espresso shot (lungo) is brewed with slightly more liquid for a larger, yet more diluted, lighter espresso with just a touch more bitterness.
Helpful equipment 
Espresso Maker: Affogato requires hot, freshly made espresso, so you will need some an espresso maker of some sort.
There are a wide range of espresso machines available in many different price ranges. You can also make espresso using an AeroPress, the Moka Pot, or French Press. I personally love using my Nespresso machine because it's quick and easy to use at home.
Ice Cream Scoop or Gelato Paddle: A good gelato paddle or old fashioned ice cream scoop will help you create perfect scoops of gelato. I like to use an extra small ice cream scoop or cookie scoop for affogato for a smaller portion. A spoon will also do the trick!
Glasses: Traditionally, affogato is served in a tall glass or cup so you can sip the melted ice cream with the espresso. However, any small bowl or mug will work just fine.
Step-by-step instructions
1) Take the gelato out of the freezer and if it's rock solid, allow it to soften for a few minutes so it's easier to scoop.
Tip: Don't let your gelato get too soft or it will melt as soon as the espresso hits!
2) Brew a short espresso or extra-strong coffee of choice.
3) Scoop two or three small scoops of gelato into each glass (or bowl).
4) Pour a shot of hot espresso over the top.
5) Serve immediately with a spoon for digging in!
Tips for success
Use the best quality gelato and espresso you can find.
Make a "short" espresso, which means it's brewed with less water and will be more concentrated (as opposed to long, which means it's more diluted) for the best flavor.
Be careful not to burn the espresso if brewing it on the stove. If it tastes bitter, it's likely burned.
Make sure your espresso is hot, otherwise, you'll end up with a chunky and unpleasant texture.
Be sure your gelato is ice cold so it doesn't melt the second the espresso makes contact.
Serve immediately! This is meant to be eaten as soon as it's made to enjoy the contrast of hot coffee and cold ice cream.
Serving suggestions
Affogato is traditionally served as a midday pick-me-up or light after dinner dessert.
Add a splash of liqueur like Frangelico, Nocello, Amaretto, Sambuca or Kahlua to your espresso before pouring it over the gelato for a boozy treat.
You can also add toppings such as chopped nuts, chocolate shavings, whipped cream, or a drizzle of caramel sauce to take your affogato to the next level!
It's fun to set up a mini affogato bar with a few different flavors of gelato so guests can make their own! It's great for brunches, showers and dinner parties.
My ideal Italian meal starts with a simple antipasto of meats, cheese and marianted olives, followed by my family's traditional Sunday Gravy. Finish with a round of affogato and pignoli cookies or espresso shortbreads for dipping for a perfect Italian experience!
And, if you have any leftover espresso, make these chocolate espresso brownies!
FAQS
What does affogato mean?
Affogato is an Italian word that literally translates to "drowned." In this case, it refers to the gelato being "drowned" in hot espresso.
Do you eat or drink affogato?
Traditionally, affogato is eaten with a spoon, but in a glass so that the melted ice cream and espresso can be sipped as well. It's meant to be enjoyed as both an ice cream and a coffee treat.
What kind of alcohol can you add to an affogato recipe?
You can add any type of liqueur to an affogato, such as Frangelico, Nocello, Amaretto, Sambuca, or Kahlua. Just make sure not to use too much, or it will overpower the flavors of the gelato and espresso.
Related recipes
Did you make this recipe and LOVE it? Please leave a star ⭐️ rating and/or comment to help other readers. I absolutely love hearing from you and do my best to answer all questions and comments. I love seeing when you make my recipes, so please tag me @ColeyCooks on Instagram and I will repost!
Print
Affogato
Enjoy a traditional Italian affogato made with hot, rich espresso poured over top of creamy, ice cold gelato. It's a flavorful dessert or afternoon treat that has the perfect balance of temperatures just the right amount of sweetness.
1

-

3

scoops of vanilla or chocolate gelato

1

shot of espresso, freshly made and hot
Instructions
Place the ice cream in a bowl, then pour the hot espresso over top.
Serve immediately!
Notes
You can prepare the espresso whichever way you prefer.
Vanilla gelato is traditional, but chocolate is also very good. Use the best quality gelato you can find. You can substitute ice cream, but make sure it's great quality for the best affogato.
Keywords: coffee, after dinner, afternoon pick me up, gelato, ice cream, short espresso