This travel guide documents a magical 48 hours spent eating pasta and tasting wine in Tuscany, Italy during the beautiful month of September.
To say you're going on at trip to Tuscany is like saying you're going to the Jersey Shore. Ironically, both happen to have lots of Italians, but that's not what I'm talking about. What I mean is that your experience will vary greatly depending where you specifically choose to go. Both places are large areas encompassing lots of smaller towns, each one having a unique personality all it's own. To say that Florence depicts what you'll find throughout the rest of Tuscany is like saying Seaside Heights (where that stupid MTV show was filmed) accurately represents all of the Jersey Shore. But in fact, as many of you might already know, it's not even close.
When we arrived at the rental car office at the Florence airport, the agent informed us we'd be receiving a free upgrade to a larger car. Sweet! What she didn't tell us was that the car was a Peugeot, and everything inside it, including the GPS, would be in French. Très intéressant! Driving in Italy was already going to be a challenge, and this would only add another element of confusion – and humor – to the experience.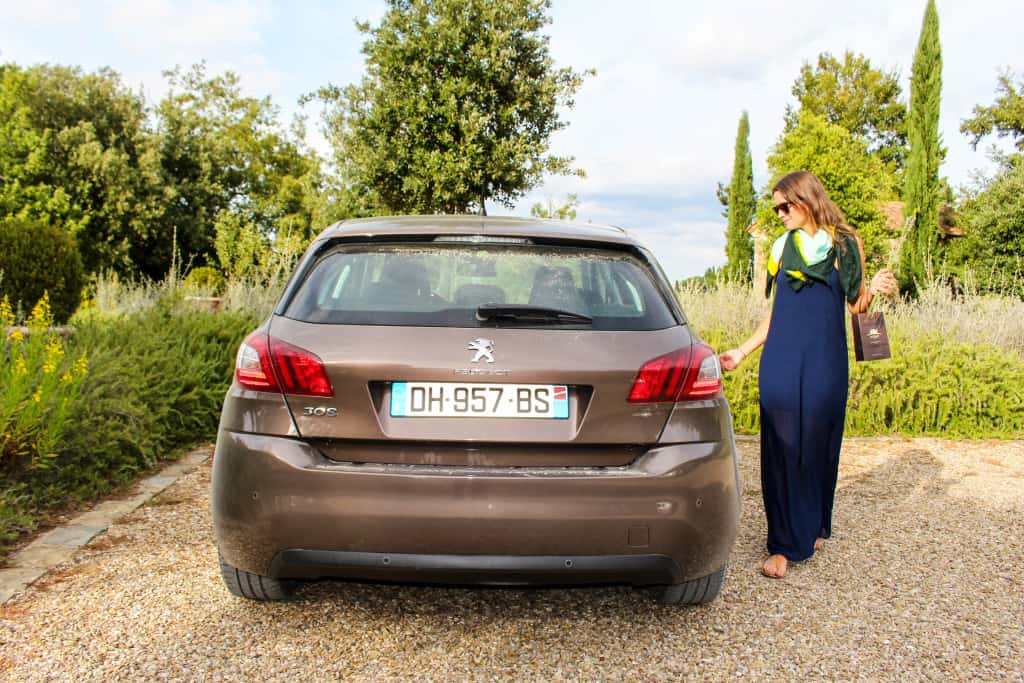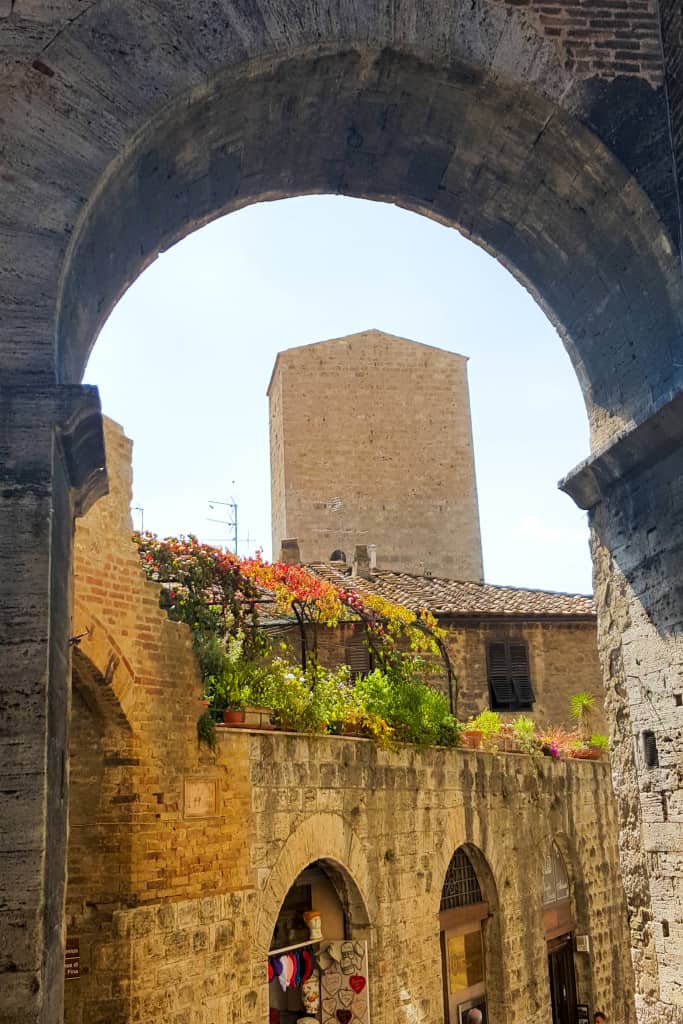 We took off for San Gimignano, a little town about 30 miles south of Florence. About 15 minutes in, we made a pit stop at a gas station for a bathroom break, and ordered a speck (smoked prosciutto) and brie panino that was shockingly good. Apparently great gas station fare is par for the course in Italy. When we arrived at San Gimignano, we parked outside of a very big, very old stone wall, and inside revealed a very quaint, very medieval looking town. We spent the afternoon exploring all it's nooks and crannies, and eating a few unexpectedly phenomenal bowls of pasta.
The open restaurants in San Gimignano that day (Monday) were few and far between, and the prospect of finding a wifi signal to do our research was practically nonexistent. We passed up the crowded spots offering a "tourist menu" in 5 languages, and instead followed a group of locals around the corner into a tiny spot called Taverna Paradiso. The place was relatively empty, but we sat down anyway and ordered the house wine – one red, one white – and two pasta dishes. The wines were great, and for once both of us preferred the white over the red (a very rare occasion for Mr. G). The pastas, though? They were out of this world.

The first one was cavatelli – a short, fat pasta – tossed in a tomato, bacon and walnut sauce. The other was pici – a long, fat pasta – tossed with sausage, cream and truffles. Probably… Maybe? Okay, definitely. This was the best pasta we had in Italy. It was perfectly al dente, perfectly sauced, and had perfectly balanced flavors. Especially the cavatelli – that's a recipe I'll be tackling in the very near future.
By mid afternoon we were ready to head over to our accommodations for the evening. We stayed at Fattoria Poggio Alloro, an agriturismo just outside of town. An agriturismo, if you're not familiar, is a working farm that also operates as a hotel or B&B. Fattoria Poggio Alloro produces it's own wines, olive oils, saffron, pastas, honey, meats and dairy products. We sipped our "welcome" glasses of wine as we perused the grounds, stopping to see what was growing in their impressive garden (tomatoes!), and to say hi to the cows, chickens and pigs. I just loved being there.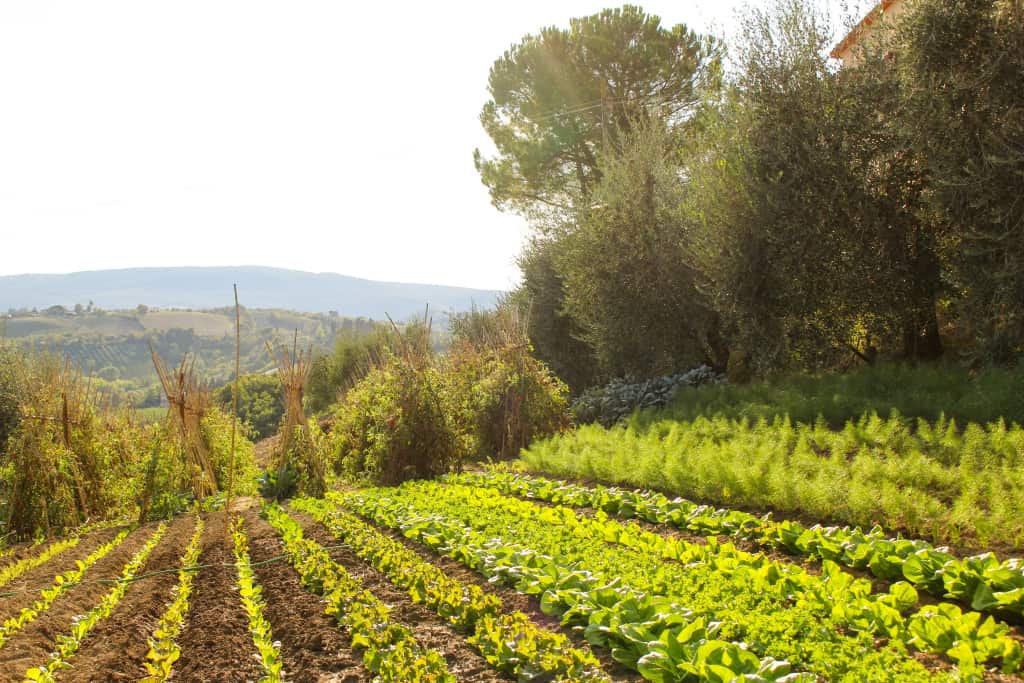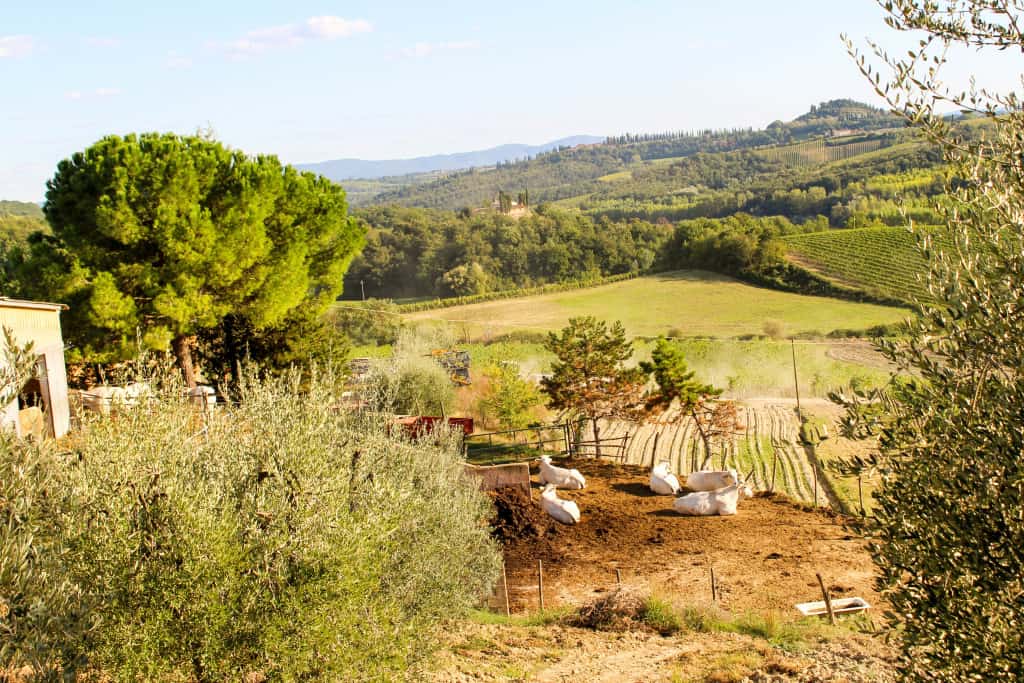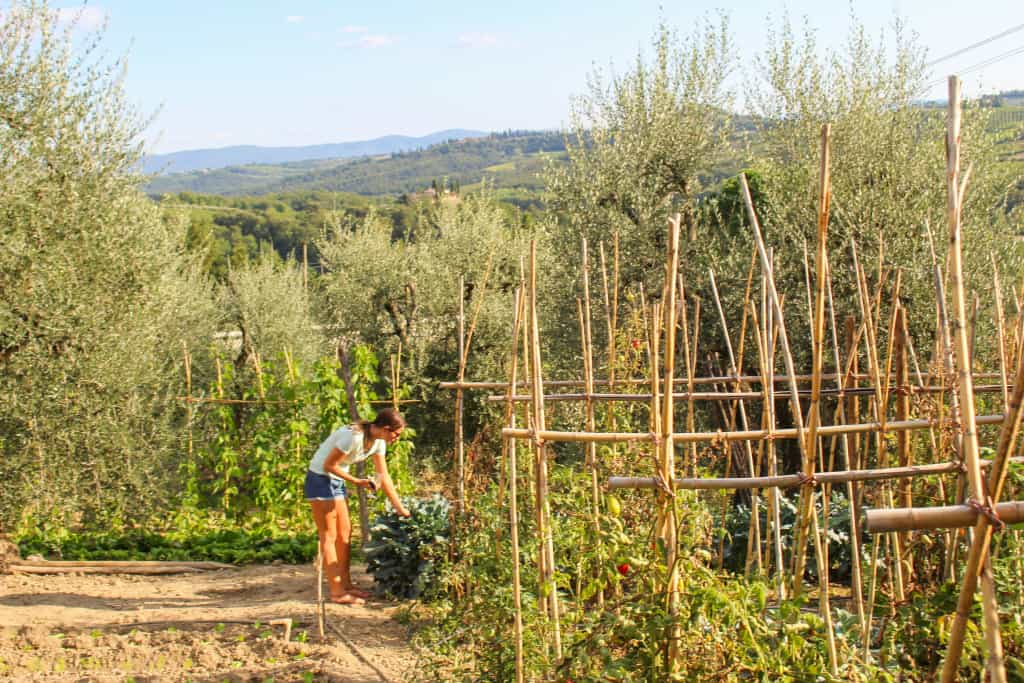 The room, while spacious, left a bit to be desired (okay, a lot), but we didn't come here to sit in the room. Did I mention how beautiful it was outside? That evening, we had dinner on the farm at a communal table where we shared antipasti and laughs with couples from Canada, Austria and England. This was one of my favorite meals of the trip.
It started off with a plate of cured meats, including some of the best Tuscan prosciutto I've tasted, along with fresh cantaloupe from the farm. The melon was sweet, ripe and contrasted perfectly with the salty meats. We also passed around plates of crostini with melted cheese and caramelized onions, mixed fried vegetables and a delicious spelt and vegetable salad. Up next, the pasta course: Whole wheat pacchieri (a short, rigatoni like pasta) tossed with sausage, tomatoes and mascarpone. It was perfectly cooked, well balanced, and just the right portion to leave you wanting a little bit more.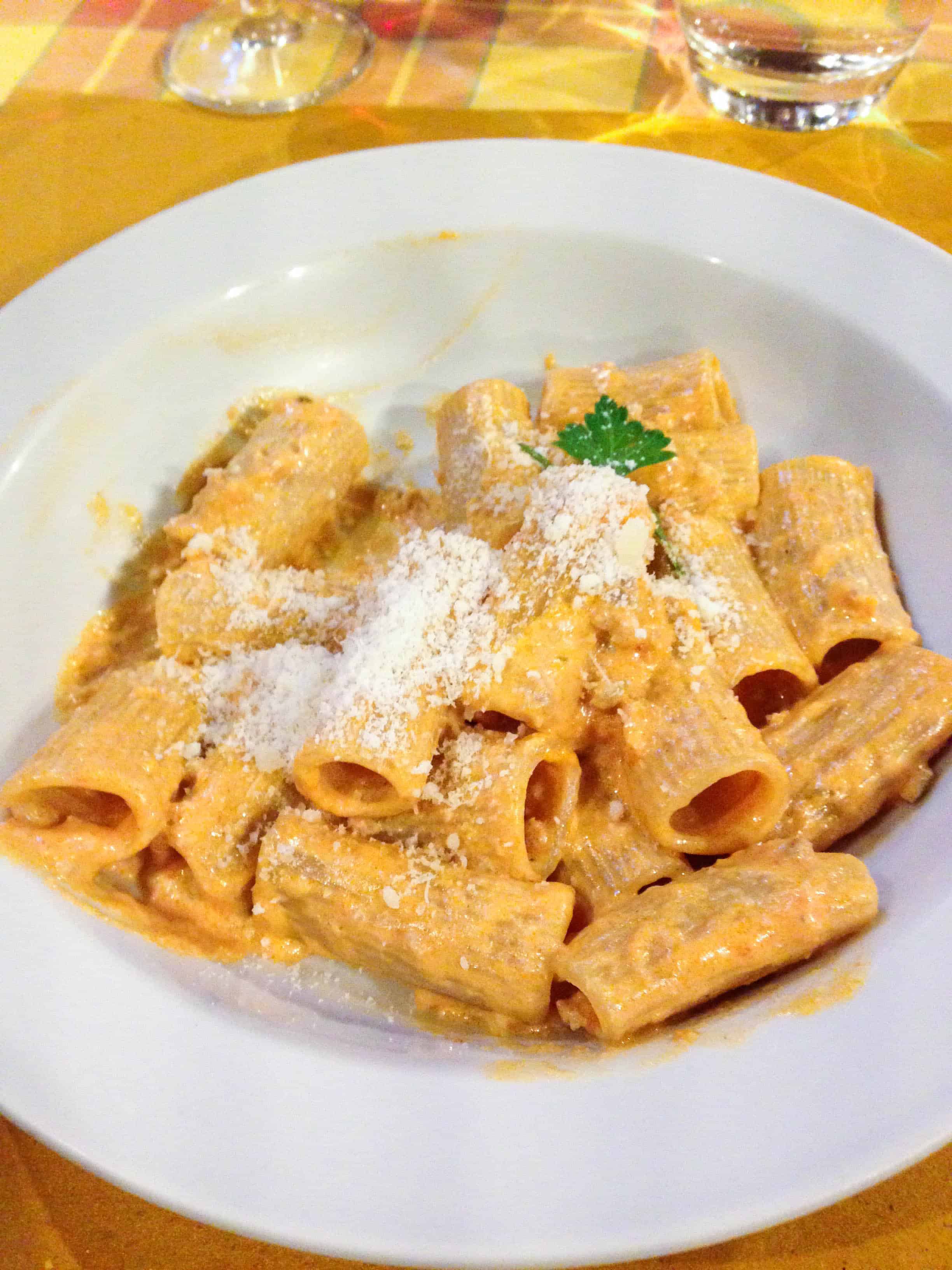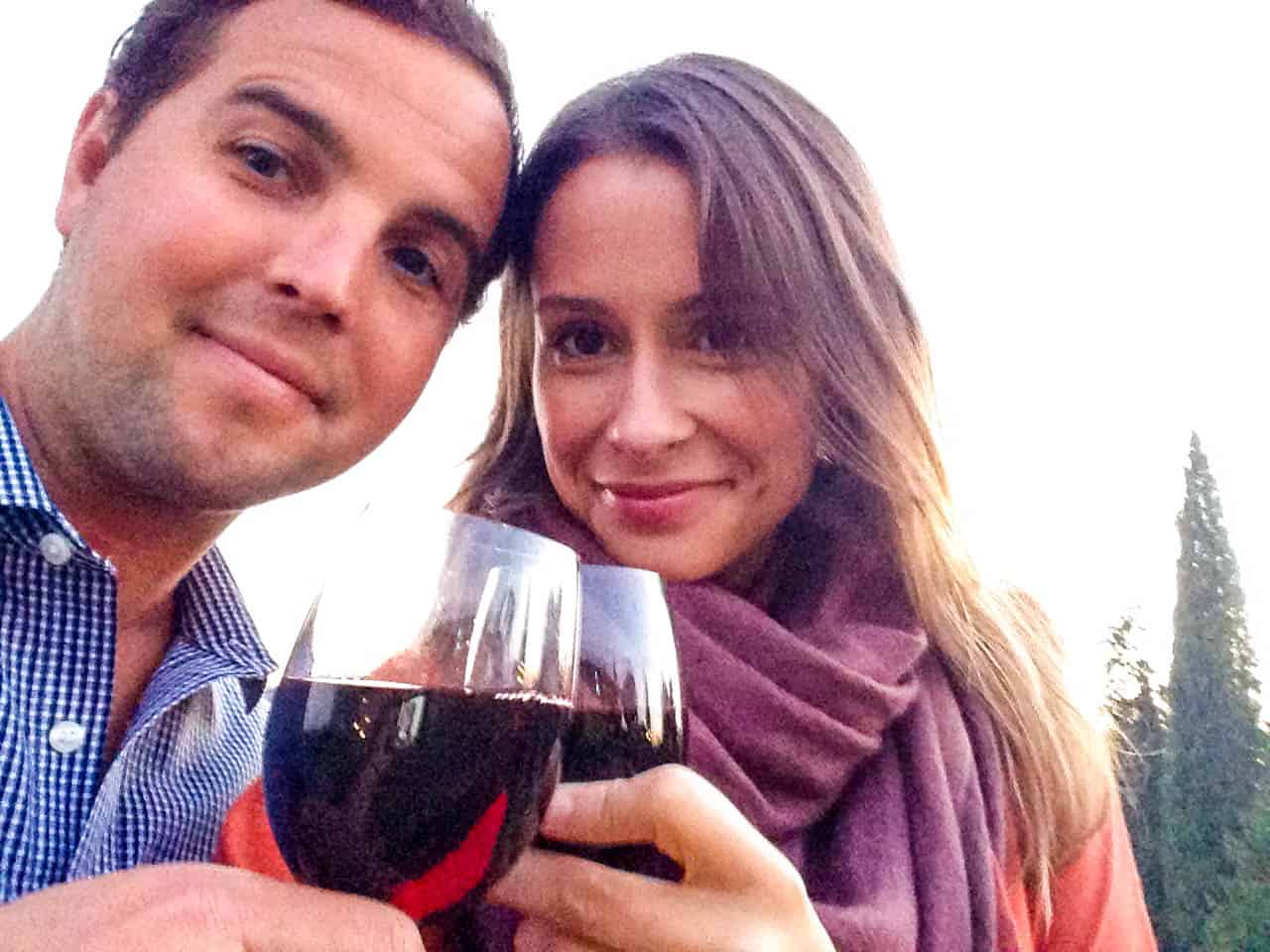 The main course consisted of thinly sliced, just pink in the middle, roast beef, a simple green salad and a side of freshly cooked peas. The meat was tender and flavorful, the peas were simple and good. A solid, satisfying meal all around. It was of course, served with all-you-can-drink house wine, and that's exactly what we did. The meal ended with chocolate mousse, traditional Tuscan vin santo and cantucci cookies, plus limoncello for the ladies, and grappa for the boys.
The next day we took off in the Peugeot and headed south towards Montalcino for the winery at Castiglion del Bosco, where our pal, Mike Bray of Passion Vines, was cool enough to hook us up with a wine tasting and tour. Thanks Mike! But before that, we needed to fill our bellies, so we opted to have lunch on site at Osteria la Canonica.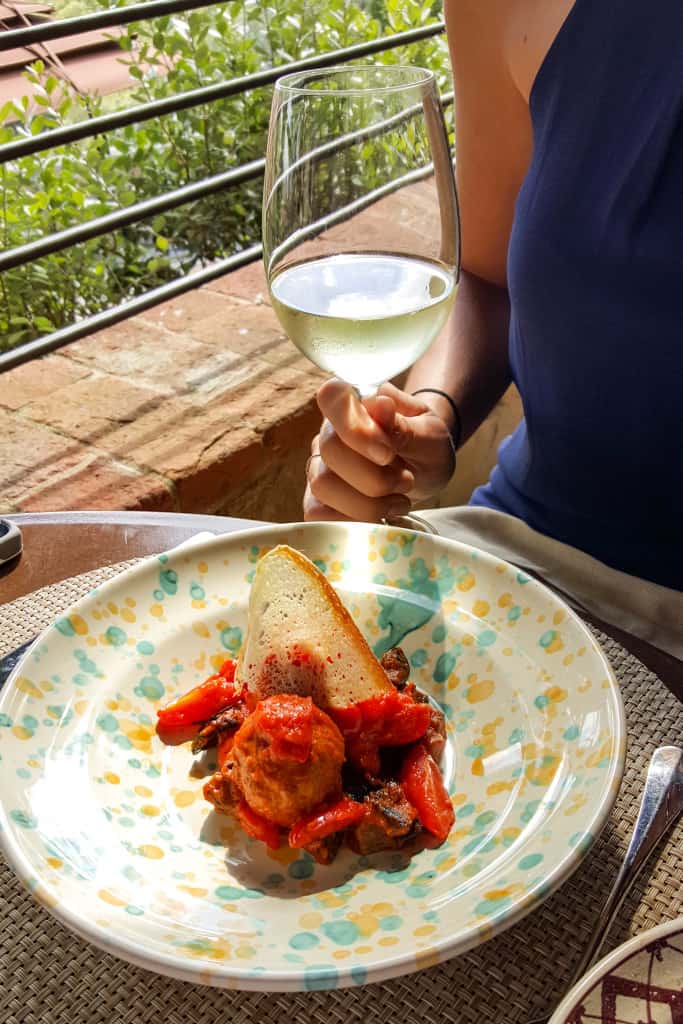 The restaurant is situated on the top of a hill with stunning views of vineyards and native foliage below. The atmosphere is open, airy and inviting. I would have spent days there, soaking up the sun, drinking prosecco and eating pizzas… which, is precisely what we did during our long, lazy lunch. They started us off with a bowl of raw vegetables from their garden and a bottle of estate grown olive oil. Each bite of raw fennel, carrot, radish, cucumber, and tomato had that fresh, unadulterated, just-picked taste that as I gardener, I really appreciated. Next, we moved on to a deliciously simple spaghetti with tomatoes, goat cheese and lemon zest. Followed by a tender veal meatball with eggplant, and finally a thin, wood fired pizza with bacon and red onions.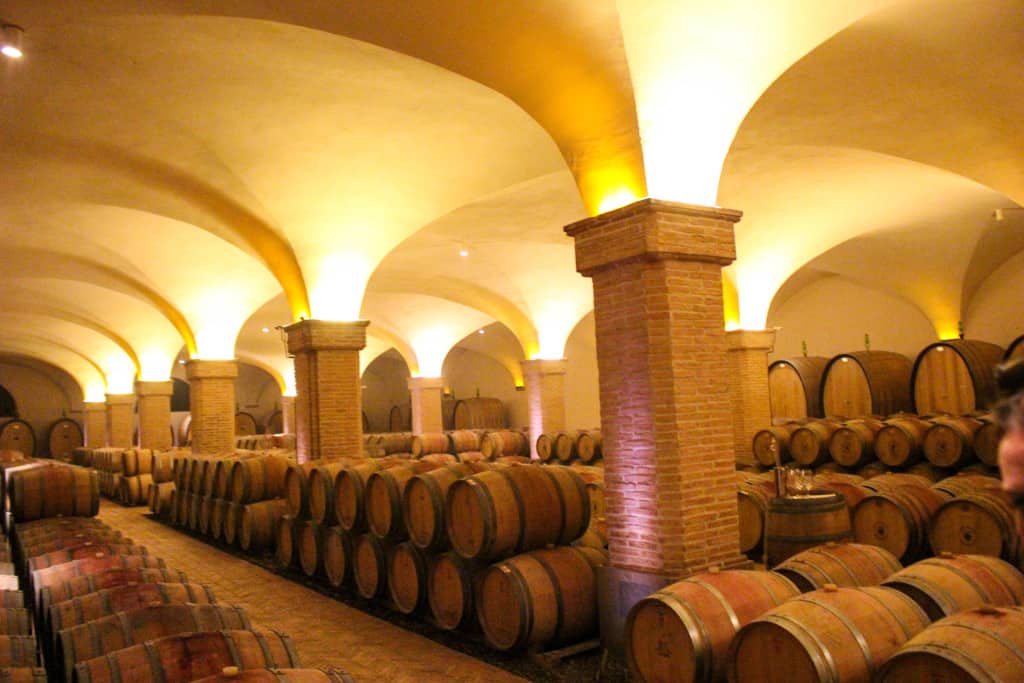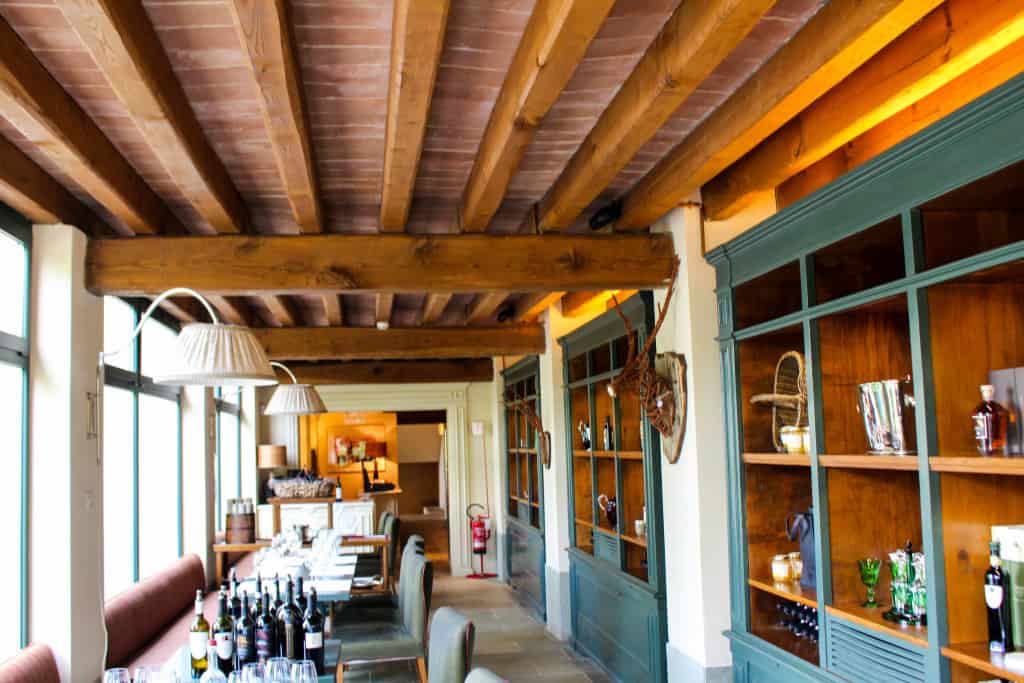 Now that we had a solid base in our stomachs, we moved on to the wine cellar for our tasting and tour. We sipped and sampled an assortment of local wines including several Brunellos and a Super Tuscan reserve. They were good. So good, in fact, that we insisted on paying the $70 shipping fee to have a few sent back home.
That evening, we drove to the town of Siena to stroll around, have a little gelato, and sit down to a nice dinner at Osteria Boccon del Prete. We ordered an antipasto of chicken liver crostini and assorted cured meats. Next, we ordered a dish that was a cross between eggplant rollatini and pappa al pomodoro (a classic Tuscan tomato and bread soup). Thin slices of eggplant were wrapped around melted mozzarella cheese, and perched over a thick tomato and bread mixture, akin to a stuffing or dressing. It was a little odd, but tasty! For an entree, we shared a roasted pork with balsamic caramelized onions and potatoes, and it was an absolute knock-out. The pork was perfectly pink inside, incredibly tender and flavorful, with ultra crispy potatoes that were meltingly creamy inside. But it was those sweet, tangy balsamic onions that really made the dish sing.


On our way out, we stopped in a little cafe to have a quick affogato – gelato topped with a shot of espresso – before hopping back in the Peugeot and listening to the nice French lady guide us safely back to the farm. In the morning, we took one last walk around the grounds, slammed a cappuccino, then hit the road for Bologna, the unofficial food capitol of Italy. It was hard to leave the lush Tuscan landscape, but I couldn't have been more excited to make my way to cured meat, cheese and fizzy red wine heaven!