This easy recipe for Chai Snickerdoodles is a delicious twist on the classic Christmas cookie. It's a tangy, chewy sugar cookie rolled in fragrant spices to taste just like a cup of Chai tea. 
If we crossed paths at all this past week, chances are you got to taste a version of these Chai Snickerdoodles. I made them multiple times in attempt to get the recipe just right, and after this weekend I can confidently say that the mission has been accomplished.
The first batch of chai snickerdoodles were good, but I wasn't sold on them completely. I ate approximately one dozen cookies that day just trying to decide what I liked and didn't like about them. I had a really hard time trying to figure it out. Was the spice strong enough? Does it really taste like chai? Was it too strong? What about the texture?
I brought them with me to my workout class that night and dropped a bag in the mailbox of an unsuspecting friend (call me the cookie fairy) to get some outside opinions. Everyone liked them, and they said they tasted like Chai, but only after I told them they were supposed to. They liked the texture too, but Chaser and I weren't totally in love with it. They had a nice chew, but were just a little too cakey for us, as we prefer a thinner, crispier cookie. I wanted them to retain their chewiness, but swap out the cakieness for a little crispiness around the edges.
Back to the kitchen for attempt #2.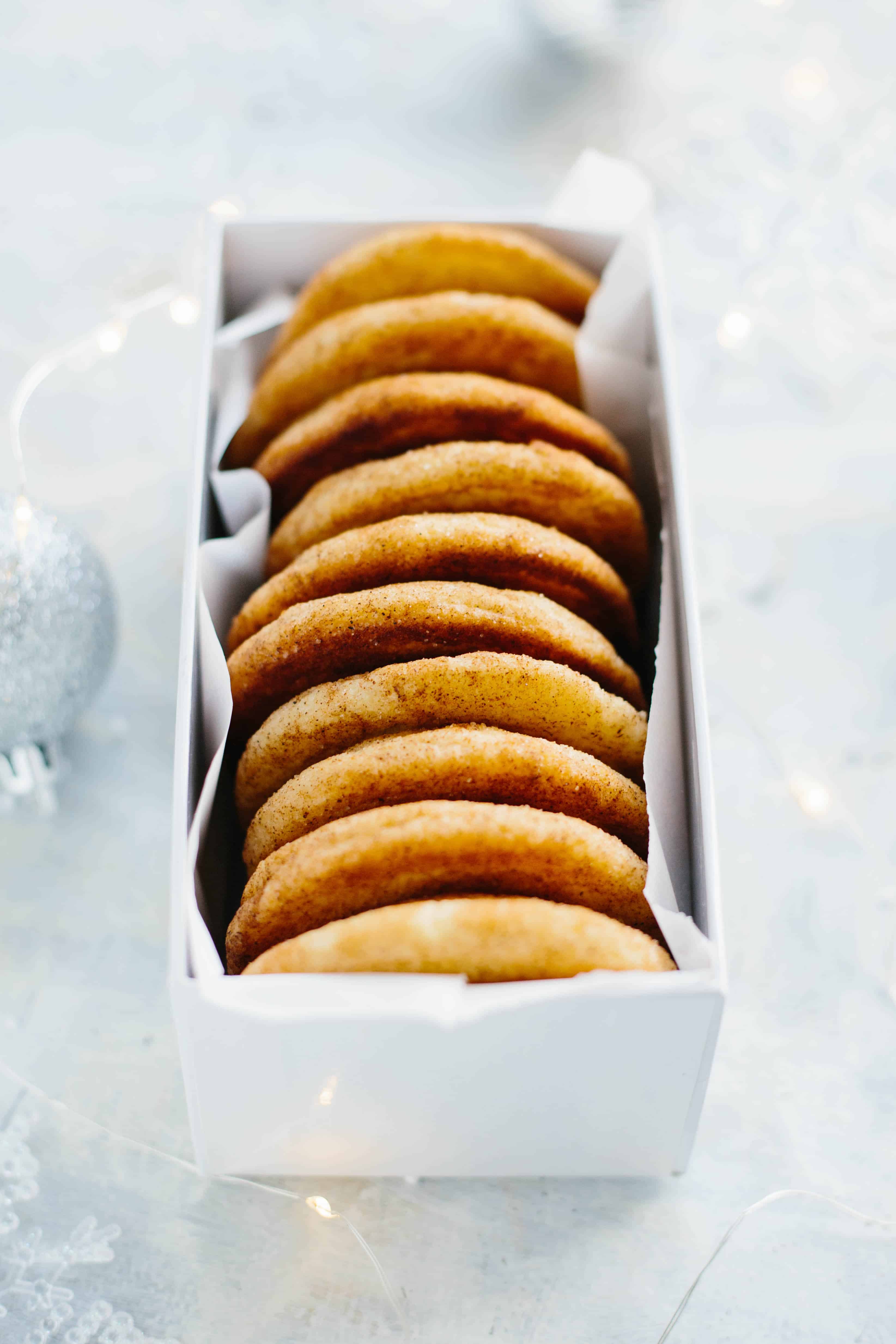 That first batch is what you see in the cutesy styled photos above. Below, you can see the difference between the first batch and the second. This time, I cut the flour by ½ cup and added a little bit more salt and cream of tartar for flavor. Cream of tartar is what makes snickerdoodles taste tangier than a standard sugar cookie and I always like to add extra salt to sweets, especially when I really want to taste the butter.
I also played around with the spice mixture. I kept the same amount of cloves, but increased the amount of cinnamon, ginger and cardamom. I also added in some black pepper - which is traditional in Chai tea - to give it an even more unique flavor.
This time the cookies spread out a lot in the oven and Chaser and I both liked the texture better than the first batch. They were super thin and chewy with a slight crisp around the edges, but we agreed that they were a little too flat and could use just a bit more structure. I liked the spice of these cookies better, but when I tasted them later that day I wondered if maybe the spice was too strong. I ate roughly a dozen more cookies trying to decide.
I brought some cookies from each batch with me the next day when I went to film The Chef's Kitchen.  I had everyone from the director and the camera guy to the makeup artist and the various chefs try the cookies, and my head was spinning from all the different opinions. In the end, a lot of people preferred the texture of the cakier cookie, but said they liked the stronger spice of the second batch.
The following morning I couldn't wait to try making the recipe one more time. I used less flour than the first batch but more flour than the second batch and the texture turned out exactly the way I wanted. Slightly crispy on the outside, chewy in the center and with just the right thickness. They're flavorful from both the potent mix of spices that coat the outside and an increased amount of salt, cream of tartar and vanilla extract.
I thought they were pretty perfect, but I wanted to be totally sure so I brought them with me to my girlfriend's birthday brunch at one of my favorite local restaurants, Cardinal Bistro. Not only did my friends think they were great, the super-talented Chef Michael Brennan loved them too. We had a winner! But unfortunately I didn't have a chance to snap any photos of these, so just picture a mashup of the two.
These Chai Snickerdoodles are super tasty on their own, but they're truly at their best with a nice cold glass of milk. Dunking the cookies does two things: for one, they absorb the milk in that awesome way cookies do, but they also release some of that spice mixture into the milk. So when you're done dunking and go to slurp it down, it tastes like sweet vanilla chai flavored milk, and it's crazy delicious.
I love, love, love these cookies, but I have to admit I'm a little chai snickerdoodled out after eating so many this past week. That said, I still have a few stragglers hanging out on my kitchen counter and I'd be lying if I said I wasn't looking forward to dunking them in milk after diner tonight. Or maybe before dinner. I mean, it's exactly one week from Christmas and I am farrrrr from being ready. I'll get there. But in the meantime, you can find me eating the rest of these chai snickerdoodles and day dreaming about what I want to bake up next.
One Year Ago: Chocolate Espresso Cookies
Two Years Ago: Mom's Oatmeal Chocolate Chip Cookies | Espresso Brownies 
Three Years Ago: Red Wine Poached Pear Tarte Tatin | Oven Baked Parmesan Truffle Fries
Four Years Ago: Pignoli Cookies
Print
Chai Snickerdoodles
This easy recipe for Chai Snickerdoodles is a delicious twist on the classic Christmas cookie. This chewy, tangy sugar cookie is rolled in fragrant spices to taste just like a cup of Chai tea. 
Author: Nicole Gaffney (ColeyCooks.com)
Prep Time:

20 minutes

Cook Time:

10 minutes

Total Time:

30 minutes

Yield:

~34 cookies

Category:

cookies

Method:

baking

Cuisine:

American
For the Cookies:
2 ½ cups

flour *see note

1

 teaspoon baking soda


¾

teaspoon salt


1 ½

 teaspoons cream of tartar


1

 cup (16 tablespoons / 2 sticks) unsalted butter, at room temperature


1 ½

 cups granulated sugar


2

 

large eggs

1

 

tablespoon vanilla extract
For the Spice Mixture:

¼ cup

granulated sugar

1 ½ teaspoons

cinnamon

1 ½ teaspoons

cardamom

½ teaspoon

cloves

1 teaspoon

ginger

¼ teaspoon

freshly ground black pepper
Instructions
Preheat the oven to 375 degrees F and line 3 sheet pans with parchment paper.
In a medium bowl, whisk together the flour, baking soda, salt and cream of tartar. Set aside.
Add the butter and sugar to another large bowl, then use an electric mixer to cream them together until light and fluffy, about 3 minutes. Don't rush this step. Be sure to scrape down the sides of the bowl and make sure the mixture is the texture of buttercream before proceeding. 
Add the eggs one at a time, making sure the first one is fully incorporated before adding the second, but don't excessively whip once the eggs are added. Add the vanilla and mix to combine.  
Add the dry ingredients a little bit at a time while mixing on low speed to avoid it all flying out of the bowl (which happened to me every single time I made them). Scrape down the sides of the bowl as needed and mix until all the flour is absorbed and it forms a cohesive dough. Don't overmix.
Place the dough in the refrigerator while you make the spice mixture (it's not necessary to refrigerate the dough but it makes it easier to scoop). Whisk together the sugar, cinnamon, cardamom, cloves, ginger and black pepper in a medium bowl. Make sure the mixture is very thoroughly mixed and that you smooth out any lumps.
Scoop out ~1 ½ tablespoon sized balls of dough. Roll it around in the spice mixture to coat, then set it on a parchment lined sheet pan. Leave ~2 inches around each cookie so they have room to spread. I was able to fit about 8-9 cookies per pan.
Bake in the center of the oven (no more than 2 pans at a time for even baking) for 10 minutes. Cook for a minute less if you like them underbaked, or cook them a minute or two longer if you like them crispier. All ovens will vary, but for me 10 minutes produced a perfect cookie that was chewy inside and just a little bit crispy on the outside.
Let cool completely before eating for the best texture and flavor. 
Notes
*This amount of flour produced the best textured cookie - for me. If you like your cookies a bit cakier, add an additional ¼ cup of flour (2 ¾ cups total). If you like your cookies thinner and crispier, take out ¼ cup of flour (2 ¼ cups total) and bake for 1-2 minutes longer. 
Nutrition
Serving Size:
Calories:

128

Sugar:

10.4 g

Sodium:

93.7 mg

Fat:

5.8 g

Carbohydrates:

17.7 g

Protein:

1.4 g

Cholesterol:

25.3 mg
Keywords: cookies, Christmas, chai, snickerdoodles, dessert, chai tea, snickerdoodle cookies, holidays