These Meyer Lemon Baked Doughnuts are are yeast risen, so there's no special pan required. They're sweet, tangy and taste just as good as the real thing!
After purchasing a doughnut pan last fall, I promised to post lots and lots of recipes for baked doughnuts in the future. Well, folks, the future is now. I love my doughnut pan. I love that we can make easier, healthier, less-kitchen-clean-up-required doughnuts in the oven. Man, I love doughnuts (see my recipe for apple cider baked doughnuts here.)
When I was a kid, I actually had what some might consider a "doughnut problem". My dad would go out every Sunday morning and get big boxes of freshly made doughnuts and danish from a local bakery. They were SO good and I would literally - LITERALLY - polish off the entire box throughout the day. Doughnuts for breakfast, doughnuts for lunch, and doughnuts to spoil my dinner. Here's a picture of me on a typical Sunday morning: clad in jammies (Harrah's t-shirt REPRESENT), sitting on my feet, totally getting after that Boston cream.
It's no wonder that by the time I was 12 I developed such aggressive stretch marks on my thighs that a girl on the beach gasped when she saw me and asked if I had been attacked by a cat (true story). My dad loved seeing me happy and knew doughnuts made me happy and I love him for that. But for goodness sake, I think we can all agree that someone needed to teach me a little self control.
Doughnuts and I have since moved on to a healthier relationship, which is why I find the concept of a baked doughnut so alluring. Everything I love about sweet, doughy doughnuts, only a tad bit healthier. I love my doughnut pan and I cannot wait to bake with it some more, but my inner 9-year-old Coley really wanted a yeast-risen doughnut. To me, yeasted doughnuts will always reign supreme.
A yeast-risen doughnut is more bread-like in texture as opposed to a cake doughnut which is (obviously) more cake-like. Think Krispy Kreme vs. Entenmann's. Both awesome, but I'll always pick the Krispy Kreme if I have to choose (and hopefully I'll never have to).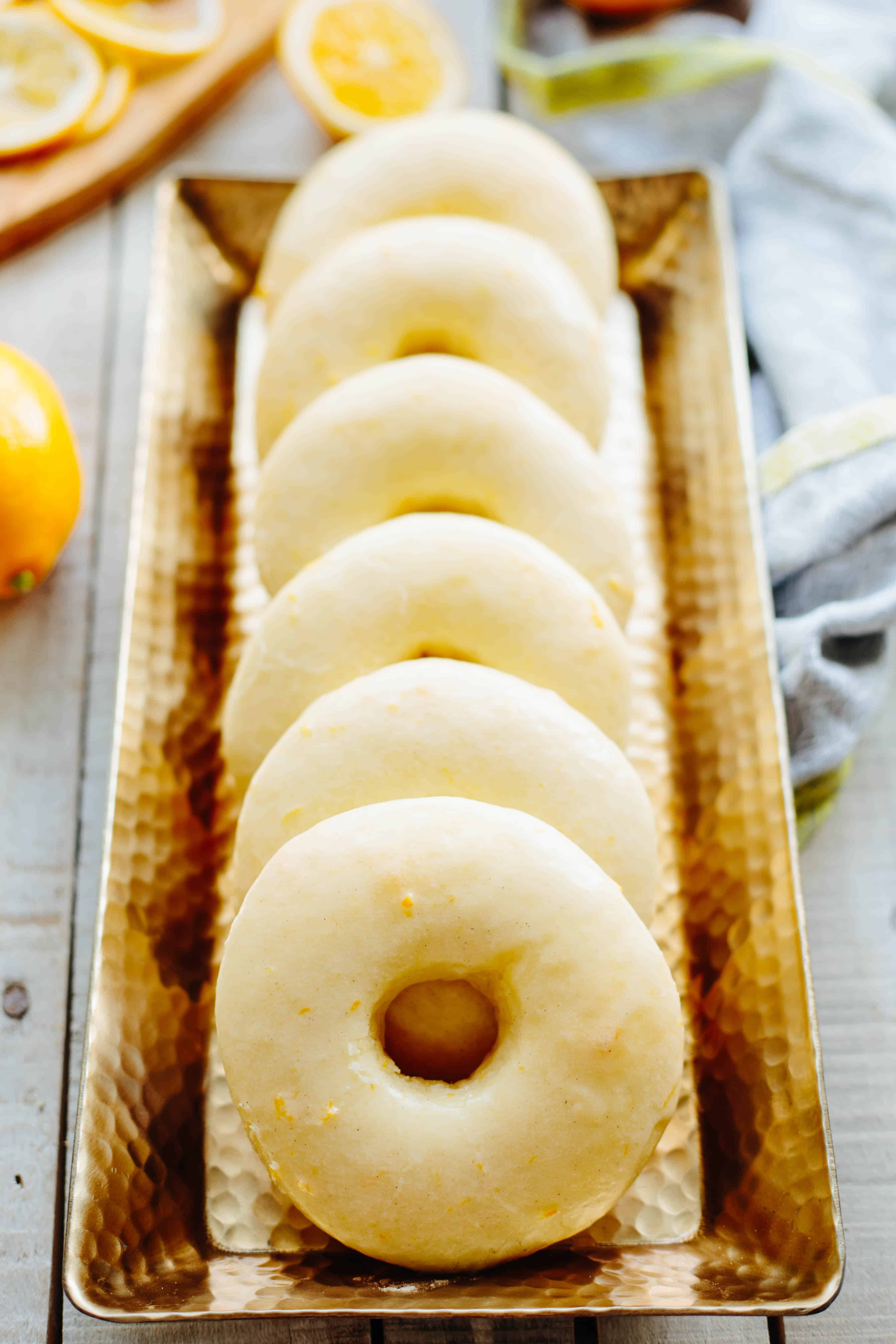 There are a lot of baked doughnut recipes on the internet, but only a few yeasted versions. I found a great base recipe to work with here. I changed it up a smidge by cutting the sugar, but I think that was a mistake. These could have been a tad bit sweeter. I reverted back to the full amount of sugar for the recipe below, and I suggest you keep it that way. Sugar, in addition to making the doughnuts sweeter, will also make them more tender. That's especially important for this baked version.
Now you won't need that doughnut pan for these, but you will need a doughnut cutter... that is if you want to make a classic doughnut shape. You could totally just cut these into strips and be done with it, but where's the fun in that?
I've been waiting all season to make another Meyer lemon recipe, and once again I couldn't keep myself from adding in a dash of cardamom. Meyer lemon and cardamom are magical together. You can skip the cardamom if you wish, but it really enhances the floral notes in the Meyer lemon and makes these taste so much more complex.
Now here's the crazy part. I made these doughnuts. I glazed them. All was fine and well. They were really good! I ate way too many (shocker) and then froze the rest. When I was ready for another (it was a week later I swear), I took one out and set it out on the counter to defrost. I became impatient after about 30 seconds, so I popped it into the toaster oven and kept a close watch. Once it had defrosted and warmed through, I ate it (and burned the %@$# out of my mouth). Somehow it miraculously tasted even better than when they were fresh. The glaze sort of caramelized and clung to the outside and was definitely channeling Krispy Kreme. It's totally an optional step, but one I couldn't leave out of this post (and one I highly recommend).
Now that I've successfully made baked yeasted doughnuts, I'm super excited to try them out another way. The doughnut pan will have to wait for the next round, because my inner 9-year-old Coley is demanding a Boston cream. Stay tuned.
One Year Ago: Best Ever Chicken Cutlets (Video!)
Two Years Ago: Bacon Candy (Video!)
This post contains affiliate links.
Print
Meyer Lemon Baked Doughnuts
These Meyer Lemon Baked Doughnuts are are yeast risen, so there's no special pan required. They're sweet, tangy and taste just as good as the real thing!
Author: Nicole Gaffney (ColeyCooks.com)
Prep Time:

45 minutes plus rise time

Cook Time:

7 minutes

Total Time:

0 hours

Yield:

12

doughnuts plus holes and scraps

1

x
Category:

Doughnuts

Method:

baked

Cuisine:

Breakfast
For the Doughnuts
2 ½ teaspoons

active dry yeast (

1

packet)

1 tablespoon

plus ⅓ cup granulated sugar, divided

¼ cup

plus ½ cup warm (but not hot) milk, divided

2 tablespoons

melted butter, plus more for brushing

¾ teaspoon

kosher salt

1

large egg

1 teaspoon

Meyer lemon zest

½ teaspoon

ground cardamom

2 ½ cups

flour, plus more as needed
For the Meyer Lemon Glaze
1 teaspoon

Meyer lemon zest

2 tablespoons

freshly squeezed Meyer lemon juice

2 tablespoons

whole milk

¼ teaspoon

cardamom
pinch of salt

1 tablespoon

melted butter

2 cups

powdered sugar
Instructions
In large bowl or stand mixer, stir together the yeast, 1 tablespoon sugar, and ¼ cup warm milk. Let sit for 5 minutes (the yeast should be foamy).
In the meantime, mix together the remaining ⅓ cup sugar, ½ cup warm milk, melted butter, and salt. Add that mixture to the yeast once it has proofed along with the egg, Meyer lemon zest, and cardamom. Stir until thoroughly combined.
Add the flour. If using a stand mixer, attach the dough hook and incorporate on low speed. If not, just use a sturdy wooden spoon or rubber spatula. Mix until the dough begins to pull away from the sides of the bowl, about 2 minutes. If the dough is very sticky, add 1 tablespoon of flour at a time until it comes together. Do NOT add more than ½ cup of extra flour, and do your best to add as little as possible, otherwise it will make the doughnuts dry and tough.
Turn the mixer to medium and knead the dough for 5 minutes. Alternatively, you can turn the dough out onto a lightly floured work surface and knead until smooth and elastic, about 8 minutes.
Place the dough into a lightly oiled (clean) bowl, cover, and let rise in a warm, draft free place until doubled in size (1-2 hours depending).
When the dough has doubled, turn it out on to a lightly floured work surface and use a rolling pin to roll it out to about ½ inch thick. Use a doughnut cutter to cut out as many as you can, then reroll the scraps.
Place doughnuts on to two (or more) parchment lined baking sheets, then cover and let rise again until doubled in size.
Preheat the oven to 400 degrees. Brush the tops of the doughnuts with melted butter, then bake for 7 minutes exactly. Do not over bake even if they are not golden brown.
Allow the doughnuts to cool completely. In the meantime, make the glaze. Combine the Meyer lemon zest, juice, milk, cardamom, salt and melted butter in a bowl. Add the powdered sugar and whisk until smooth.
Dip the doughnuts into the glaze to coat on all sides except the very bottom. Transfer to a rack and allow to set up for about 20 minutes before serving.
Optional Step: Place glazed doughnuts back on the sheet pan and pop into a 400 degree oven for about 2 minutes. Remove and let cool before serving.
Notes
Leftover doughnuts can be frozen for up to 3 months.
Nutrition
Serving Size:
Calories:

235

Sugar:

26.2 g

Sodium:

286.6 mg

Fat:

3.6 g

Carbohydrates:

47 g

Protein:

4.2 g

Cholesterol:

23.5 mg
Keywords: doughnuts, donuts, Meyer lemon, lemon, baked, yeast, healthy,
SaveSave
SaveSave
SaveSave
SaveSave