Learn to cure and smoke your own bacon at home with this simple tutorial. This recipe for homemade bacon is so much easier than you might think!
What is Bacon Made out of?
Pork Belly. And the hardest part of this recipe will probably be finding a big piece of pork belly for the project. Check first with your local butcher or grocery store. Chances are, they don't just have a bunch of pork bellies lying around, but they might be able to order one for you. Just ask!
Or, drop by your local Asian market. That's where I get mine. They always have plenty in stock and since they do lots of turnover, it's always really fresh.
Fun fact: if your pork belly comes skin-on, don't be surprised if you find a nipple! You'll be removing the skin, so no need to worry.
Is Bacon Cured?
Yes. Pork belly becomes bacon after it gets cured and smoked. The curing process, although it sounds intimidating, is actually *really* simple. You'll just need to get a special ingredient called "pink curing salt," (Amazon affiliate link) or "curing salt #1. Not to be confused with pink Himalayan salt, which is used for everyday seasoning, pink curing salt is made up of both sodium chloride (table salt) AND sodium nitrate, which is used specifically for curing.
Curing pork belly with pink salt serves to inhibit bacterial growth and is what gives bacon its color, texture and distinct bacony flavor.
Can You make uncured, nitrate-free homemade bacon?
Pink curing salt is a controversial ingredient because it contains sodium nitrates and nitrites, which are known carcinogens. There's been a huge rise in "natural" and "uncured" bacon on the market, but sources say that's just clever marketing. Look at the ingredients in all of these bacons and you'll notice that they all still contains nitrates, they're just derived naturally from celery. Is a nitrate still a nitrate? Unfortunately, we don't really know.
Sodium nitrates and nitrites are used to inhibit food borne illnesses in uncooked cured products like salami and prosciutto. Bacon, however, does get cooked - twice. Both in smoking and again when you crisp it up in a pan. So technically, yes, you can make nitrate free homemade bacon.
But, since sodium nitrates and nitrites also have an affect on bacon's texture, flavor and color, omitting them will produce a different product than what we typically know bacon to be. It will taste more like a salty, smoky, fatty pork roast. Still delicious, but not exactly bacon.
Personally, I opt for the nitrates. Bacon is a once-in-a-while treat and I'd rather be safe than sorry. Getting a Serve Safe certificate will scare you straight when it comes to food borne illness!
How Do You Cure Homemade Bacon?
Once you obtain a piece of pork belly and pink curing salt, the process is incredibly easy. First, carefully remove the skin and any bones that may or may not be present on your pork belly, then rub it down with a spicy salt-sugar mixture. You can get creative here with the seasonings and play around with different flavor combinations if you'd like, or just keep it simple.
Next, place it in a zip-top bag and refrigerate for a week. Yes, a whole week! It's mostly hands off - just be sure to check on it every day, give it a little massage, then flip the bag over to make sure it cures evenly. That said, if you forget to do it a few days (raises hand), it will still turn out fine.
After about a week, the pork belly should feel firm to the touch. That's how you know it's cured. If the pork belly is still very jiggly, give it another day or two, but don't let it go too long or it could become overly salty.
How Do you smoke homemade bacon?
After the pork belly has cured, rinse the whole thing off really well under cold running water, then pat it nice and dry.
A lot of recipes will have you place the meat on a rack and leave it uncovered in the fridge for several hours or overnight. This forms something called a "pellicle," which is said to help the meat absorb smoke and retain its moisture. This step is optional. Personally, I usually skip it and don't really notice a difference in smoke flavor or moisture.
Prepare a smoker with the wood chips of your choice. I recommend applewood for a nice, mellow, slightly sweet smokiness. Heavier woods like mesquite and hickory will result in a much more heavily-smoked meat, which in my opinion, is a bit much for bacon.
Smoke the pork belly at approximately 225 degrees F for about 2-3 hours or until an instant read thermometer reads 165 degrees.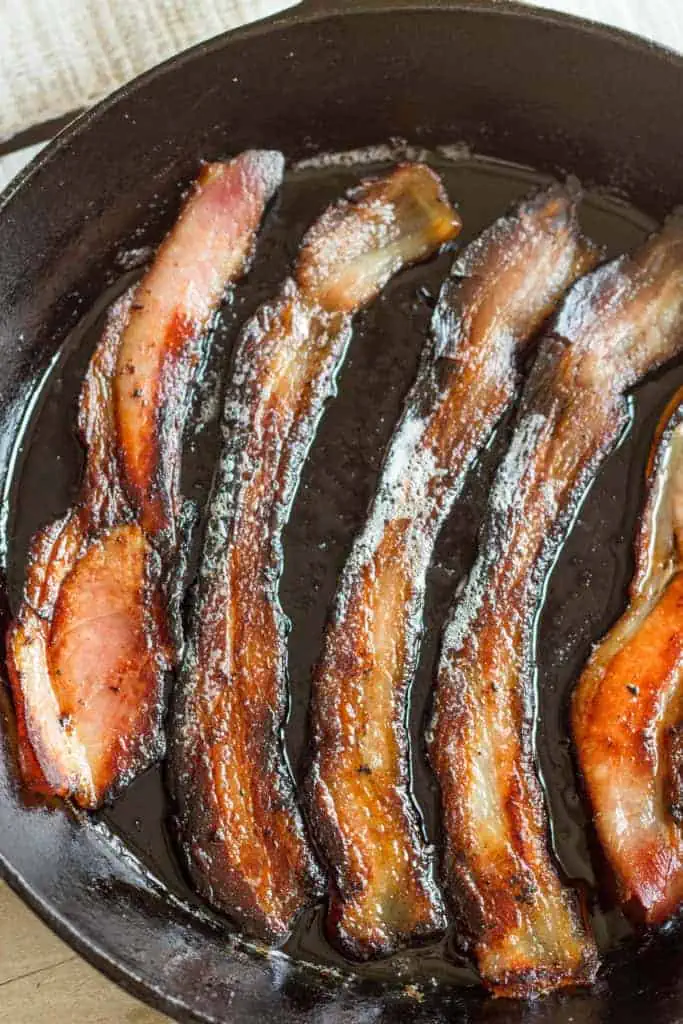 How to Slice Homemade Bacon?
Homemade bacon - and, actually, all meat - is easiest to slice when cold. After smoking the bacon, allow the slab to cool, then refrigerate it until cold. From here, you can slice it as thin or as thick as you like. You can also place the bacon slab in the freezer for about 30 minutes to an hour before slicing to make it even easier. A long, SHARP serrated knife works best.
How to Cook Homemade Bacon?
Cook homemade bacon just like you would any other bacon.
Personally, I prefer cooking bacon in the oven or toaster oven because it always comes out perfect and causes way less mess than frying on the stovetop. Some people like to use a rack to allow the fat to drip away, but I find that if you just lay the bacon directly on a pan, it comes out just as crisp.
Line a pan with parchment or foil (for easier clean-up), arrange the bacon in an even layer, then place it in a cold oven and turn it on to 350 degrees F. Starting off in a cold oven allows the bacon to slowly render and essentially fry itself in it's own fat. Once the bacon is done to your liking - usually about 15-20 minutes, depending on thickness - drain on paper towels, then it's ready to eat.
How to Store Homemade Bacon?
Store sliced bacon strips in a zip-top bag in the refrigerator for up to 2 weeks or in the freezer for up to 6 months. An unsliced slab of bacon will keep well-wrapped in the refrigerator for about 2 weeks and up to a year in the freezer.
Does Homemade Bacon taste different than Store-bought Bacon?
Homemade bacon tends to be more flavorful than store-bought bacon. It's typically a little saltier, a little firmer and a little more robust than store bought bacon, but the best part is that you get to control it. You can cure it for shorter or longer periods to control the saltiness and you can play around with different spices to give it more or less flavor.
Making your own bacon at home is a fun project that even a novice cook can easily master. It makes a delicious treat or a special gift for anyone who loves bacon - and isn't that everyone?
One Year Ago: Thai Beef Lettuce Wraps
Print
Homemade Bacon
This recipe for homemade bacon is so much easier than you might think! Cure and smoke your own bacon at home for a really delicious treat.
Author: Nicole Gaffney (ColeyCooks.com)
Prep Time:

10 minutes plus curing

Cook Time:

2 hours

Total Time:

2 hours 10 minutes plus curing time

Yield:

5

lbs

1

x
Category:

meat

Method:

smoked

Cuisine:

American

Diet:

Gluten Free
¼ cup

Kosher salt

1 teaspoon

pink curing salt

¼ cup

brown sugar

¼ cup

honey or maple syrup

1 tablespoon

freshly cracked black pepper

1

5-lb pork belly, skin and bones removed
applewood chips for smoking
Instructions
Combine the Kosher salt, pink curing salt, brown sugar, honey or maple syrup and black pepper in a large 2-gallon zip-top bag. Squish it around until it's all mixed together, then add the pork belly.
Massage the mixture all over the belly, being sure to get it into every nook and cranny. Press the air out of the bag, seal it, and place in the refrigerator for one week. Be sure to check on it every day or so, giving it a brief massage and turing the bag over.
After 7 days, the meat should feel firm to the touch. If it's still very soft, allow it to cure for another day or two. Remove the meat from the bag and rinse it well under cold water, then pat very dry with paper towels.
Prepare a smoker with applewood chips and set it to 225 degrees.
Smoke the pork belly for about 2-3 hours, until an instant-read thermometer reads 165 degrees. Allow to cool, then refrigerate overnight. The bacon will be easier to slice when cold.
Use a long serrated knife to slice it however thick or thin you prefer, then cook just as you would store-bought bacon.
Leftover uncooked bacon can be stored, wrapped tightly, in the refrigerator for up to 2 weeks, and in the freezer for up to 6 months.
Keywords: homemade, cured, smoked, bacon