This simple recipe for Butternut Squash, Bacon, Kale, + Goat Cheese Frittata is an easy and flavorful egg dish using seasonal fall vegetables.
Summer is a weird thing around here. It's fun. It's fleeting. And it can be completely overwhelming.
There's this unspoken pressure that we all feel to get out and make the most of it. Go to the beach as much as possible. Spend time with all the people visiting. Ride bikes. Have a BBQ. Order the tomato salad that's only on the menu for a limited time. Drink rosé. Swim at a friend's pool party. Tend to the garden. Buy up all the local produce at the farmer's market. Go to an outdoor concert. Have a rum runner at the beach bar because in 2 months YOU CAN'T DO ANY OF THESE THINGS. I love it, but it's exhausting.
Come September, everything changes. People stop visiting. Pools get covered. Bars and restaurants close for the season. No more farmer's markets. Too chilly to lay on the beach. Summer concert series ended. Hearty soups and stews replace light salads and grilled fare on everyone's menus. Red wine and Oktoberfest brews fill the bars.
The older I get, the more I appreciate Autumn. It's a time to slow down, recharge, and slip back into a life of normalcy and routine. Lately I've become bewitched by the glowing yellow light in the afternoons. I started sipping tea again. And every night for the past week I've been lulled to sleep by the sound of singing crickets and a gentle breeze on my brow.
I've also been back in the kitchen in a major way. Yes, in part because I've been completely inspired by our trip to Italy. But with Autumn comes a myriad of cooking techniques and flavors that had all been erased from my mind over the last 6 months. I've always been a devoted lover of all things summer, but this year I have to admit, I've been bitten by the pumpkin spice bug.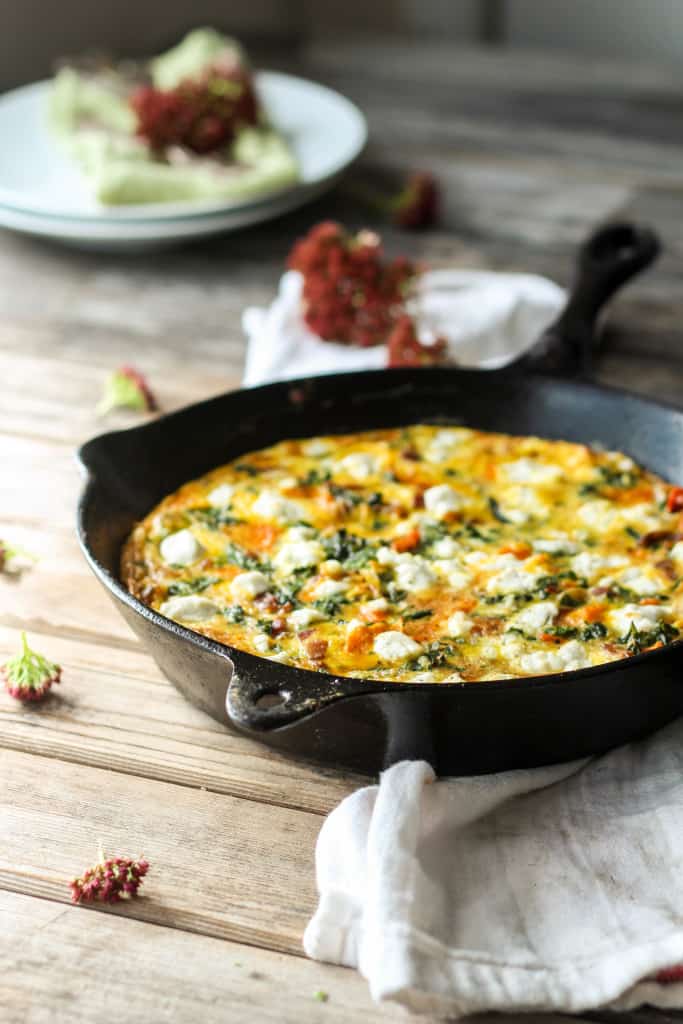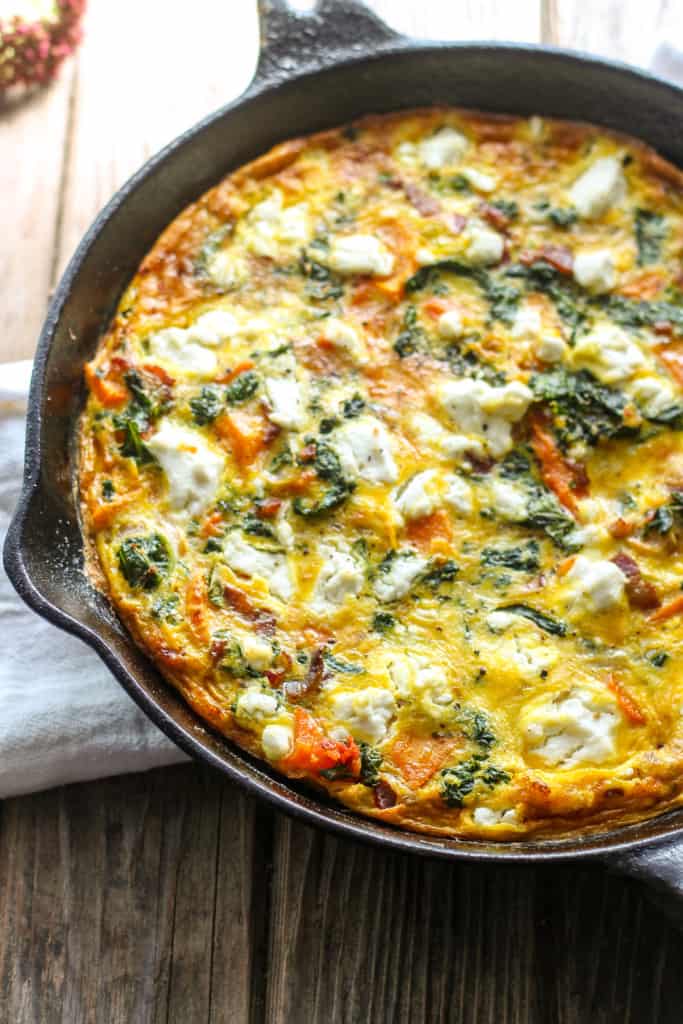 Just because bathing suit season is over, Fall doesn't mean diving head first into lots of rich, heavy foods. Save all that for the Holidays. Right now, I'm loving the bounty of fresh fruits and vegetables that come with this cozy shoulder season. Apples, pears, hard winter squash, beets, radishes, pumpkins, turnips, sweet potatoes, leeks, onions, and hearty winter greens are all in peak season right now. I've taken two of my favorites, butternut squash and kale, and made them into this healthy, but satisfying frittata.
Frittatas are essentially Italian style open-faced omelettes. Unlike a classic French omelette, frittatas don't get folded over, and getting a little browned on the edges is actually encouraged. But like the French (and everyone else in Europe), Italians generally don't eat eggs for breakfast. They're deemed a protein better fit for lunch or dinner. And that's one reason why America is so cool: we don't have rules about when to eat what. Breakfast for dinner is an American tradition.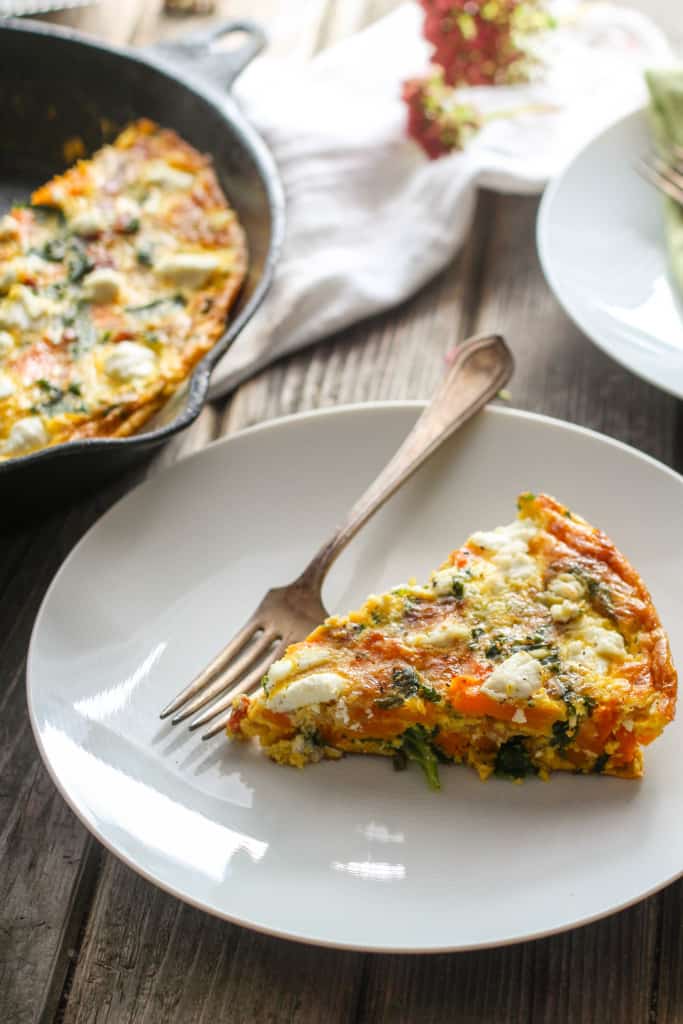 This frittata is loaded with nutrient-dense, fiber-packed veggies and tons of protein, thanks to all those eggs. But its also loaded with FLAVOR! We put in just enough bacon and goat cheese to make it taste like something you actually want to eat. I love keeping it on hand for a quick grab-and-go breakfast, a light lunch with a green salad, or just a little afternoon snack. It reheats beautifully, but if you're like me, you'll just eat it cold straight from the fridge.
Oh! A little side note before I go. Have you guys discovered Yummly yet? If you love Pinterest, and you love food (and I know you do), then you'll totally love Yummly! It's an awesome site designed to help you organize your favorite recipes via the virtual recipe box, and also helps you discover new ones. I've been loving it lately, and I have a sneaking feeling you will too! Be sure to "Yum" all your favorite Coley Cooks recipes by using the Yum button all the way at the very end of each post (it's a really small button that says YUM underneath the green tags, before you get to the comments).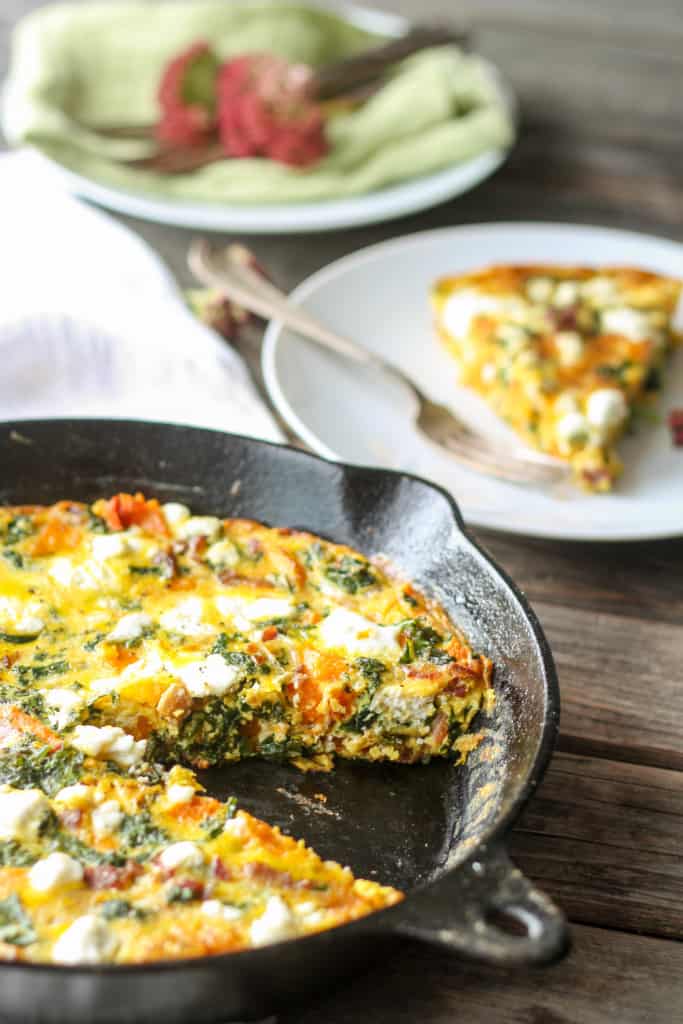 Print
Butternut Squash, Bacon, Kale + Goat Cheese Frittata
This simple recipe for Butternut Squash, Bacon, Kale, + Goat Cheese Frittata is an easy and flavorful egg dish using seasonal fall vegetables.
Author: Nicole Gaffney (ColeyCooks.com)
Prep Time:

5 minutes

Cook Time:

25 minutes

Total Time:

30 minutes

Yield:

6

servings

1

x
Category:

Breakfast

Method:

oven

Cuisine:

american
5

slices bacon, diced

1

shallot, sliced

4 cups

(loosely packed) raw kale, hard stems removed

2 cups

cooked and cubed butternut squash*

8

eggs

¾ teaspoon

salt
black pepper to taste

4 oz

goat cheese
Instructions
Preheat the oven to 400 degrees.
Place the bacon in a cold, heavy bottomed, oven safe pan (cast iron is ideal), and bring up to medium heat. Render the bacon until it's just beginning to crisp, abut 5 minutes. Add the shallot to the pan and cook for 2-3 minutes, until its translucent and just starting to brown. Add the kale to the pan with a splash of water, and toss it around for a few minutes, then throw a lid on the pan and let it steam for 2-3 minutes, or until tender. Remove the lid and add the cooked squash, then toss around until it's warmed through.
Crack the eggs into a medium bowl, add the salt and pepper, and whisk until thoroughly combined. Pour the eggs over the vegetables and use a rubber spatula to spread them out evenly. Crumble the goat cheese over the top, then place the pan in the oven for 10-15 minutes, until puffed up and golden on the outside. The inside should be totally set. If it's still runny, place back in the oven for a few minutes more.
Allow the frittata to rest for 5-10 minutes before slicing. Serve warm or at room temperature.
Notes
*I used leftover roasted squash from the night before, but any hard winter squash, (such as kabocha, acorn, or delicata), pumpkin or sweet potatoes may be substituted. Simply dice and roast the squash in the oven for about 20 minutes, or until tender, before proceeding with the recipe.
Nutrition
Serving Size:

6

Calories:

271

Sugar:

1.9 g

Sodium:

632.9 mg

Fat:

19.8 g

Carbohydrates:

7.7 g

Protein:

15.8 g

Cholesterol:

272.1 mg
Keywords: fritatta, butternut squash, brunch, goat cheese