This Apricot Pistachio Tart has a buttery shortbread crust and is topped with with a creamy pistachio frangipane and juicy fresh apricots. It makes a beautiful summer dessert and is surprisingly easy to make!
Ohhhhh man. This apricot pistachio tart might just be the tastiest thing I've made all summer. It's a tough call, though. I mean, after all, we did make fried manchego cheese last week. But one thing I can say for sure, is that this is by far the prettiest thing I've made all summer, and quite possibly, ever.
I'm kind of funny when it comes to fruit based desserts. On one hand, say, if we're going out for ice cream, I scoff at any fruit based concoction. Banana split? Get out of here. Strawberry ice cream? No. Give me all the fudge sauce, all the crumbly cookies and all of the chocolatey-peanutbuttery-tofeeeee candies, please. But when it comes to buttery tarts, cakes and pies made with the ripest, juiciest summer fruits, I just can't seem to get enough. The best summer fruits are just begging to be nestled into a rich dough so they can ooze their luscious sweet-tart nectar all over the whole thing. It's the sort of next level deliciousness that only happens for a short time each year. Embrace it.
I'm both elated and also slightly embarrassed to admit that only a few short weeks ago I discovered the magic of fresh apricots for the first time. They were not a fruit that was common growing up and I think I only tried a dried apricot for the first time around high school or or maybe even college age. I'd always wondered what a fresh apricot tasted like, but since dried apricots never exactly wowed me, I didn't go out of my way to find a fresh one to try. I happened to spot them at the market recently, so snagged a few, and after the first bite I was completely floored with their peach-like, but also not-so-peach-like full flavor, with the perfect balance of sweetness and acidity. Where have these been all my life??
It's a bit like my newly formed love affair with rhubarb. I've come to adore the 'barb so much in my adult life that it pains me to think about how long I lived without it. Now I feel the same way about fresh apricots, and I have a lot of lost time to make up. But luckily they'll be in season for several more weeks, and I'll be up eating as many as I can.
I first saw these rhubarb almond picnic bars on Smitten Kitchen back in the spring. I've sung the praises of Deb's recipes many time before, and have adapted many of them to be featured right here on my own blog. I don't want to be a copy cat, it's just that they're always so solid, and I firmly believe it would be wrong not to share them with you. It's called fan-girling, okay, and I'm not ashamed to admit it. I made the rhubarb bars (can we call them rhubars?) one afternoon in early June, when we suddenly lost power mid-baking. In addition to losing power, I completely screwed up the pretty patterned top by not reading the instructions first (side note: alllllways read the instructions first), so at that point I had all about abandoned the idea of photographing the bars for a blog post. Eventually (like, 3 hours later), power was restored and I was able to finish baking. My expectations were not high.
Well hot diggity dog, power loss and all, they came out soooooo good. The rhubarb was tart and the almond frangipane was sweet - but not too sweet - and the real star of the show was the melt-in-your-mouth shortbread crust. Deb's recipe was a slight variation on one she made a few years ago, which is essentially the same thing, only instead of rhubarb she uses ripe summer apricots and instead of almonds, she uses pistachios. And that, my friends, is how this apricot pistachio tart came to be.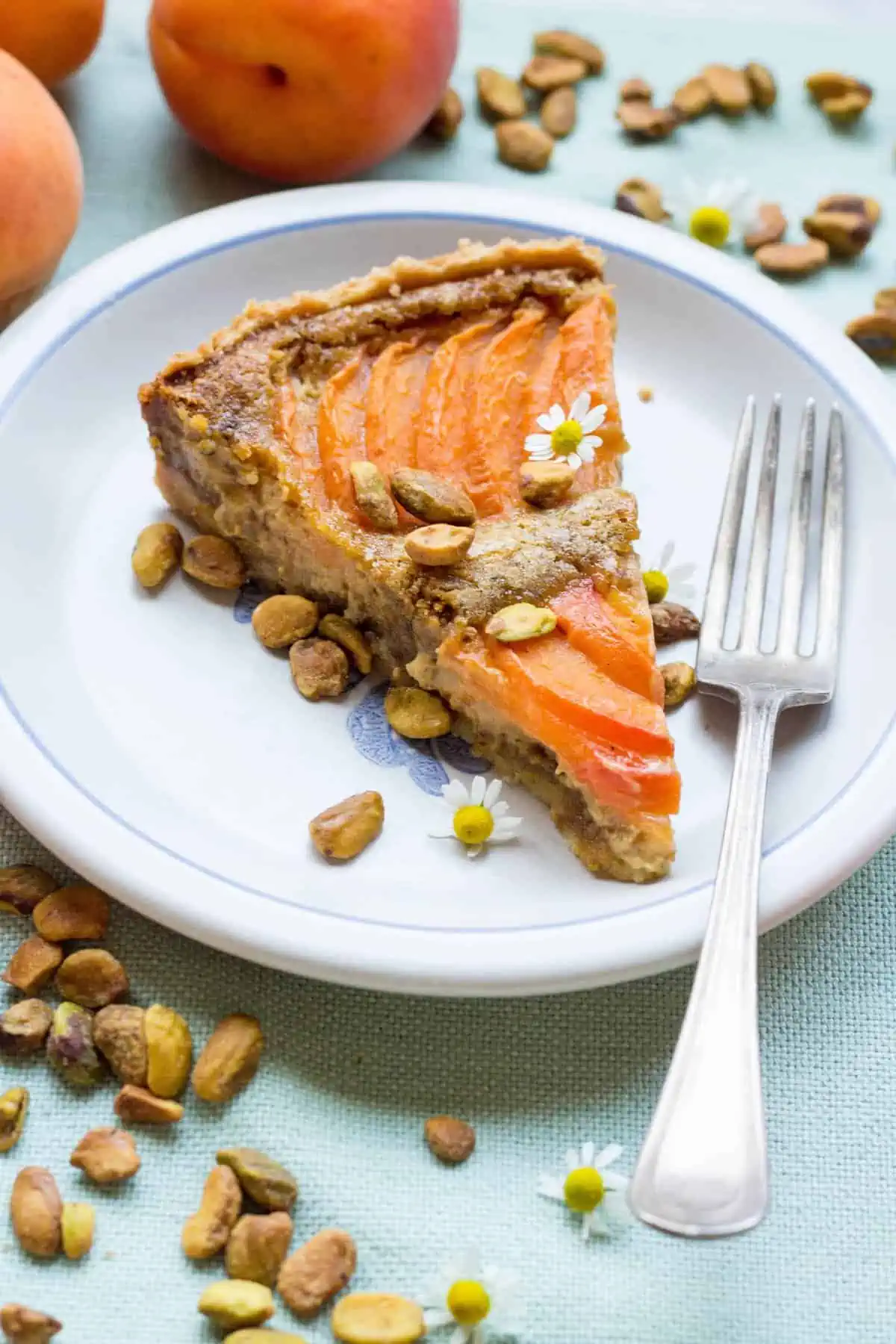 I felt that a recipe with colors and flavors this vibrant, need not be baked into a beat up square brownie pan, but into a lovely vintage porcelain tart pan that was handed down by a friend. It once belonged to my friend Bailey's great aunt who passed away a few years back, and was one of the many treasures discovered at her home in Pittsburgh. Bailey isn't one for sweets, but she was sweet enough to gift it to me, and I've treasured it ever since. I'll now take this moment to wish R+B well on the start of a new life adventure this week, which I don't think I'm at liberty to tell you about because it involves the FBI. There, I've already said too much. 😉
Anyway, the tart came out absolutely, positively, bonkers awesome. It was everything I had hoped it would be, and then some. Absolutely gorgeous, buttery, nutty, fruity, not too sweet, and doesn't even need ice cream to make it come alive. Although, a nice scoop of vanilla certainly never hurt anybody.
One Year Ago: Oven Baked Beet Chips
Print
Apricot Pistachio Tart
This Apricot Pistachio Tart has a buttery shortbread crust and is topped with with a creamy pistachio frangipane and juicy fresh apricots. It makes a beautiful summer dessert and is surprisingly easy to make!
Author: Nicole Gaffney (ColeyCooks.com)
Prep Time:

20 minutes

Cook Time:

1 hour 15 minutes

Total Time:

1 hour 35 minutes

Yield:

8

servings

1

x
Category:

Dessert

Method:

oven

Cuisine:

american
For the Crust

1 cup

all purpose flour

¼ cup

granulated sugar

½ teaspoon

kosher salt

½ cup

(

1

stick) butter, cut into pieces, plus more for buttering the pan
For the Filling

¾ cup

shelled pistachios

1 tablespoon

all purpose flour

¼ teaspoon

kosher salt

¼ cup

, plus 2 tablespoons sugar

5 tablespoons

butter, cut into pieces

1

large egg

1 teaspoon

vanilla extract

1

pound ripe, but firm fresh apricots, halved, pits removed and thinly sliced
Instructions
Preheat oven to 350 degrees. Butter the bottom and sides of a 9-inch tart pan and set aside.
To make the crust, add the flour, sugar and salt to the bowl of a food processor and pulse once to combine. Add the butter, then process until the mixture comes together and forms large clumps, about 30 seconds to one minute. Distribute the dough around the tart pan and press it evenly around the base and up the sides. Use the bottom of a glass to help even it out if needed. Bake for 15 minutes, until lightly golden. Remove from the oven and allow to cool before filling.
To make the filling, don't bother cleaning out the food processor and add the pistachios, sugar, flour and salt, and pulverize until they form a fine powder. Add the butter and process until evenly distributed, then add the egg and vanilla, and blend until smooth.
Pour the filling into the cooled crust (it's okay if it's still a little warm, just not blazing hot) and spread it out into an even layer. Take one sliced apricot half at a time and slide it on to a spatula and gently fan it out with your hands. Slide it off the spatula and onto the pistachio filling, then repeat with the remaining apricot halves to form a pretty pattern. Alternatively, you could leave the apricot halves unsliced and just place them on the tart as-is.
Bake for one hour, or until a toothpick inserted in the center of the pistachio filling comes out clean. Allow the tart to cool completely before serving. I personally prefer it served ice cold (and it slices much cleaner that way, too).
Nutrition
Serving Size:
Calories:

376

Sugar:

18.7 g

Sodium:

128.8 mg

Fat:

24.9 g

Carbohydrates:

34.7 g

Protein:

5.8 g

Cholesterol:

72.8 mg
Keywords: apricots, pistachios, apricot tart, tart crust, pie crust
SaveSave
SaveSave