This recipe for warm, buttery cinnamon rolls can be ready on your table in 2 hours flat. This is the easiest recipe for cinnamon rolls I've ever made!
It's the day after Thanksgiving and I still haven't stopped thinking about food. Last night I slipped into a magical food and wine induced coma and awoke this morning wondering what's for breakfast. Normally I'd guzzle coffee until about 11 o'clock and then make myself a green smoothie and head to the gym, but today is a different kind of day. I wan't something to eat with my coffee, and perhaps even dunk in it. I want it to be soft and sweet and doughy and buttery. I want cinnamon rolls, and I want them NOW.
Growing up, cinnamon rolls were a tradition on holiday mornings. Not exactly the homemade kind, but the kind that came out of a can. They baked up warm and fresh and made the house smell amazing. I would eat like 3 or 4 of them in one sitting; basically enough to make myself sick. Smelling cinnamon and sweet dough baking on a cozy late-fall morning is one of those simple life pleasures that I will forever be grateful for. I love the little things.
Unfortunately, these days those canned cinnamon rolls just don't hit the spot the way they used to. They have an unmistakeable preservativey flavor that I can't get past, and they're generally lacking the depth and butteriness of the homemade kind. I do miss that fun pop of the can, though.
The recipe I have for you today isn't quite as easy as popping open a can and throwing the dough in the oven. But! They're easier than any other cinnamon roll I've ever made, and they're pretty fast, too. Not to mention, they're outrageously delicious. Perfectly sweet and doughy and oozing with cinnamon, butter, and love.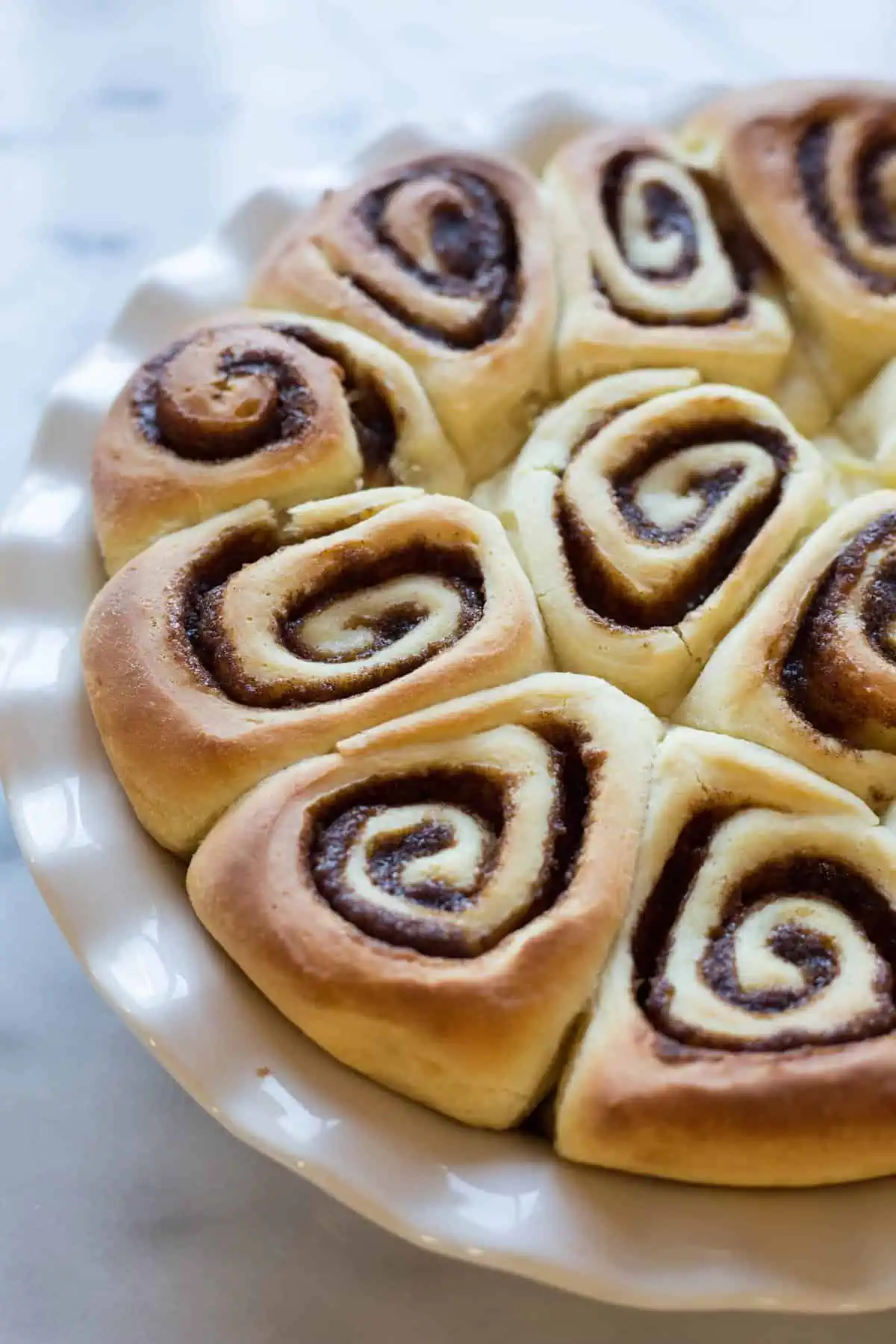 These rolls take just shy of 2 hours to make from start to finish, and a lot of that time is spent doing absolutely nothing while the yeast works it's magic. If you've ever been afraid of making yeasted doughs at home, let this be the first recipe you try. I promise it will turn out amazing! Once you start making your own breads and yeasted pastries at home, it's hard to stop. The process can be quite addicting, not to mention all the delicious treats that go along with it.
I hope you all had a warm and wonderful Thanksgiving and get to enjoy some downtime with loved ones this weekend. Make sure you keep these cinnamon rolls in your plans. They'll make your time together that much better.
One Year Ago: Turkey or Chicken Carnitas
Print
Easy Cinnamon Rolls
This recipe for warm, buttery cinnamon rolls can be ready on your table in 2 hours flat. This is the easiest recipe for cinnamon rolls I've ever made!
Author: Nicole Gaffney (ColeyCooks.com)
Prep Time:

30 minutes plus rise time

Cook Time:

20 minutes

Total Time:

50 minutes

Yield:

12

buns

1

x
Category:

pastry

Method:

baked

Cuisine:

breakfast
For the Dough
4 tablespoons

unsalted Finlandia butter

½ cup

water

½ cup

milk (whole or 2% is fine, avoid skim)

1

packet (2 ¼ teaspoons) instant or rapid rise yeast

3 cups

all purpose flour, plus more for kneading and rolling

3 tablespoons

granulated sugar

1 teaspoon

salt

1

large egg
a few drops of vegetable oil for the bowl
For the Filling
¼ cup

brown sugar

¼ cup

granulated sugar

1 tablespoon

cinnamon

¼ teaspoon

salt

4 tablespoons

unsalted Finlandia butter, plus one extra tablespoon for the pie plate, melted
For the Icing
1

7-ounce container Finlandia Classic Creamy Gourmet Cheese OR 1 8-ounce package cream cheese, softened to room temperature

2 tablespoons

unsalted Finlandia butter, softened to room temperature

1 cup

powdered sugar
pinch of salt (optional)
Instructions
Melt 4 tablespoons unsalted Finlandia butter in a small saucepan, then remove from the heat and add the water and milk. The mixture should be warm, but not hot. Sprinkle the yeast over top and give it a quick stir, then set aside for about 5 minutes.
In a medium bowl, whisk together the flour, sugar and salt. Add the egg and the butter mixture, then use a rubber spatula to mix until it just comes together. Turn it out onto a floured work surface, then gently knead the dough until it's smooth and elastic, about 5 minutes. Lightly oil the inside of another bowl, place the dough inside, cover and let rest for about 20 minutes.
In the meantime, make the filling. Combine the brown sugar, granulated sugar, cinnamon and salt, then whisk in 4 tablespoons of melted Finlandia butter until thoroughly combined.
Remove the dough from the bowl and place it onto a generously floured work surface. Dust some flour on top of the dough and onto the rolling pin, then roll it out into a rectangle about 14-15 inches long and 9-10 inches wide. Do your best to keep the edges as squared off as possible.
Spread the filling out evenly all over the dough, getting as close to the edges as you can. Starting at the top, carefully roll the dough up lengthwise, nice and tight. Use your fingers to gently pinch together the seam to seal everything in.
Cut the dough into 12 even sized rolls using the sharpest knife you own. Grease the bottom and sides of a pie plate with the remaining tablespoon of melted Finlandia butter, then place the rolls inside. Cover and leave in a warm area to rise for about 30 minutes.
Preheat the oven to 350 degrees F. Bake the cinnamon rolls, uncovered, for about 20-25 minutes.
While the cinnamon rolls bake, make the icing. Whisk together the softened Finlandia Creamy Gourmet Cheese and Finlandia butter, then add the powdered sugar and salt. Continue whisking until no lumps remain. This can be done by hand with a whisk and a little elbow grease, or achieve faster results by using an electric mixer.
Remove the cinnamon rolls from the oven when they're golden brown and have no signs of raw dough remaining in the center. Allow them to cool down for a few minutes, then slather the icing all over top. Serve warm.
Nutrition
Serving Size:
Calories:

356

Sugar:

22.8 g

Sodium:

502.9 mg

Fat:

16.3 g

Carbohydrates:

47.8 g

Protein:

5.5 g

Cholesterol:

58.5 mg
Keywords: easy, cinnamon, rolls, buns, cream cheese, frosting, icing, breakfast, brunch
SaveSave