This easy, healthy recipe for chewy peanut butter and jelly granola bars is gluten free + vegan! Great for kids, quick breakfasts, and snacking on the go!
Five years back, which feels like both yesterday and a lifetime ago, I sold homemade granola bars at a local farmer's market. I was never looking to get rich in the granola bar business; it was more of a marketing tactic to attract business to my personal chef business. And it worked! I picked up several new clients that summer which helped make up for my lack of profit as a granola bar baker. 
After that, granola bars kind of became my thing. I had people requesting whole batches of them on the reg. But behind closed doors, I couldn't even stand to look at them anymore. I made thousands of granola bars that summer, and after only a few short weeks I had grown ungodly sick of them. And it was a shame! Because they were really good granola bars. I made all kinds of awesome flavors ranging from the super kid-friendly chocolate-pretzel-sunflower seed and fluffernutter, to bars reserved for a more adult palate, like orange-cardamom-pistachio-fig and spicy Thai peanut.
I loved setting up at the farmer's market each week and chatting with all my customers and fellow vendors. It was the baking that I really began to loathe over time, and it reminded me why I despise mass food production of any kind. I would start baking at 6am and wouldn't finish cutting, wrapping and labeling until about 10pm. Then I'd pack up my car and get ready to set up at the market the next morning. My dear friends, who all chipped in to help each week, affectionately nicknamed my kitchen the "granola bar sweatshop," and they were not exaggerating. Admittedly, I could get a bit militant at times, but in my defense, I was burnt out and exhausted. The sweatshop routine got real old real fast, especially after calculating my profit margins.
This is all to say that after 5 years of being out of the granola bar game, I'm finally ready to dip my feet back into the water. I've been wanting to share a recipe here on Coley Cooks, but up until recently, I still couldn't muster up the motivation to make granola bars. Now that I finally did, I'm so, so glad. These things are awesome!
Homemade granola bars are great to keep on hand for easy grab and go breakfasts and snacks... even dessert. You get to control everything that goes into them, and especially what doesn't go into them. These may contain a healthy dose of sugar, which obviously means they're going to taste good, but it also means they'll give you a mega boost of energy and that's exactly what they're intended to do. It's also worth mentioning that these are gluten free and basically vegan - honey is technically an animal product - but true vegans can always sub that out for maple syrup or agave nectar.
This flavor was always a best seller and one of my personal favorites. They taste just like a peanut butter and jelly sandwich, just like these bars, and what blue-jean wearing, red-blooded American doesn't love that?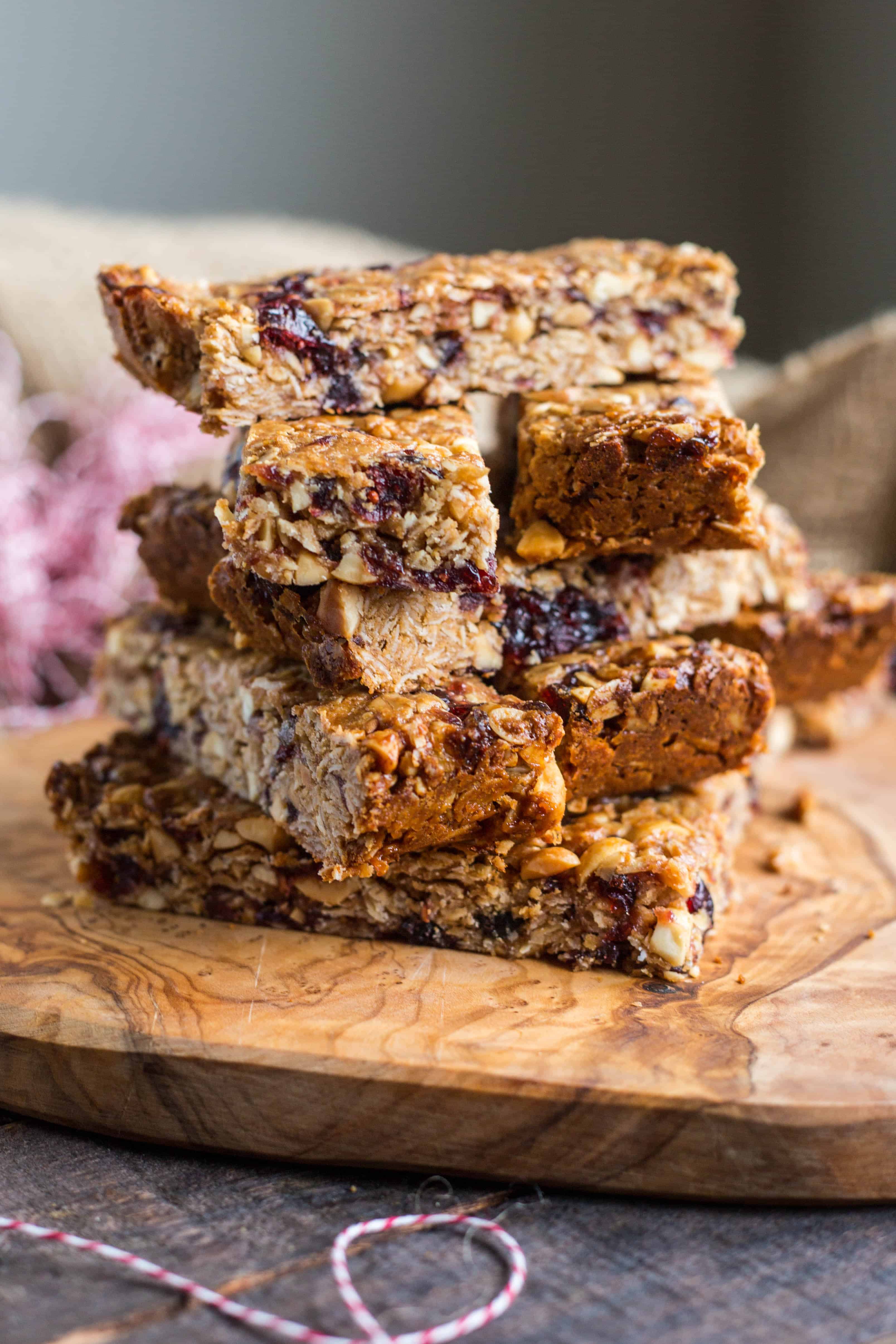 One Year Ago: Turkish Coffee Flourless Chocolate Cake
Print
Peanut Butter and Jelly Granola Bars
This easy, healthy recipe for chewy peanut butter and jelly granola bars is gluten free + vegan! Great for kids, quick breakfasts, and snacking on the go!
Author: Nicole Gaffney (ColeyCooks.com)
Prep Time:

15 minutes

Cook Time:

30 minutes

Total Time:

45 minutes

Yield:

16

-

18

bars

1

x
Category:

snack

Method:

oven

Cuisine:

american
3 cups

rolled oats

½ cup

oat flour*

⅓ cup

sugar

1 teaspoon

salt

1 cup

finely chopped roasted peanuts

8 tablespoons

coconut oil, melted

⅓ cup

honey (sub maple syrup or agave for vegan)

½ cup

smooth peanut butter

¾ cup

finely chopped dried cranberries

1 cup

raspberry jam (or your favorite jam or jelly)
non stick cooking spray
Instructions
Preheat the oven to 350 degrees.
In a large bowl, combine the oats, oat flour*, sugar, salt, and peanuts.
In another bowl, mix together the melted coconut oil, honey, and peanut butter until smooth. Pour the wet ingredients into the dry and mix until thoroughly combined.
Mix together the dried cranberries and raspberry jam in a small bowl, then add spoonfuls to the oat mixture and gently mix until evenly distributed but not thoroughly combined. You want there to be small, but distinctive clumps remaining.
Line a 9x13 inch baking dish with parchment paper and spray with nonstick cooking spray. Pour the mixture into the pan and use a rubber spatula to spread it out and then press down as much as possible so that it's tightly packed in.
Bake for 30-35 minutes or until golden brown around the edges. Allow to cool completely, then place in the refrigerator to firm up and get cold - this will make the bars easier to cut.
Remove the parchment paper and cut lengthwise down the center. Then cut each side into 8-9 bars. You can wrap the bars individually in plastic wrap or just put them all in a zip-top bag. Bars keep refrigerated for 2 weeks and can be frozen for longer storage. I prefer to eat them cold - they're chewier.
Notes
*You can make your own oat flour by buzzing up oats in a blender or food processor until they form a fine powder.
Nutrition
Serving Size:
Calories:

346

Sugar:

26.3 g

Sodium:

188.3 mg

Fat:

15.7 g

Carbohydrates:

45.5 g

Protein:

6.5 g

Cholesterol:

0 mg
Keywords: pbj bars, peanut butter bars, homemade granola bars
SaveSave