This incredibly unique salad pairs crispy fried artichokes, tender massaged kale, roasted asparagus, and quick pickled celery with a creamy parmesan dressing. It's insanely delicious!
I've always wanted to travel for work, and so far this year, that has certainly been my reality. To me, traveling, even when it's to somewhere boring, for a short amount of time, and strictly for work purposes, is still exciting. I love people watching in airports and experiencing different parts of the world, especially when they're places I'd never travel to on vacation. I spent the better part of the last three months schlepping to and from airports and found myself in plenty of cities I would have never visited had I not ben forced to for work. Who knew Pittsburgh would be so charming?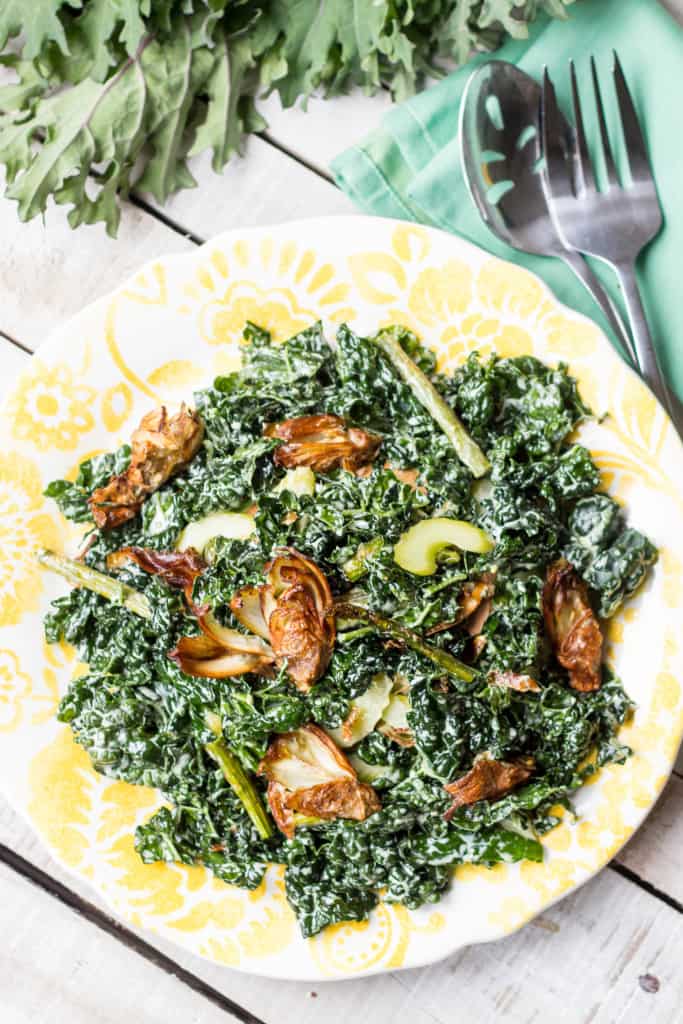 Yet even though traveling - for work OR pleasure - can be exhilarating, it's also undoubtedly exhausting. We live a good 80 minutes from the Philadelphia airport, and having to make that drive, then park and shuttle to the terminal gets old real fast. Lucky for me, Chaser's been able (and willing) to drop me off for a lot of my trips, but there were a few times when his schedule just didn't allow. That's where my friend Andrea came in. Or should I say Handrea, which is what we now call her, since she fell in the shower and broke her hand a few months ago. (lol, it still cracks me up that you injured yourself this way, you goon. Your life alert gets installed next week. But also, I'm so glad you're okay!).
Andrea works as a hair stylist, so naturally, the injury put her out of work for several weeks. And over those several weeks, she got bored. Real bored. But no one is ever so bored that they want to drive 80 minutes to pick someone up from the airport. So when I asked for the favor, I knew I'd have to include an especially enticing bribe: Pizza.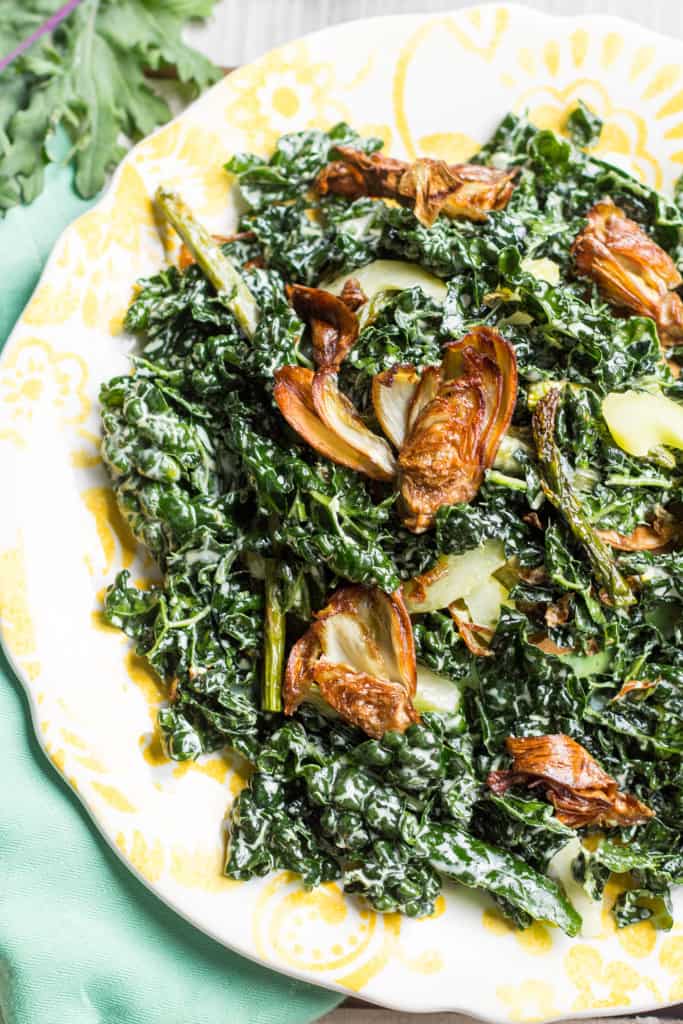 For years, Andrea's been gushing about Pizzeria Stella in Philly, and in particular, the Tartufo pizza with black truffle, fontina and a fried egg on top. We'd been talking about taking a trip up to eat there forever. My flight was arriving just around dinner time, so it seemed like the perfect opportunity to go. Before I could even finish saying the words "Tartufo pizza," Andrea was gassing up her Jeep and asking for my flight number.
I avoided airport snacking as I dreamed about that thin crust, earthy truffles, and runny yolk. By the time the plane touched down, my stomach was growling. Obnoxiously. Andrea scooped me up, we successfully avoided traffic, and plopped ourselves down at Stella without even having to wait for a table. It was like they knew we were coming. We ordered a carafe of wine and perused the menu, even though we already knew which pizzas we were going to get.
But then, a salad description caught our eye. And when one sees an appealing salad on a menu of mostly pizza, one should order that salad. So we did. And hot damn. The tartufo pizza was obviously slammin', but this salad totally stole the show. And that is really saying something. It takes a hell of a salad to upstage pizza.
Flash fried artichoke hearts, baby kale, pickled celery and a garlicky, creamy parmesan dressing. It was so unique, so interesting and so delicious, I couldn't wait to make it at home. This is my version of that dreamy salad. I used kale from the garden, improvised the dressing and added a little roasted asparagus, mainly because I had some leftover, but also because I just can't seem to get enough of it this time of year. Plus, it just felt right. And it tasted right, too.
This salad may be a little more time consuming to make than other salads, but boy is it worth it. The artichokes are fried to golden, crispy perfection. The kale is earthy and substantial. The pickled celery gives a bright punch and juicy crunch. The asparagus is sweet and meaty, and the dressing is cool and creamy. Bookmark this one for a rainy day, put on your favorite podcast, and get to work in the kitchen. Or, make it easy and just head to Pizzeria Stella in the lovely little neighborhood of Society Hill (and definitely don't sleep on that Tartufo pie, either).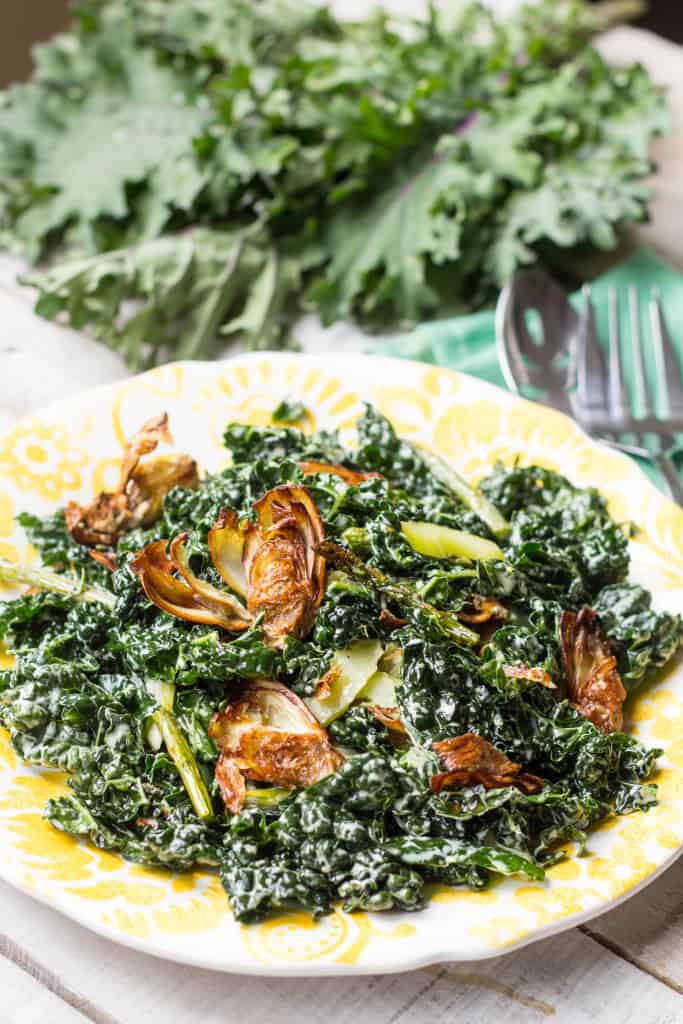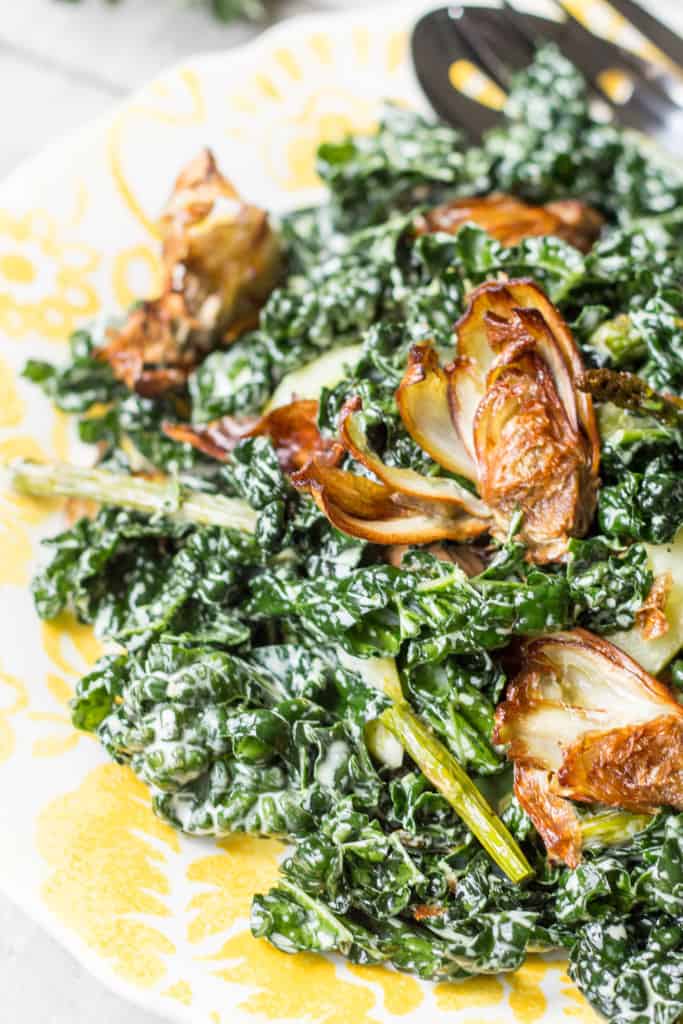 One Year Ago: My Favorite Grilled Cheese
Print
Fried Artichoke, Kale + Asparagus Salad with Pickled Celery + Creamy Parmesan Dressing
This incredibly unique salad pairs crispy fried artichokes, tender massaged kale, roasted asparagus, and quick pickled celery with a creamy parmesan dressing. It's insanely delicious! Adapted from Pizzeria Stella.
Author: Nicole Gaffney (ColeyCooks.com)
Prep Time:

45 minutes

Cook Time:

30 minutes

Total Time:

1 hour 15 minutes

Yield:

4

servings

1

x
Category:

salad

Method:

mixed

Cuisine:

Italian
For the Pickled Celery
1 cup

white distilled vinegar

1 teaspoon

salt

1 teaspoon

sugar

4

stalks celery, thinly sliced on a bias
For the Asparagus
½

bunch asparagus, tough ends removed

2 tablespoons

olive oil
salt and pepper
For the Dressing
½ cup

mayonnaise

1

lemon, zested and juiced

1

large clove garlic, finely minced (I grated it on the same microplane I used to zest the lemon)

1

small bunch chives, minced, about

1

heaping tablespoon

½ cup

grated good quality parmesan cheese, such as Parmigiano Reggiano or Grana Padano
salt and pepper to taste
For the Artichokes
1

12 ounce bag frozen artichoke hearts, defrosted (I used Trader Joe's brand)
olive oil, for frying
salt
Assembly
1

bunch kale, any variety, tough stems removed and roughly chopped*

1 teaspoon

olive oil
pinch of salt and pepper to taste
Instructions
Pickle the Celery
Combine the vinegar, salt and sugar in a small saucepan and bring up to a boil. Remove from the heat and stir until the salt and sugar have dissolved. Add the celery to a bowl and pour the liquid over top. Let sit in the refrigerator while you prepare the other ingredients.
Make the Asparagus
Preheat the oven to 425 degrees. Toss the asparagus with olive oil, salt and pepper. Spread out on a parchment lined baking sheet and roast for about 15 minutes, or until browned and tender, but still al dente. Alternatively, you can grill the asparagus instead. Allow to cool to room temperature, then chop into 1 inch pieces and set aside.
Make the Dressing
Add mayonnaise, lemon juice and zest, garlic, chives and parmesan cheese to a medium mixing bowl and whisk to combine. Season with salt and pepper to taste and set aside.
Fry the Artichokes
Drain the artichokes in a colander, then spread out on towels and pat very dry. You may need to squeeze them and press down to remove as much liquid as possible. This is an important step, as any excess liquid going into the hot oil will cause dangerous splatters. Heat about 1 inch of olive oil in a heavy bottomed skillet or saucepan with big sides until very hot (about 375 degrees). Add the artichokes in batches and fry until golden brown on all sides. Remove with a slotted spoon to paper towels to drain, and season with salt while they're still piping hot.
Assemble the Salad
Place the kale in large salad bowl, drizzle with olive oil and a pinch of salt and pepper. Use your hands to aggressively massage the kale to break it down into softer pieces, about 2 minutes. Drain the celery well and use some paper towels to pat off any excess pickling liquid - too much will make the salad too tangy. Add the celery to the kale along with the asparagus and half of the artichoke hearts. Toss the salad with enough dressing to coat. Arrange on a platter or individual plates and top with the remaining artichokes. Serve immediately.
Notes
*You can substitute a container of baby kale, but skip the step of drizzling with olive oil and massaging.
**For a VEGAN variation of this salad, simply omit the parmesan and use vegan mayonnaise.
Nutrition
Serving Size:
Calories:

400

Sugar:

3.2 g

Sodium:

3374.5 mg

Fat:

35.6 g

Carbohydrates:

13.1 g

Protein:

7.9 g

Cholesterol:

18.8 mg
Keywords: kale, asparagus, artichokes, celery, salad, fried, pickled, roasted, massaged, spring
SaveSave