These passionfruit pop tarts are flaky pastries filled with tangy passionfruit curd and finished with a sweet glaze. These quirky tropical pastries makes an unexpected addition to brunch or makes a fun dessert!
Sometimes I like to eat vegetables, and other times I just want a pastry. This weekend was one of those times. I'd been doing really well with the whole new year clean eating thing, and then, well, it snowed. 
Alas, it's still winter. And by still, I mean it kind of just started. Meh. The weather has actually been pretty mild up until this week, but now all bets are off. It's cold. And snow is like a trigger for me to start cooking with as much butter, sugar and flour as possible. And then eat it. All of it. Somehow the powdery white landscape seems to makes it all okay.

Last spring I whipped up these Strawberry + Goat Cheese Pop Tarts, and ever since I've been dreaming about all the delicious flavors we can stuff inside a pastry. I mean, really anything is good wrapped up in buttery, flaky dough, but I'm willing to bet that passion fruit might just be the best yet.
Nothing can brighten up a cold, snowy winter quite like the flavor of passion fruit. It tastes like sunshine and rainbows and pure, unadulterated happiness. When you pack all that flavor into a nostalgic hand held pastry, it's a lot easier to forget that it's 19 degrees outside without a beach day in sight.
Making these pop tarts is a bit time consuming, but it's a fun project to tackle on a snowy day, or even a rainy day.  The pastry is made using the same technique that we use to make pie crust, and the filling is made in the same way as lemon curd. Pop tarts are known for being a breakfast food, but they're a bit too sweet for me to eat in the morning. I like to eat these as a mid-afternoon treat with a hot cup of tea, but I think they'd be more than welcome as part of a nice brunch spread, too.
Unless you live in the tropics, fresh passion fruit can be a bit difficult to find. Luckily, good quality frozen passionfruit juice is available year round. I buy the Goya brand at our local latin market. It's of excellent quality for being so inexpensive, especially when you consider the cost of fresh passion fruit at the specialty produce store, which can run around two dollars a pop or more.
If you're one of my fancy friends that lives in Hawaii or Florida, you can of course use the passion fruits (lilikoi!) that probably grow right in your backyard. But the upside to using the frozen juice is that you don't have to deal with all those pesky seeds. It's 100% pure juice, not from concentrate and unsweetened, which is exactly what you want.
If it's chilly where you are, I hope you're keeping warm and have lots of yummy pastries to get you through these dog days of winter. Actually, I think we should start calling them cat days, mostly because I don't like cats (sorry, but they don't like me either).
If it's not cold where you are, I hope there's a passion fruit tree outside calling your name.
One Year Ago: Fennel & Orange Salad with Toasted Pistachios
Print
Passion Fruit Pop Tarts
Author:

Nicole Gaffney (ColeyCooks.com)

Prep Time:

1 hour

Cook Time:

25 minutes

Total Time:

1 hour 25 minutes

Yield:

16

1

x

Category:

Dessert

Method:

Oven

Cuisine:

American
---
Description
These passionfruit pop tarts are flaky pastries filled with tangy passionfruit curd and finished with a sweet glaze. These quirky tropical pastries makes an unexpected addition to brunch or makes a fun dessert!
---
For the Pastry
3 cups

all purpose flour

2 tablespoons

sugar

1

scant teaspoon salt

½ cup

plus 6 tablespoons (

1 ¾

sticks) cold unsalted butter, cut into small cubes

¼ cup

vegetable shortening, I prefer nonhydrogenated

1

large egg yolk, white reserved

2 tablespoons

(or more) ice water
For the Filling
⅓ cup

passion fruit juice/pulp, seedless, unsweetened

½ cup

granulated sugar
pinch of salt

3

egg yolks

8 tablespoons

(

1

stick) butter, cold, cut into pieces
For the Glaze
½ cup

powdered sugar,

2 tablespoons

passionfruit juice/pulp (seedless)

1 tablespoon

melted butter
pinch of salt
---
Instructions
Make the Dough
Combine the flour, sugar and salt in a bowl and whisk together. Use a pastry cutter or your fingers to cut the butter and shortening into the flour until they become pieces the size of peas.
Add in the egg yolk and water, adding more water one tablespoon at a time until the dough JUST comes together. Be very careful not to overmix the dough. As soon as it comes together, don't knead it any further.
Divide the dough in two, form it into rectangular pieces, wrap and chill in the refrigerator for at least 30 minutes and up to over night.
Make the filling
Combine the passion fruit juice, sugar, salt and egg yolks in a medium saucepan and whisk to combine. Set the pan on the stove over medium low heat, and use a rubber spatula to continuously stir until the mixture thickens enough to coat the back of a spoon. Remove from the heat and stir in the butter until melted and fully incorporated. Strain through a fine mesh sieve to remove any pieces of egg that may have curdled. Cover and chill to room temperature (or cooler) before proceeding with the recipe.
Assemble the pop tarts
Roll out each rectangle of dough on a lightly floured surface to about 14″ wide and 18″ long. Trim the excess to square off any uneven edges and then cut 16 even rectangles out of each – 4 long x 4 wide.
Divide the passion fruit curd evenly among half of the pastry rectangles by placing a dollop in the center of each. Use a fork or knife to create some vents in the remaining 16 pieces of pastry.
Whisk the reserved egg white with a teaspoon of water until it's broken up. Working one at a time, brush the edges of each vented pastry rectangle and place over top of one with filling. Press down on the edges, then use the tines of a fork to press down, making sure it's fully sealed. Place on a parchment lined baking sheet (you will need two or more to make all 16) and repeat with the rest.
When all pastries are finished, place the sheet pans in the freezer while you preheat the oven to 425 degrees. When the oven is preheated, remove the pans and brush with the remaining egg white.
Bake for about 25 minutes, or until golden brown. While the pastries bake, make the glaze by combining ½ cup powdered sugar with 2 tablespoons passionfruit juice, 1 tablespoon melted butter and a pinch of salt. Whisk together until smooth, then set aside.
Remove pastries from the oven and allow to cool for at least 20 minutes. Drizzle with the glaze, then allow to cool for at least another 10 minutes to allow the glaze to set.
---
Keywords: passionfruit, homemade poptarts, tropical poptarts, homemade pastry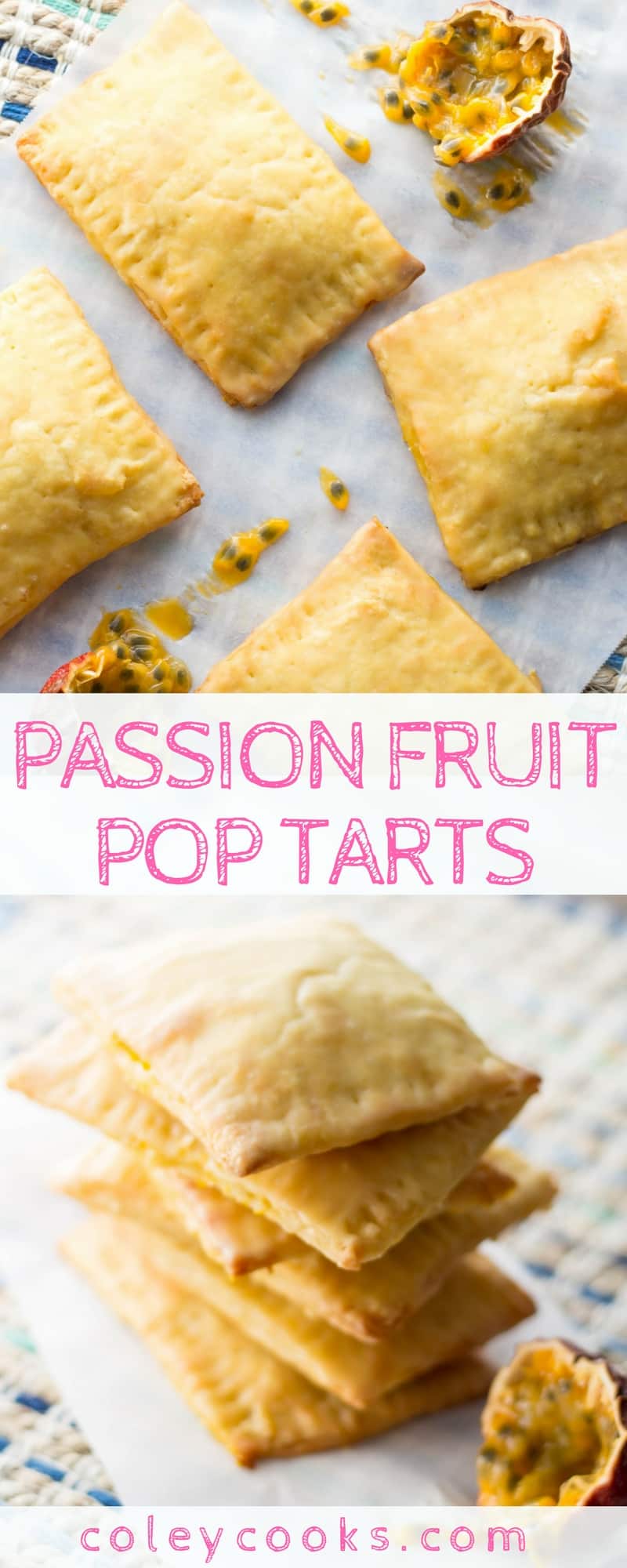 SaveSave